The Top 2022 Kitchen Design Trends
Time does fly. 2022 is almost over and what a year it has been. The team at The Maker Designer Kitchens have been lucky enough to work with an amazing group of clients on a range of exciting projects that have embraced many of the top kitchen trends of 2022. 
In this blog, we'll share with you some of the top kitchen trends of this year, and zoom in on some of the most celebrated luxury design trends that we've had the pleasure of working on this year. 
And while this year is almost over, it's never too late to work with us to realise your dream kitchen. If you want to find out more about the hottest kitchen design trends 2022, simply download our 2022 Kitchen Trends eBook. It's got all the latest kitchen styles and hottest trends in one place.
Without further ado, let's take a look at the trends which dominated 2022.
Texture
2022 is all about texture, and we have seen many people embracing this design trend, not only in their kitchens, but throughout their homes. Mixing materials in your kitchen has the potential to elevate your design while allowing your central theme to shine through. For example, mixing up your kitchen cabinets, benchtops and splashback surfaces can create a beautiful visual impact that makes your design pop!
Our Watermans Bay kitchen renovation shown above is a beautiful example of how to apply texture for maximum impact. The combination of Polytec vinyl Hamptons Profile cabinetry, Caesarstone Rugged Concrete Island Bench and tiled splashback create a striking combination of textures.
The shaker-style cabinetry highlights the strong textural lines in this design and compliments the subway-glazed tile splashback. We simply adore how the concrete kitchen island has a beautiful textural appearance with dramatic whites and greys and also has a unique rough finish on its surface in this modern shaker style kitchen.
Another way to embrace texture through your cabinetry is with Polytec Steccawood, or with the stunning Calcutta range where you can create feature sections of cabinetry. Also, veined style benchtops like Caesarstone Statuario Maximus enhance textural notes in your design – and are a stunning addition to splashbacks too.
If you want to explore more about how texture can transform your kitchen design, make sure to read our texture blog where we explain how to embrace texture in your design in 2022.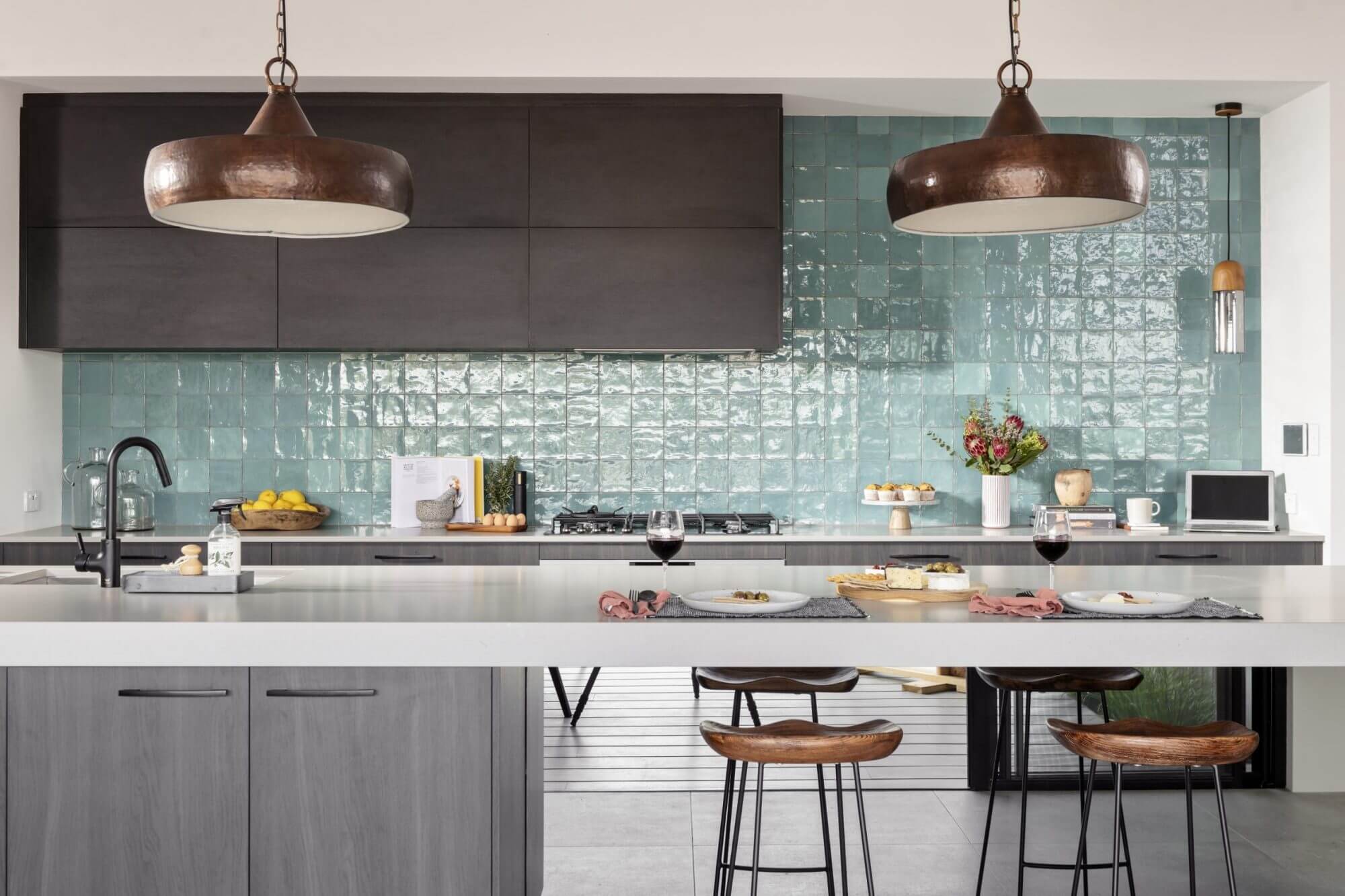 Feature Rangehoods
Kitchen rangehoods are a striking design feature in modern kitchens, and in 2022, this is no exception. Unconventional yet luxury approaches to rangehood design dominate, with stunning asymmetrical designs with concealed box style rangehoods like in the picture above. We recommend combining this with floating shelves or as a standalone design feature to pull focus. 
Kitchen rangehood design in 2022 saw the downdraft extraction systems become ever more popular as a luxury inclusion for your kitchen. Downdraft systems also allow you to position your cooktop on a kitchen island, while also freeing up wall space. 
Having your rangehood in your island gives you free rein to design your cabinetry how you wish and embrace other 2022 kitchen trends such as no overhead cabinetry or a single shelf design on your kitchen's rear wall. Luxury appliance suppliers now stock circular style rangehoods that are not only a stunning feature but embrace the curves trend which has also been strong trend in kitchen design for the last two years.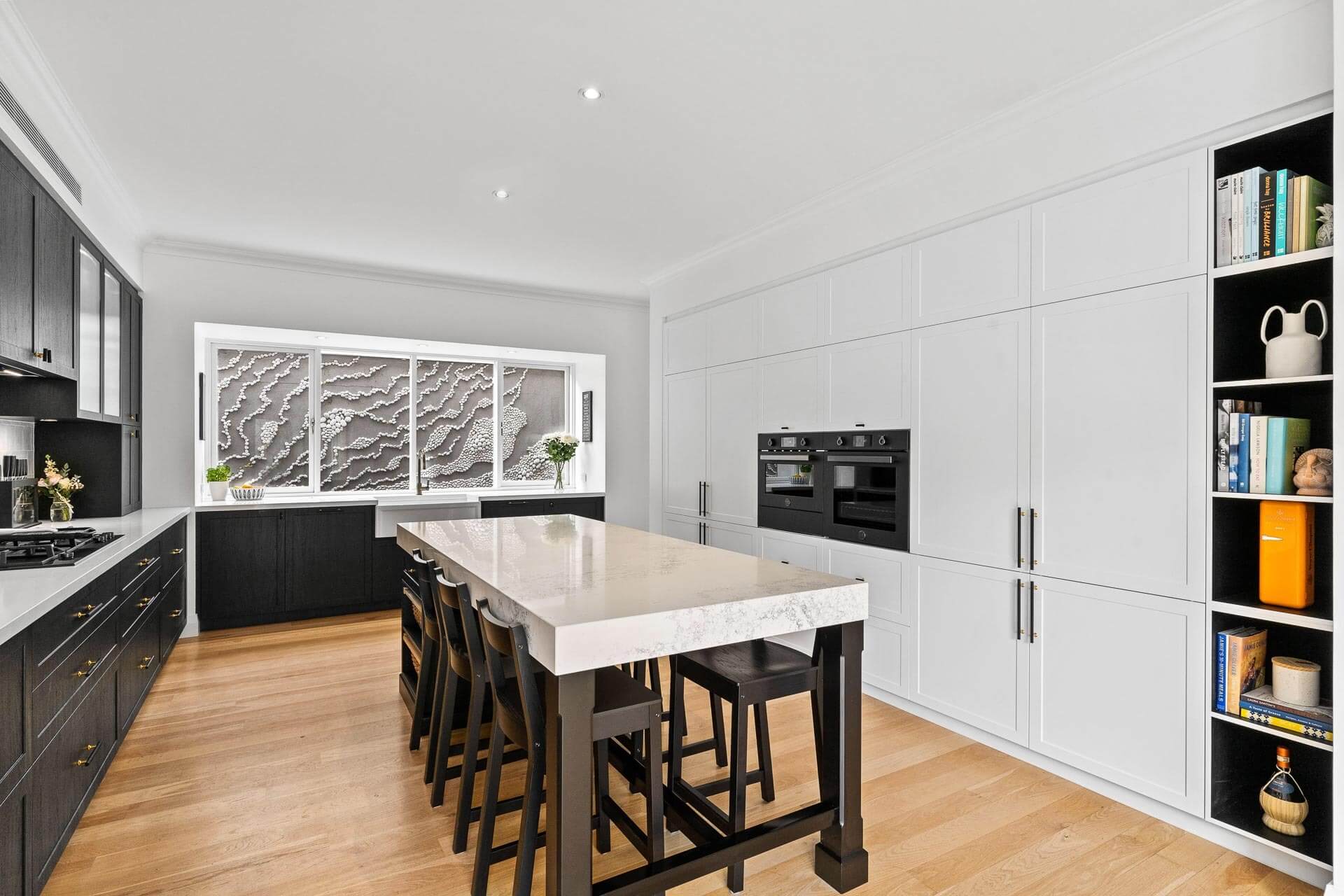 Integration
Integrated kitchen design is one of our all-time favourite kitchen trends, and with so many of our clients opting for this style, we can't ignore its relevance in 2022. 
An integrated kitchen includes storage and appliance solutions neatly concealed and integrated within the design. Integration allows you to showcase the design features of your kitchen style without it impacting the available space while retaining the overall aesthetics of your design. 
In the kitchen above, concealed behind the wall of cabinetry we have a double fridge freezer on the left and two Hafele Tandem Pantry Units to the right hand side with custom storage below.
By embracing the integration trend in this kitchen our client found the space to include a striking feature wall of cabinetry brought together by symmetrical elements that help deliver the luxury look and feel of this design. For more on how to embrace integration in your kitchen, read our dedicated integration blog. 
Curves
The curves trend has been popular for the last couple of years and we're seeing no sign of this slowing down. In fact, in 2022 we worked with multiple clients who came to us with this design trend in mind. 
Curves are a fantastic way to soften sharp corners in modern designs and create a striking design feature for your kitchen. In 2022 we are seeing many new and striking applications for this luxury trend, like curved island poles for your kitchen peninsula. Concave curves are being embraced with the use of the innovative Polytec Cove 50 thermolaminated vinyl which can be used to create a curved textured feature surface to flat cabinets or doors. 
Cove STECCAWOOD can also be used to apply concave curves to a curved kitchen island or peninsula. The curved kitchen trend is also embracing more mixed shapes as part of the design – like an island that has 3 square corners and one curved edge.
White Kitchens
Of all the kitchen colour trends in 2022, white kitchens are the biggest trend to be reckoned with. It's the most timeless colour choice for your kitchen and the top colour selection for the bulk of kitchens we built for our clients in 2022.
White kitchens are fresh, and calming and offer you a beautiful neutral palette to build on. White surfaces are the perfect base on which to build your design with carefully selected colourful cookware, natural materials and greenery. White kitchens in 2022 heavily embraced the textural trend mentioned above and employed layers of white for interest.
For example, in this City Beach kitchen the coastal look and feel is created with shades of white, vertical panellingand the timber theme shining through with the stools and echoed in the wooden kitchen accessories. 
Caesarstone Fresh Concrete on the island offers a crisp white concrete appearance that breaks up the Polytec Classic White cabinetry, while the rear benchtops use Caesarstone Snow with a half stone splashback. We love how the front island cabinetry features Polytec Calcutta vinyl with striking vertical texture as an alternative to flat white cabinetry. As one of the major kitchen trends 2022 Australia, all white kitchens are set to continue their relevance into 2023. 
All the kitchen trends of 2022 in one place
This year has seen multiple trends be revived and amplified. Our team of expert interior designers at The Maker Designer Kitchens are always on top of what is trending and can help you integrate your favourite design trends into your own kitchen renovation. 
Whether you're thinking of renovating, about to start your new kitchen project, or simply curious about this year's hottest trends in kitchen design or want to learn more about kitchen ideas 2022, download and read our 2022 kitchen trends ebook to explore the latest kitchen design trends which dominated this year.
Wanting to see some of these kitchen trends in action? Our award winning Bassendean showroom showcases four stunning kitchen displays which feature some of the latest and greatest trends, technology and kitchen materials to get you inspired for your own kitchen renovation. Book a showroom appointment today to start your journey with us.