Client Stories: Jules & Jess
Client Stories: Jules & Jess
In this client story we take you behind the scenes to learn more about what it's like when your build your dream kitchen with us. Jules and Jess sought us out to help them design and build their dream kitchen for their family home in Perth. Being avid hosts, they wanted their kitchen to effortlessly accommodate guests and serve as a central hub for entertaining and socialising as well as day to day family life.
From the outset Jules and Jess had a vivid picture in their mind of their dream kitchen. When meeting with our interior designer in our showroom, they briefed us on their kitchen must-haves, preferred style, functionality requirements and desired design inclusions. All of these elements were an essential starting point for our designer to start working on the kitchen design.
This kitchen project was exciting for us as it perfectly aligned with our areas of expertise. It encompasses the latest kitchen trends, showcases our proficiency in custom design elements and incorporates unique bespoke design features. Scroll further down to watch the videos of Jules and Jess talking about their experience building their new kitchen with us.
Carramar Project-
The Brief
In this video hear from our clients why they chose us for their kitchen and view actual footage of their kitchen in construction.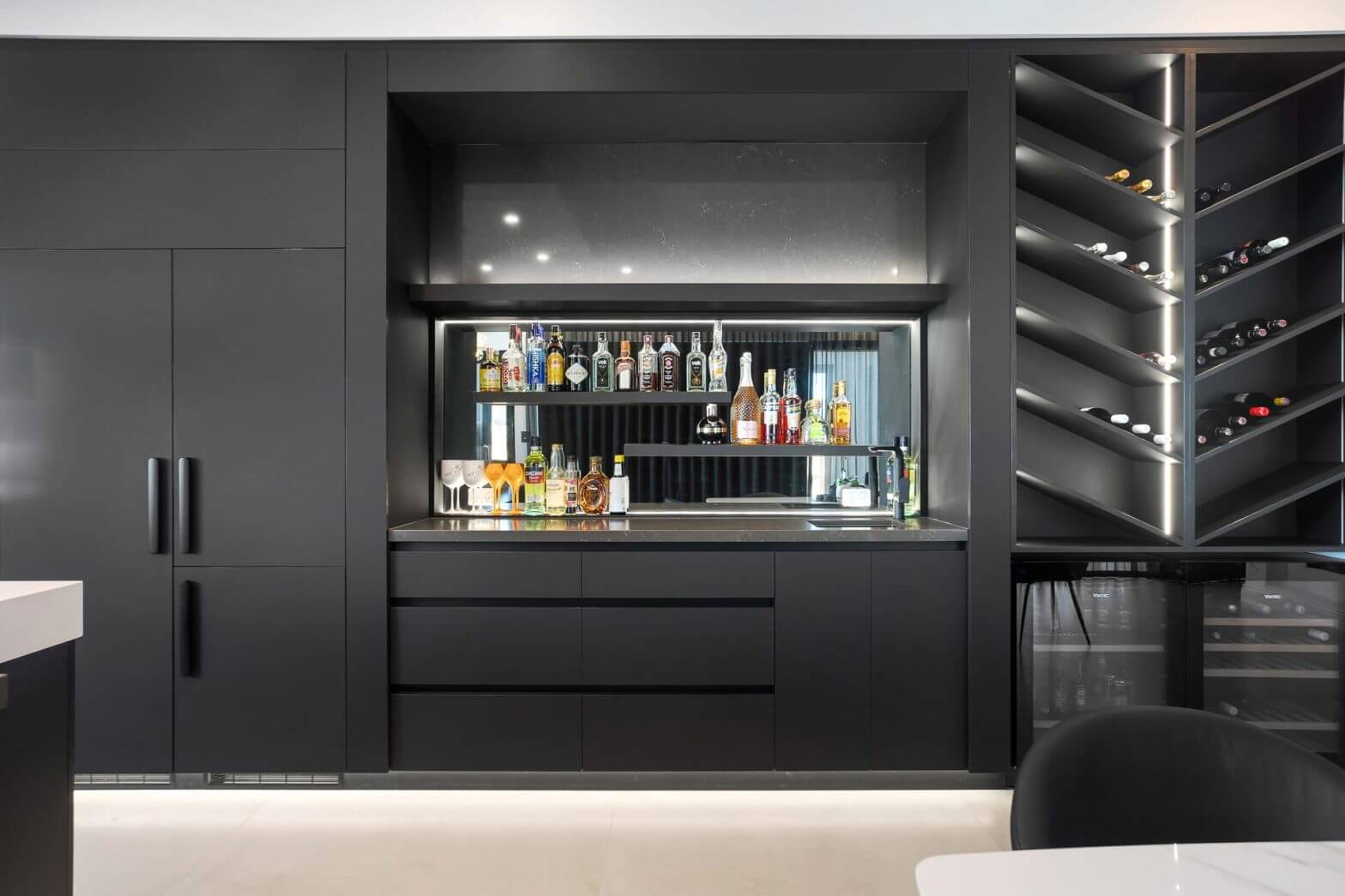 The Process
Jules and Jess came to us having a strong vision of the kitchen they wanted, especially when it came to style, colour scheme and functional elements.
They knew they wanted a bar, but it was only after seeing the bar on display in our showroom that they found their dream design.
This bar design is one of a kind with hidden zones revealed by a retractable moving Caeserstone splashback. The build of this bar itself was technical, as it had to be engineered to accommodate the weight of the stone but perform seamlessly at the touch of a button.
As with all our kitchens, we completely built this project in our factory before installing onsite to ensure the highest quality for Jules and Jess.
For her kitchen island, Jess was initially not wanting a kitchen sink. Through the design process she was inspired by our Jolimont Project and we evolved the island design to include an integrated icebox enhancing the overall aesthetics and functionality of their kitchen.
A strong design brief for this kitchen allowed us to create Jules and Jess a bespoke kitchen design that meets their cooking and storage needs with our tailor-made elements for their final kitchen design, surpassing their initial expectations and requirements.
Click below to read the design write up for this project.
Watch the videos above to see the bar in operation.