Feel inspired in our
kitchen showroom
You can look at designs online or think of concepts in your mind, but it's not until you see a luxury kitchen in real life that you feel truly inspired.
Our award-winning kitchen showroom is the perfect place to design your new kitchen or start your kitchen renovation journey.
Our showroom displays four functional kitchens, each in a different style. We have access to premium products and high-end finishes. All the choices available to you when you design a luxury kitchen with The Maker Designer Kitchens.
Our showroom is an immersive experience. You can touch benchtops, test storage units and see our creative cabinet designs on display. The showroom is designed to spark ideas for your own kitchen. It's so impressive we've won the HIA Excellence in Showroom Display award countless times - including again in 2021!
We invite you to visit our showroom to be inspired of if you have any questions about your new kitchen please enquire below
The kitchen showroom

experience

The kitchen design showroom experience is an integral part of the renovation process. This is your chance to dream big! Our displays show you what's possible.

You don't go it alone. A qualified interior designer will guide you through each kitchen and discuss design options with you. You can ask questions and start planning your design concept.

A showroom experience allows you to:
Get ideas and inspiration
Discuss your plans
See the latest in kitchen technologies
Learn about contemporary concepts
Brainstorm possible appliance requirements
Browse colour schemes, styling and material selections
The latest in

kitchen trends and technologies

The Maker Designer Kitchens Perth kitchen showroom is currently showing the following kitchens:
Hamptons Style
French Provincial
Modern Contemporary
Studio
The showroom is updated regularly with new styles, products and finishes. You can browse the following:
Innovative storage options from Hafele
Soft close drawers and cupboards
Cabinetry grip options
Integrated lighting options and designs
Automatic lift-up door options
Integrated appliance designs
Pitt Cooktop display
Caesarstone colours and samples
Laminate and vinyl colour swatches from Polytec and
Laminex
Polytec VENETTE kitchen – the latest in fingerprint-resistant technology.
Painted doors and cabinet profile samples
Smart Technology options
Cabinetry accessories
Different pantry designs and styles
Ready to start planning? Visit our showroom today or click the link below to book a design consult with one of our designers.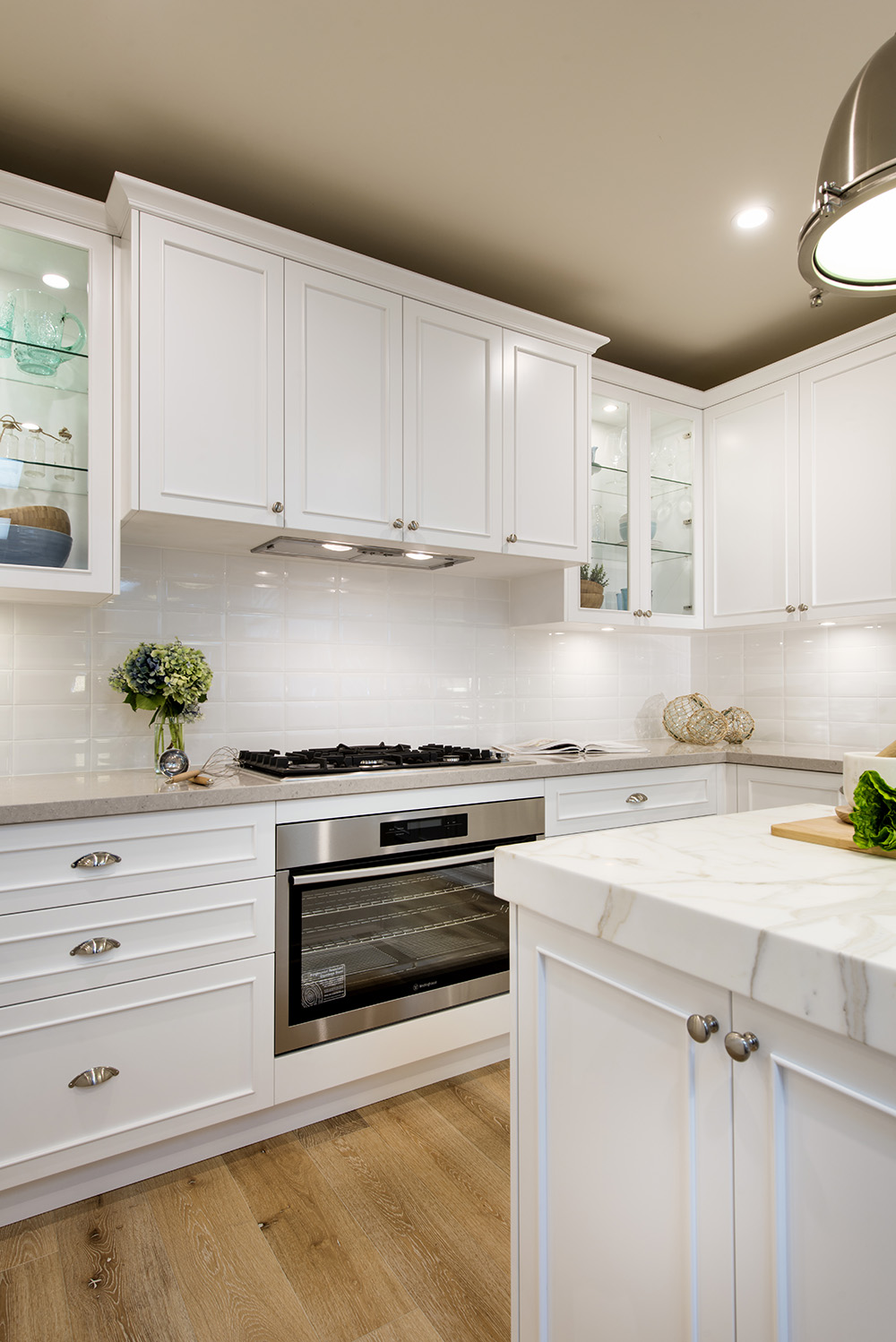 Experience
Home Collective
We have a second showroom located in the heart of Leederville that offers over 1200sqm of design choices and inspiration. It's a need-to-see-it-to-believe-it kind of space.
On display at Home Collective we have three kitchens to open every drawer of. Taps and showers that you can turn on and test. A range of products and brands unmatched in WA.
All the amenities a customer needs. Onsite parking. Lockers. A café to relax in (and where the food and drinks are free).
Opening Hours:
Mon, Tues, Thurs, Fri 8am – 6pm
Wednesday 8am – 8pm
Saturday 9am – 5pm
Please Note: Our Interior Designers are all based in our Bassendean showroom for specific queries in relation to your kitchen project.
CONTACT US
If you have any questions, please contact us on 1300 270 000
BASSENDEAN SHOWROOM
12 Dyer Rd, Bassendean WA 6054
OPEN HOURS
Mon to Fri: 8:30am-4pm, Sat: 9 AM - 1 PM, Sun: Closed