How An Integrated Design Works For The Modern Kitchen
One of the big kitchen trends for 2022 is integrated kitchen design – where innovation and design meet to elevate both minimalism and functionality of your kitchen. Our much anticipated 2022 Kitchen Trends eBook details why integrated kitchens are trending, alongside many other exciting trends for this year.
A Modern Integrated Kitchen
The past few years have reset how families interact at home, and the kitchen is no exception. The idea of the modern integrated kitchen is not the same as it was. With more time being spent in the kitchen collectively, we're finding families are calling for greater access to technology, space for working or doing homework, as well as storage.
That presents a challenge for integrated design, where the focus is on minimising clutter and hiding appliances.
Let's take a look at how you can incorporate integrated kitchen ideas into your modern kitchen renovation and transform your kitchen into a functional, aesthetic social hub that works for everyone. 
What is An Integrated Kitchen?
Integrated kitchen design is hidden minimalism. Here's what that means.
In many kitchens, appliances reign supreme and are in full view at all times. Similarly, clutter can creep its way onto benchtops due to insufficient storage. With an integrated design, kitchen appliances blend in seamlessly with the rest of the kitchen cabinetry and are invisible to the passerby. Large appliances such as fridges and dishwashers are hidden away behind clever cabinetry instead of being a focal point, while loose appliances are stowed away in dedicated appliance cupboards. Messy charging cables are replaced with subtle charging stations or Point Pods that provide a power supply seamlessly integrated into your benchtop.
Inside your cabinetry, innovative storage solutions can maximise space and keep everyday items off display. For example, the Hafele Euro Cargo ST45 waste bin makes a floor bin redundant – leaving you with extra space around your kitchen island or wall. Custom cabinetry is one of the most effective ways to integrate your individual needs with the kitchen space.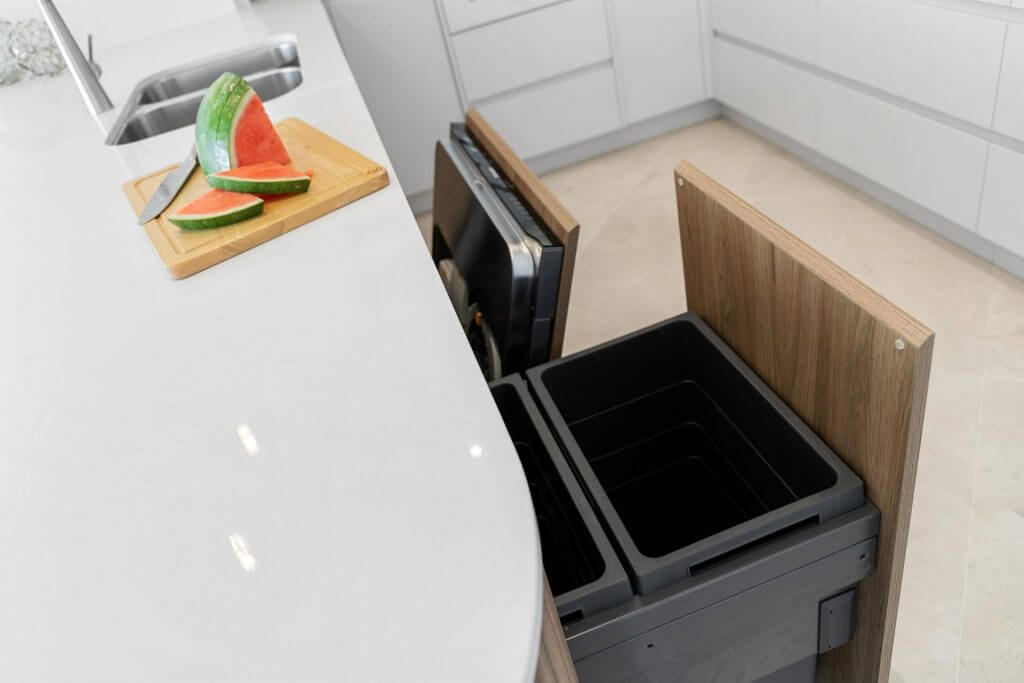 A luxury kitchen trend we've seen taking off is integrated cabinetry that's designed to conceal doors or zones altogether. Here at The Maker Designer Kitchens, we are industry leaders in custom cabinetry, manufacturing all our custom cabinets in-house for our clients. All of our custom cabinetry has been uniquely designed to meet the needs of your kitchen space, and the way you like to use it.
Well thought out and executed custom cabinetry plays a role in forming an integrated kitchen. It works brilliantly for pantry areas where custom cabinetry conceals the door openings altogether, creating one seamless surface and enhancing the look and feel of your kitchen design.
What Are The Advantages Of Integrated Design?
When it comes to matching modern kitchen design with our changing needs, integrated kitchens are the solution. They complement the clean look of the modern kitchen as the eye is drawn to streamlined cabinetry rather than clumsy appliances. If you have an open plan home, integrated design choices give a sense of flow as there are no appliances to obstruct your line of sight. Integrated kitchen design also means that everything has its place and the clutter-free approach is easily maintained. Aside from being aesthetically effective, integrated kitchens are also designed to be fully functional with appliances located in easy to access locations for total convenience when entertaining. A big help here is integrated storage units like the Hafele Tandem Pantry system which allows you to store your go-to ingredients right where you need them.
Integrated design allows you to celebrate the design and appearance of your kitchen – if you have chosen a minimalist design kitchen, then an integrated kitchen encourages you to keep appliances off display.
Integration also gives you the licence to play with seamless flows of colour throughout your design and focus on feature design elements that can make your space pop.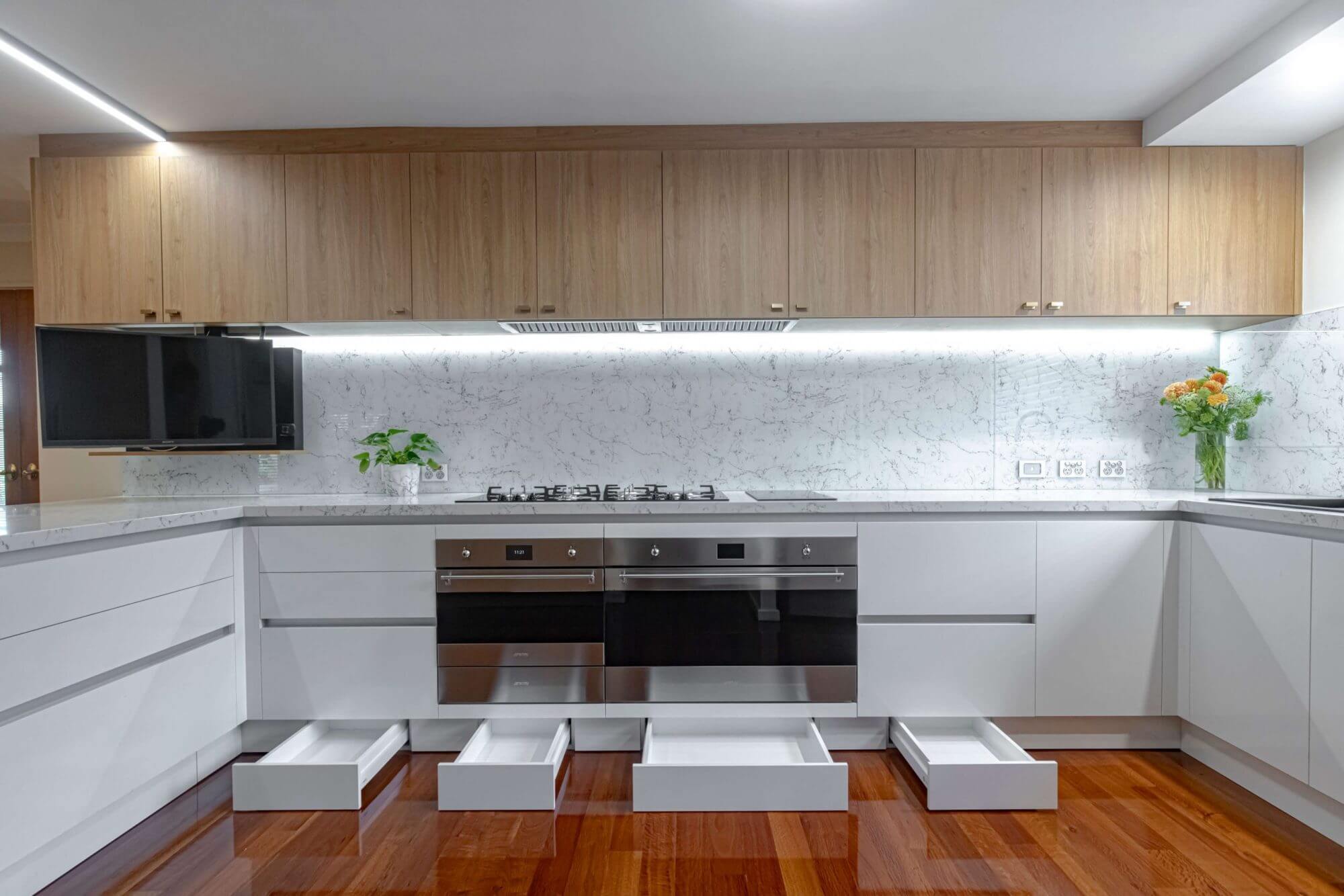 How Can I Implement Integrated Design Into My Kitchen?
If you're interested in incorporating integrated kitchen design, it's a good idea to speak to us! Our designer can help design your kitchen to incorporate the latest integration styles and trends. They'll also be able to give you specific advice based on the space you're working with and offer suggestions that you may not have thought of. Many people initially plan to replicate the current layout of their kitchen into a modern, integrated look but there could be a far more efficient way to design your new kitchen to reflect your lifestyle and individual needs.
In reimagining your modern kitchen, integrated kitchen ideas invite alternatives to traditional cooking appliances such as Pitt Cooktops and downdraft rangehood extraction systems.
If you are starting fresh with a new build, integrating your space with alfresco windows – connecting the indoor and outdoor living area or even double islands can work to elevate your overall design.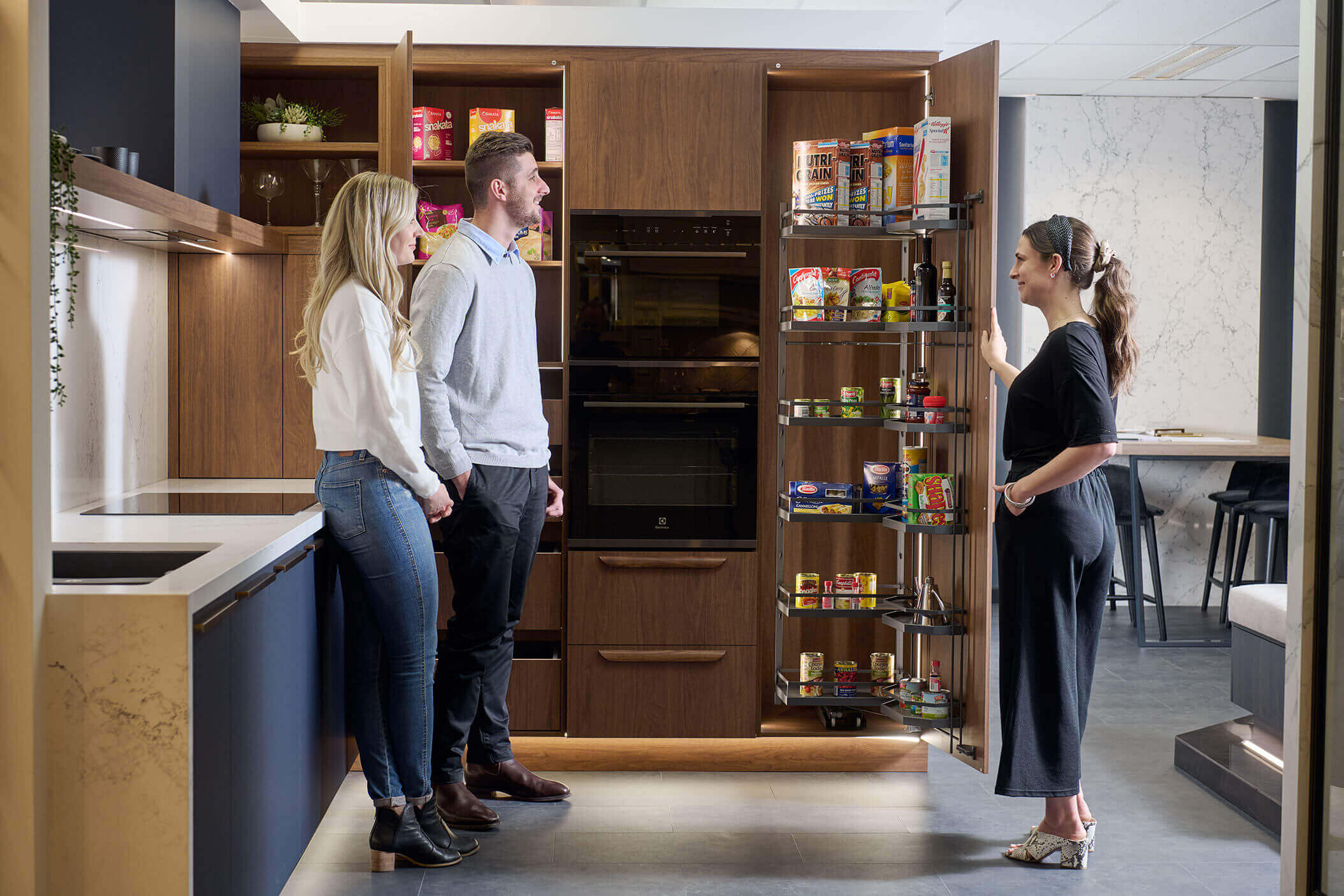 Want To Know More?
Now more than ever, integrated design can help individuals and families better manage life in the kitchen. The clean lines of the modern kitchen are enhanced by integrated design features where clutter and appliances, the curse of many kitchens, are kept completely hidden.
Integrated kitchen design is a feature of our latest 2022 Kitchen Design eBook, which you can read and download here for free.
At The Maker Designer Kitchens, our interior designers can help you plan and design your individual space. Taking your ideas to heart, we will work to streamline recommendations based on your needs and budget. With access to the latest technologies and integrated solutions, you can start realising your integrated kitchen design today – just reach out to our team, or drop by our showroom for some more inspiration.