How To Dial Up The Luxe Factor In Your Luxury Modern Kitchen Design
A luxury kitchen is the star of any luxury home, and at The Maker Designer Kitchens, we understand the importance of building your dream kitchen with all the luxury inclusions you wish for. From top-of-the-line appliances to custom cabinetry, we've got all the ideas and expertise to help you create a show-stopping kitchen that will be the envy of all your friends and family. It's exciting to bring your dream kitchen to life, and we're here to guide you every step of the way
In this blog, we discuss some of the main ways you can add to the luxe factor in your home. From how integrated design works for the modern kitchen, to the latest in kitchen styles, appliances and technology, read on to find out how to design and build the modern luxury kitchen of your dreams.
Prioritise bespoke cabinetry design
Kitchens live or die by their cabinetry. As one of the main design elements, and most used part of your kitchen, ensuring you get this right is essential.
The key to a luxury kitchen is an individual one-off cabinetry design fit for a luxury home. You want guests to walk in and feel that wow factor straight away. Curved designs and Polytec STECCAWOOD and VENETTE cabinetry deliver on this well. Also, consider flat-panel cabinets for that sleek aesthetic look, or custom painted cabinets for the ultimate bespoke design feel for your home.
A striking luxury style is floor-to-ceiling cabinetry like shown below or unique feature sections in your cabinetry to really make your design stand out. A great example is Polytec's Calcutta range which includes stunning vertical panelling styles, as does their Peak and Cove profiles. Pairing these cabinet finishes with a handless design and smart cabinetry features can work wonders in your home. To see all these cabinetry designs and others up close, visit our Bassendean showroom and immerse yourself in the latest kitchen design.
Luxury benchtops are a must
Nothing says luxury quite like a stunning kitchen benchtop. Luxury veined styles like Empira White or Empira Black can add a smooth yet lightly textured look, and complement other design elements in your kitchen. 
Your benchtop design also plays into creating a luxury kitchen. A popular choice in many luxury kitchens is curved edges, as seen in our Cottesloe project. A curved benchtop or kitchen island automatically brings that luxe factor and has been a trending design choice for the past few years. 
Another way to elevate your benchtops is choosing a thicker material with thicker stone. For example, a 100mm thick benchtop is a striking feature and high-end selection for your kitchen. 
Matching your benchtop with a stunning stone splashback to create a seamless design can also make a statement. A luxury choice would be opting for a luxury veined style for both the benchtop and splashback which creates a sense of flow and a show stopping visual impact.
When you work with us, you automatically gain access to the best quality benchtop materials on the market, and unique design techniques that will set your space apart. For more ideas on how to incorporate modern design features into your statement kitchen countertops, read our blog on Design Inspiration For A Standout Kitchen.
Invest in luxury appliances
A well executed luxury kitchen is not just about the aesthetics, but also the functionality and practicality of the space. A thoughtful layout that takes into account the flow of the kitchen and the placement of appliances is crucial in creating a kitchen that is both beautiful and efficient to work in. The inclusion of high-end appliances such as professional-grade ovens and cooktops, built-in refrigeration and wine storage, and smart technology can elevate the functionality of the kitchen, making it a pleasure to cook in. The right appliance inclusions can make all the difference in creating a kitchen that is not only visually stunning but also a joy to use on a daily basis.
Integrated appliances are a great way to conceal daily appliances behind cabinetry to focus on the design aesthetics of your luxury kitchen. Integration allows you to include all the integrated hardware under the surface like Hafele tandem pantries, Le mans corner units, to pull-out storage units. Integration also gives a refined feel to your space. By concealing everyday appliances behind cabinetry you also remove the crowded feeling you can get when everything is on display. This is where smart technology comes in. For example, innovative Point Points allow for you to seamlessly hide unsightly power points and provide you with more bench space. Point Points are uncovered with simple touch of a button, and are able to be completely hidden when not in use.
But integration isn't the only way to go. Freestanding ovens with custom rangehood designs like the below example where we custom built the rangehood for this Hamptons kitchen can add unique character to your luxury kitchen design. This luxury Falcon Nexus freestanding oven was designed to be showcased in this white Hamptons kitchen design.
Include a bespoke kitchen island
For high-end kitchens, the island is the centrepiece that brings your whole design together. It's the glue between your benchtops, splashback and your cabinetry. Creating a bespoke kitchen island is one of our specialties here at The Maker Designer Kitchens, as we design and build your kitchen island in line with your design preferences and kitchen style, using the highest grade materials. 
As mentioned, a curved kitchen island is an on-trend luxury inclusion. Curves help to add a layer of complexity and intrigue that only adds to your luxury modern kitchen design. You can also approach curves in many different ways, for example, by including STECCAWOOD either as a feature section or as the main design element of your kitchen island.
Extra long or double islands are also perfect for modern luxury kitchens. Play around with the thickness of your island benchtop  – contrasting thicker benchtops with thinner ones as we did here in City Beach with thick Caesarstone with a waterfall edge adds to the luxe factor and includes a dining table section at one end.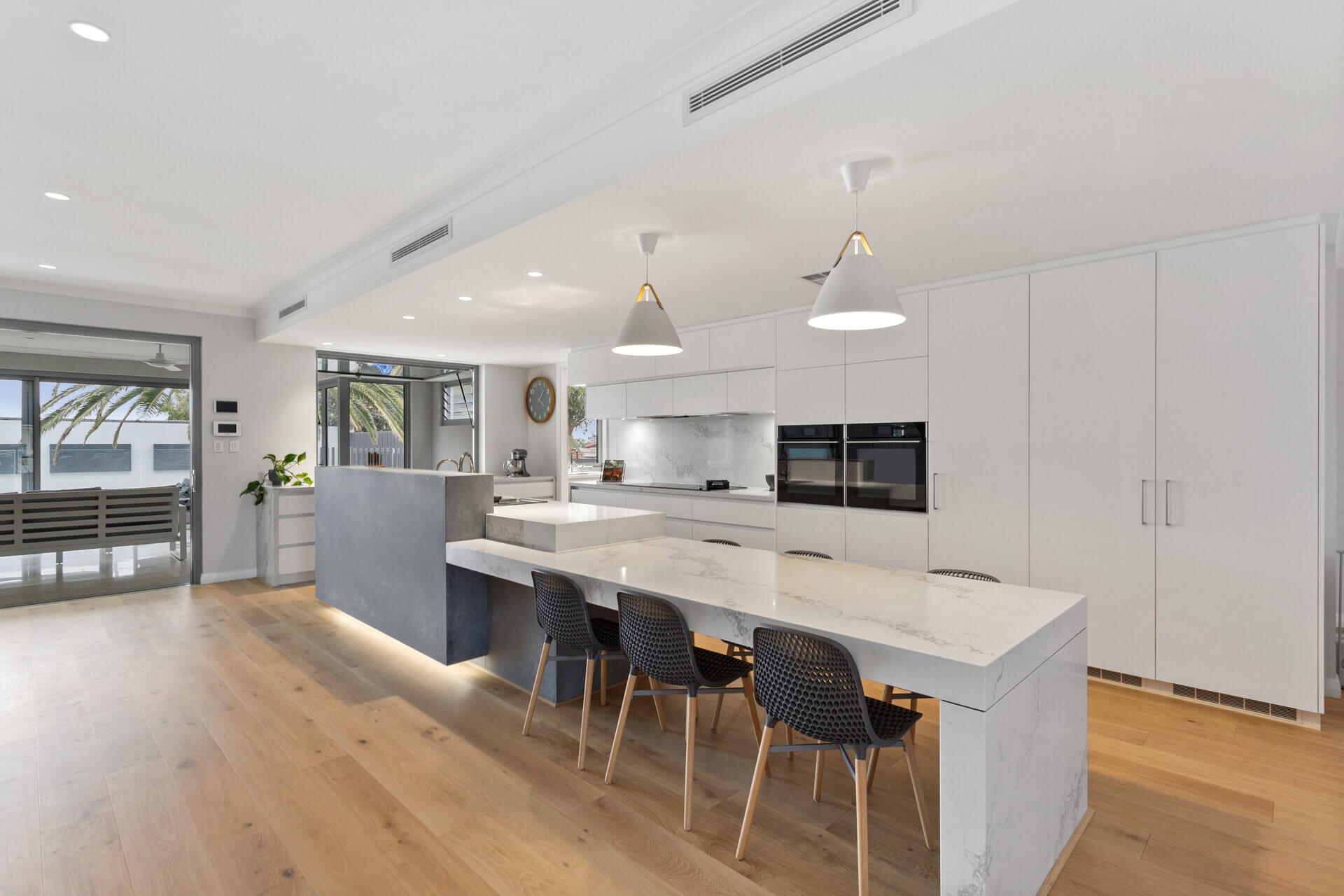 Add a butler's pantry or scullery
A luxurious kitchen must have room to move and ample space to create stunning dishes, and host friends, functions and lavish parties. Many modern kitchens are built to impress, but when it comes to preparing a variety of drinks and finger foods, it's often difficult to find the space to do so without infringing on mingling guests. 
A butler's pantry and or scullery are located directly next to the kitchen and allow you to prepare meals, drinks and do most chores out of the way of your central kitchen space. Butler's pantries and sculleries also allow you to keep your main kitchen area looking stunning most of the time, with most of your heavy storage kept away from your main preparation and dining areas. 
Be smart about technology
While technology has the ability to make our lives easier – cramming your kitchen with all the latest tech won't serve to enhance the luxe factor in your luxury modern kitchen design. 
Remember: balance and class are important. Keep it simple and refined by adding smart cupboards and docking drawers that help remove clutter and bring the focus back to minimalism and ease of use. We recommend installing high end cabinetry choices such as the Blum Servo Drive – a smart handless electrical opening system for your cabinets, built-in smart fridges and other appliances. You can also install the Zip Tap – providing you instantaneous hot and cold filtered water all at the touch of a button. 
For more ideas on how to incorporate the latest smart technology and boost your kitchen's luxe factor, take a look at our dedicated luxury kitchen design page.
It's all in the details
When designing a modern luxurious kitchen, often it's the small things that end up making all the difference. Our experienced team at The Maker Designer Kitchens have the expertise to help advise you on all the premium high-end inclusions you can consider for your dream kitchen.
Feature range hoods, luxe tapware or built-in water filtration systems; these are the everyday use cases that will elevate your luxury kitchen. While it's tempting to go all-in on these inclusions, we recommend choosing those that will suit your lifestyle and daily needs. For example, if you crave a primary workspace with equal parts design and functionality why not opt for the innovative Franke Bow Prep sink shown below  that includes chopping boards, and knife blocks in a seamless and user-friendly design. If you find that kitchen clutter is a constant issue, imagine a retractable splashback that unveils hidden storage for a cleaner and more minimalistic workspace. Visit our showroom to see this on display.
Amplify luxury with The Maker Designer Kitchens
Whether you're renovating your kitchen or building a new home, our experienced team is here to help you on your project. We are Australia's largest kitchen and stone manufacturer and have over 22 years of experience designing and building luxury dream kitchens.
Our experienced Interior Design team is at the forefront of the latest kitchen design trends and styles. As part of your kitchen renovation with us we will create your very own bespoke kitchen design based on your individual style and cooking requirements.
We locally manufacture all our cabinetry and stone in our state of the art factory in Bassendean. Our experienced cabinet makers construct your kitchen in our factory before we install at your home to ensure the highest of quality.
Visit our Bassendean showroom to meet with our design team and view our premium kitchens and inclusions on display. 
For more inspiration, download and read our 2022 kitchen trends ebook.