DESIGN INSPIRATION FOR A STANDOUT KITCHEN
One of the most exciting parts of the kitchen renovation process is creating a spectacular design that reflects your unique style and makes an impression. As the centrepiece of your home, a beautifully designed kitchen always makes day to day living more enjoyable.
We love nothing more than creating kitchen designs for our clients that have a real wow factor about them! As such we're always looking for new ideas and the latest trends in kitchen design styles to include in our designs.
Here we have collated some fresh new ideas for your kitchen renovation that will help you create a standout design that will really make your guests envious when they visit.
Double Island
If you have a large space to work with, think long and luxurious with extra seating or a separate dining table section creating a distinct island feature in your home. If that idea doesn't match your space, you could also choose to include a pair of island units next to each other with a linked benchtop or a table extension design like the one shown below.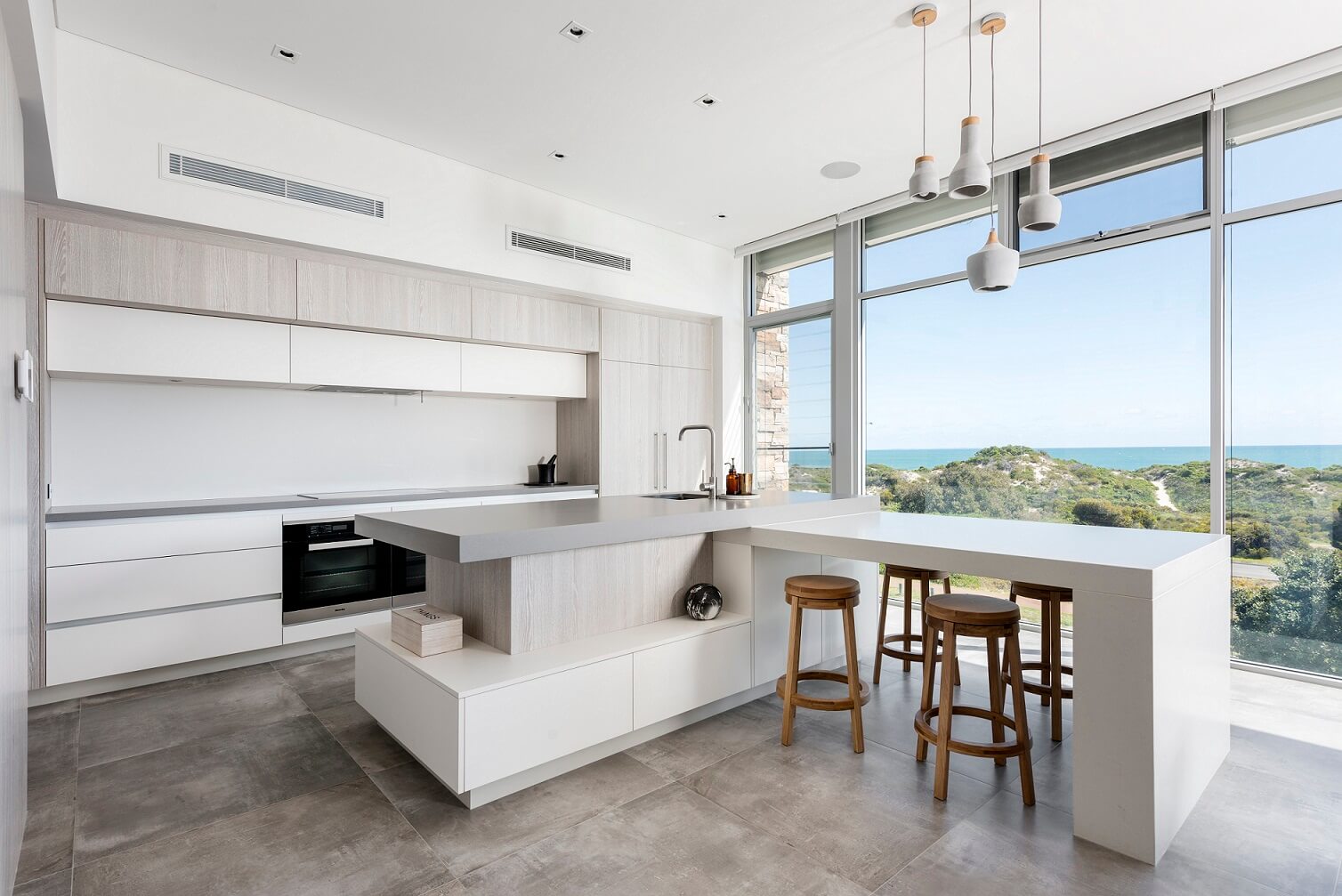 Statement Benchtop
There's no rule in kitchen design that says that all your benchtops need to be the same colour. Contrasting cabinetry and benchtops can create a real wow factor in your overall kitchen design. Another great idea to create a statement benchtop is to include a layered design like below that can combine either laminate or stone sections.
Gold Accessories
A gold sink and tapware adds an incredible wow factor to your kitchen design! Partnered best with a white benchtop or a richly veined stone, these two colour combinations work extremely well together and really provide a luxurious high end appeal. To complete the look you could also add gold cabinetry handles into the mix to make your design pop.
Floating Shelving
Not a new trend in kitchen design, but the way this has been evolving in kitchens of late has been more daring in its application. In some kitchens we are seeing floating shelving completely replace overhead cabinetry in favour of creating a beautifully curated kitchen that combines greenery, art pieces, cookbooks and stylish kitchenware pieces.
Pitt Cooktop
The new kid on the block for stylish appliance design is Pitt Cooking. A new cooking concept where the burners are integrated directly into your benchtop and you can choose the spacing allowing enough room for your cookware. Totally unique in its appearance a Pitt Cooktop in your kitchen is sure to set your kitchen apart! Visit our Perth Showroom to see a Pitt Cooktop on display.
We hope you've enjoyed this feature on some of our favourite kitchen trends and styles that really inspire us to do what we do. If you'd like to see them in person, contact our office on 1300 270 000 to book a showroom appointment, and chat with our award-winning consultants on how you can transform your kitchen, today!