WHAT IS A 'MODERN SHAKER' KITCHEN?
It's goodbye minimalism and hello to modern shaker cabinetry that brings an eclectic blend of design features to this kitchen style. 
Yes, there's a new style of shaker kitchen in town. Modern shaker kitchens bring colour to the forefront and offer a refreshed version of shaker-style cabinetry that celebrates the clean and sleek while moving away from what you would expect from traditional all-white Hamptons kitchens. 
Today we take a closer look at how modern shaker style kitchens are bending the rules by combining contemporary design features like open shelving and concrete benchtops. But bend the rules all you like, when you design and build with The Maker Designer Kitchens, we ensure your dream kitchen is uniquely yours from the start.
What are shaker kitchen cabinets?
Simply put – Shaker (or 'profiled') cabinetry are recessed panels and doors like the example shown below. Standard shaker kitchen doors have a centre recessed flat panel and can be surrounded by a rail or door panel in different styles or shapes. We love shaker cabinets for their simple yet stylish appearance. 
Most people associate shaker-style kitchen cabinets with traditional Hamptons style kitchens which are their natural habitat. Shaker cabinetry (like shaker furniture) is also more bespoke than flat panel cabinetry and is typically an upgrade for your cabinetry design in your kitchen. For more information on cabinetry, and styles read our article here.  
Want to add a splash of colour to your shaker style kitchen? Shaker cabinetry will come with a thermolaminated vinyl profile or a painted style which allows you to really customise the colour scheme of your kitchen to your preferences. 
The image shown below is a traditional Hamptons style kitchen we completed in Perth's western suburbs. It features Polytec Keimbah Profiling, a Hamptons style shaker door with traditional style cup pull handles, glass fronted kitchen cabinets, planton kick and all-white colour scheme. It pulls together the design elements we are accustomed to seeing for a Hamptons style kitchen.
So what is modern shaker?
Shaker style kitchens are seeing a revival in contemporary kitchen design and we love it. 
It's not happening as it used to though – we are defining Modern Shaker kitchens as an evolution of the traditional Hamptons design. We are seeing a huge trend with modern shaker profiles being used in kitchen renovations for contemporary and character style homes.
Contemporary shaker design features cleaner refreshed versions of this traditional style with minimal layering and clear, predictable lines. 
What kitchen styles do shaker cabinets work with?
When it comes to modern Shaker design, we recommend profiles such as the Polytec Hamptons Profile. This syncs up beautifully with our kitchen renovations and other current shaker profiles include Polytec Casino, Brooklyn, Berrilee and Ascot. 
These profiles add that beautiful texture and style to your kitchen in a paired back fashion. 
Modern shaker kitchens will also embrace colour in single or two-tone examples like the example below. They typically feature more contemporary style handles on the doors and panels like half moon shapes and stone finishes. In some cases, handleless design isn't just a nice touch – it can also be included throughout the entire kitchen. In some of our modern shaker style kitchens, we have even paired shaker and flat panel cabinetry together for a unique eclectic look and feel.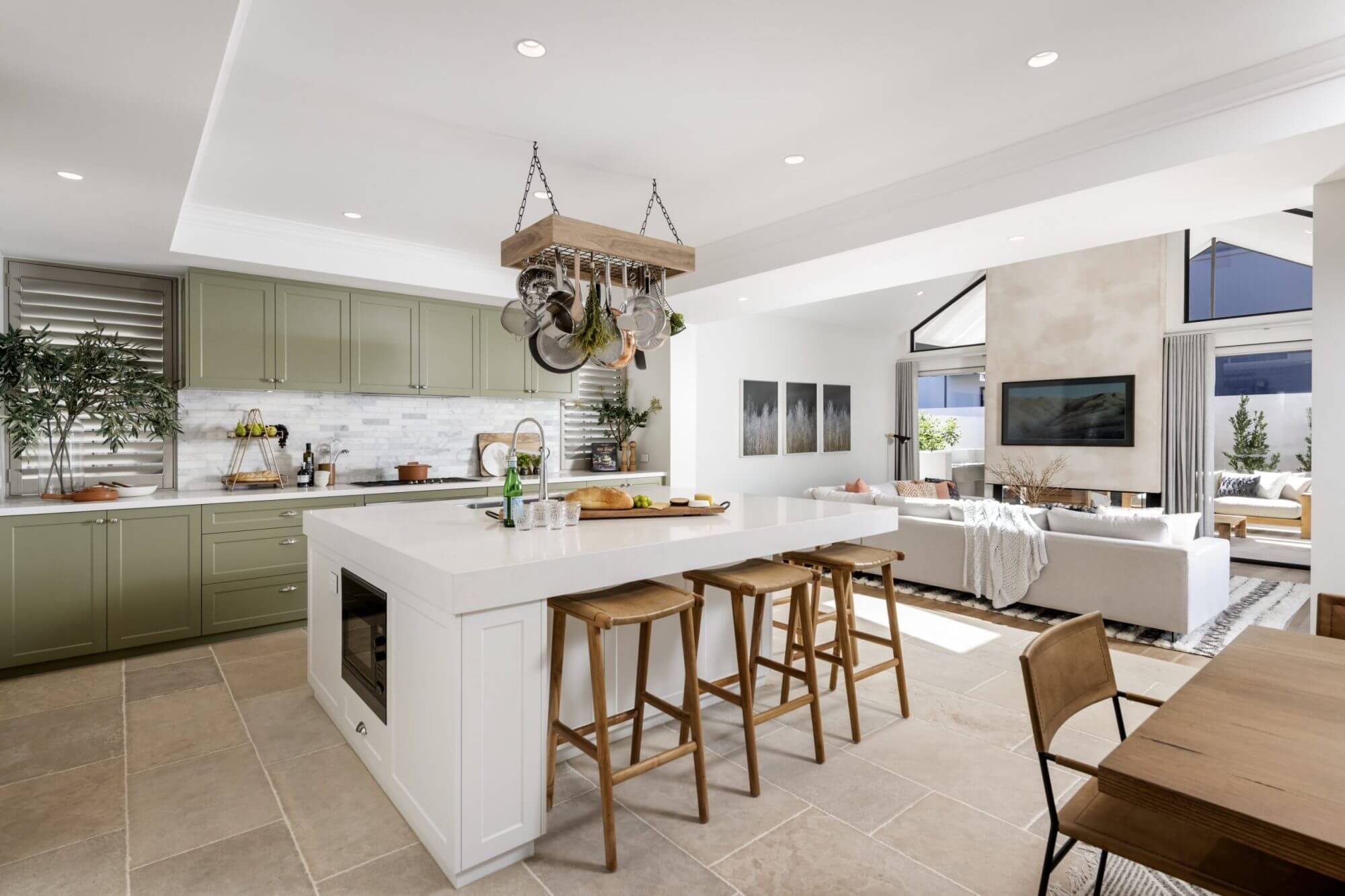 Break the rules with shaker style cabinetry
While Hamptons style kitchens provide the most obvious base for the Shaker style cabinetry, nothing is stopping you from playing around with other feature contemporary design elements like floating shelving and/or modern applications of glass fronted cabinets. 
Combining asymmetrical open shelving with glass fronted cabinets (like below) and featuring integrated lighting and stylish Polytec fluted glass offers a beautiful texture and obscures the view into the cabinets.
It's common to also see integration throughout modern shaker kitchens like the rangehood style displayed below. Completing the design are fully integrated fridges/freezers, dishwashers, pantry hardware and even smart technology devices like the Hafele Point Pod and docking drawer. This allows the design elements of the kitchen to shine through while keeping the appliances and hardware carefully hidden from view. 
Combining modern and bespoke technologies in your kitchen doesn't mean it has to be all hidden. In the kitchen renovation we completed below there is a modern Pitt Cooktop integrated directly into stunning Caesarstone Georgian Bluffs benchtops. This provides a stunning designer feel to the space – marrying form and function. 
This modern shaker kitchen also features contemporary Caesarstone Rugged Concrete benchtops on the island (left) and perfectly defines this new style trend. 
Embrace modern shaker with The Maker Designer Kitchens
Imagining shaker design in your new kitchen? Our skilled team of interior designers, cabinet makers and kitchen builders at The Maker Designer Kitchens can make this happen. Whether you have classic Hamptons style in mind, or are wanting a modern twist merging traditional and modern Hamptons elements, we custom design your new kitchen down to every last detail. 
Wherever you are in your kitchen renovation journey, our team of designers at The Maker Designer Kitchens is ready to ensure your design, build and installation go smoothly. With decades of experience designing and delivering Perth's modern kitchen designs, we look forward to working with you to realise your dream luxury kitchen. Get in touch with us to start your kitchen transformation with us today.