OUR FAVOURITE KITCHEN CABINET STYLES
Commencing the design phase of your kitchen renovation is exciting. Not only will you get a feel for the incredible styles, colour schemes and themes out there, you also start to visualise how you wish your own kitchen to take shape.
Once your style and colour scheme has been decided on, you will need to select which cabinetry style to go with. Do you like flat-panel, profiled, or do you prefer a curved look?
Whether you already have an idea of what you like or are seeking design inspiration, the team at The Maker Designer Kitchens are here to offer you expert advice on all things kitchen styles and design. Our experienced designers can help you bring your style and design together, as part of our design process. Read on to learn more about the different cabinet styles available, all which can be viewed at our showroom.
Flat-panel cabinets
Think of a modern kitchen with a sleek aesthetic. This style consists of a single smooth piece of MDF to form the cabinet door. This cabinet style can be done with or without handles and is available in a variety of finishes. If you choose to go without handles, or with a darker colour scheme, Polytec VENETTE is a great choice as it does not show fingerprints and can be viewed on display in our showroom.  Kitchen design styles that suit flat panel cabinets include everyday classic, modern, industrial, luxury, coastal and minimalistic.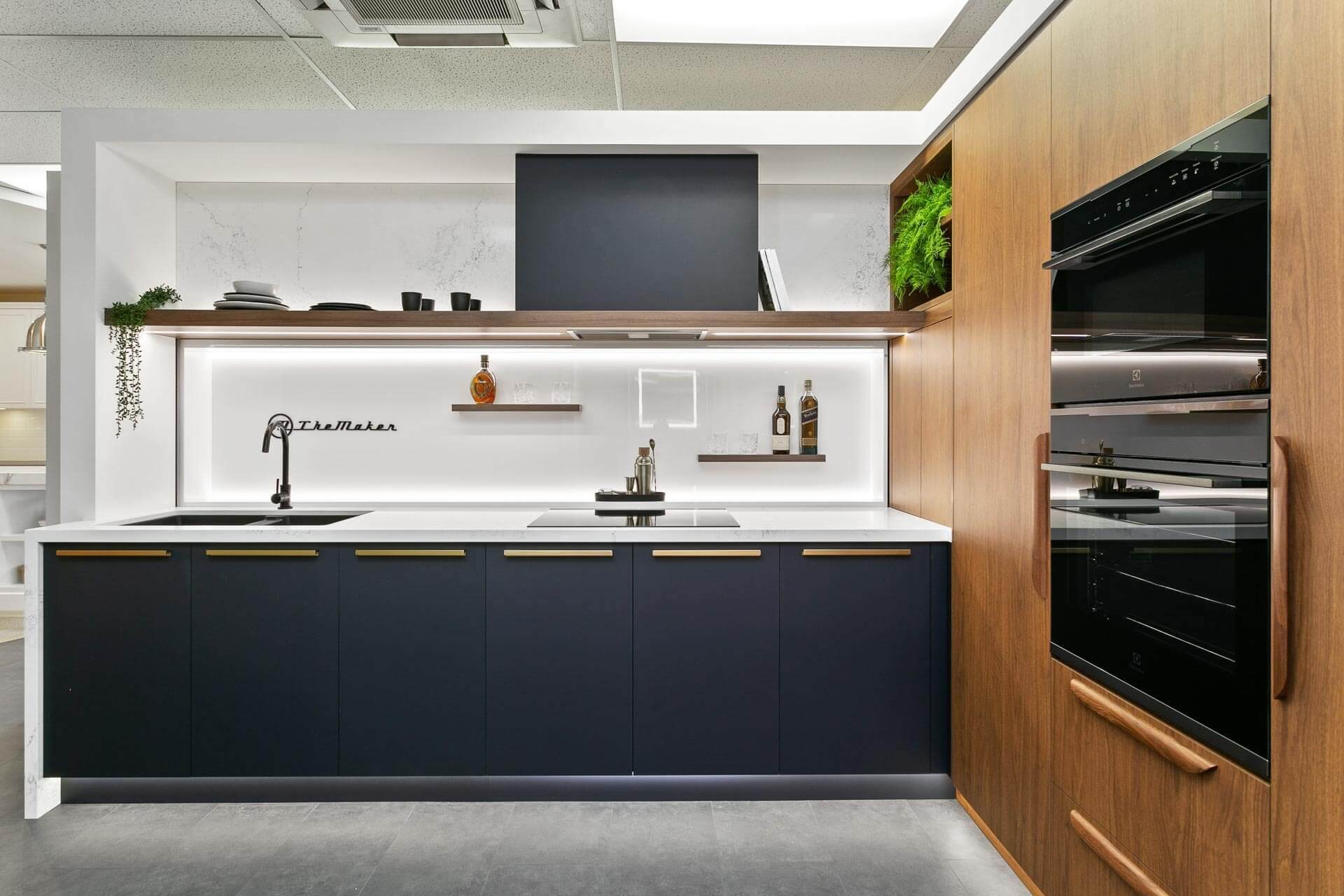 Profiled cabinets
Profiled or shaker-style cabinetry is one of the most popular cabinet door styles because it is timeless and works beautifully in many kitchen designs. Most people typically associate profiled cabinets with a Hamptons style kitchen, but with so many profile styles available,it can really work with a lot of different kitchen themes. Kitchen styles that suit profiled cabinet doors include – Traditional, Hamptons, Farmhouse, Coastal and Eclectic. If you like the look of profiled cabinets, Polytec Thermolaminated door styles offer many design options.
Painted cabinets
Painted cabinets are a luxury high-end style of cabinetry that allows you to choose a custom colour to suit your chosen kitchen design. It allows for complete customisation for your kitchen and is typically done on a profiled cabinet door.  Kitchen design styles that utilise painted cabinetry most commonly include— French Provincial, Country, Farmhouse and Hamptons style kitchens. If you have bespoke design features such as a chimney breast in your design, it will usually require a painted finish to finish the custom elements. Visit our Bassendean showroom to view this on display in our French Provincial kitchen.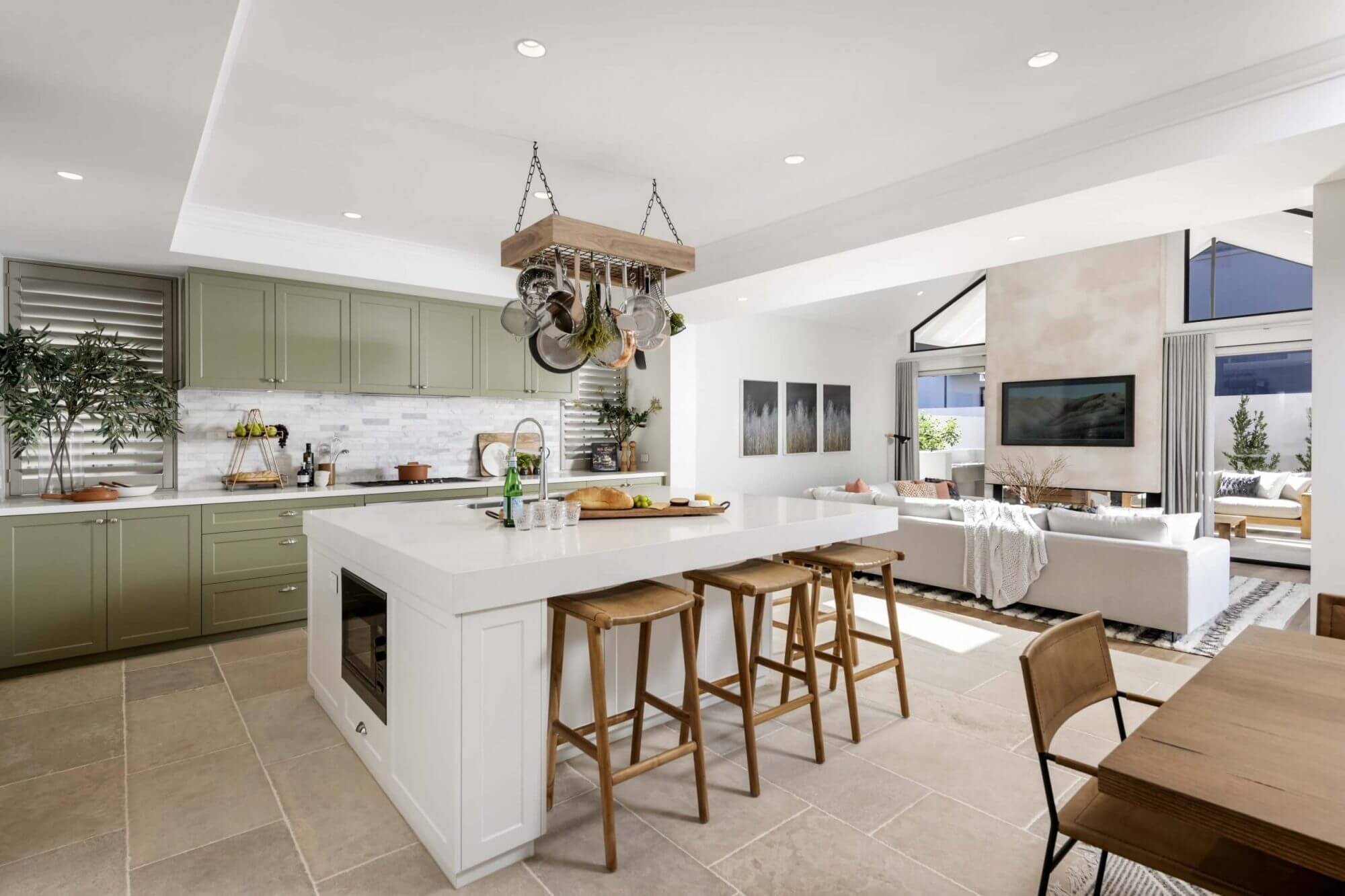 Feature sections
There are now some beautiful custom cabinetry panel profiles on the market which allow for unique feature sections to be incorporated into your kitchen or cabinetry design.
Polytec has some beautiful vertical panelling styles available in their Calcutta range as well as their Peak and Cove profiles, all of which we have for you to view in our Bassendean showroom.
Polytec Steccawood is another great way to add feature sections to a kitchen. Its individual prefinished decorative battens can be applied in a vertical or horizontal manner. Steccawood is also a great choice if you prefer curved ends to your kitchen island.
Glass-fronted doors
Glass fronted cabinets have become popular again in kitchen design. They create a unique style in your kitchen design and provide endless opportunities for homeowners to curate the look and feel of their kitchen by displaying thoughtfully played kitchenware bowls, plates, glasses and vases.
Traditionally glass-fronted cabinets have been used mostly in Country and Hamptons style kitchens, but there has been a recent increase in this design being used in other kitchen styles. Glass-fronted cabinets are now being used as a feature in Retro, Mid-century and more Eclectic style kitchens; all design styles that are currently on the rise.
Glass-fronted doors can be completed with clear or obscure glass. Fluted glass is also seeing a resurgence which is aligned with the revival of new retro-style kitchens
Feature shelving
Feature shelving is a fantastic way of utilising wall space in your kitchen, and can serve as a visual feature point in your overall design. You can opt for open shelving, streamlined floating or boxed style shelves. Open shelving is an ever increasing choice in modern kitchens to create a more unique design. It has started replacing overhead cabinetry in many designs and can also be used to create asymmetrical designs.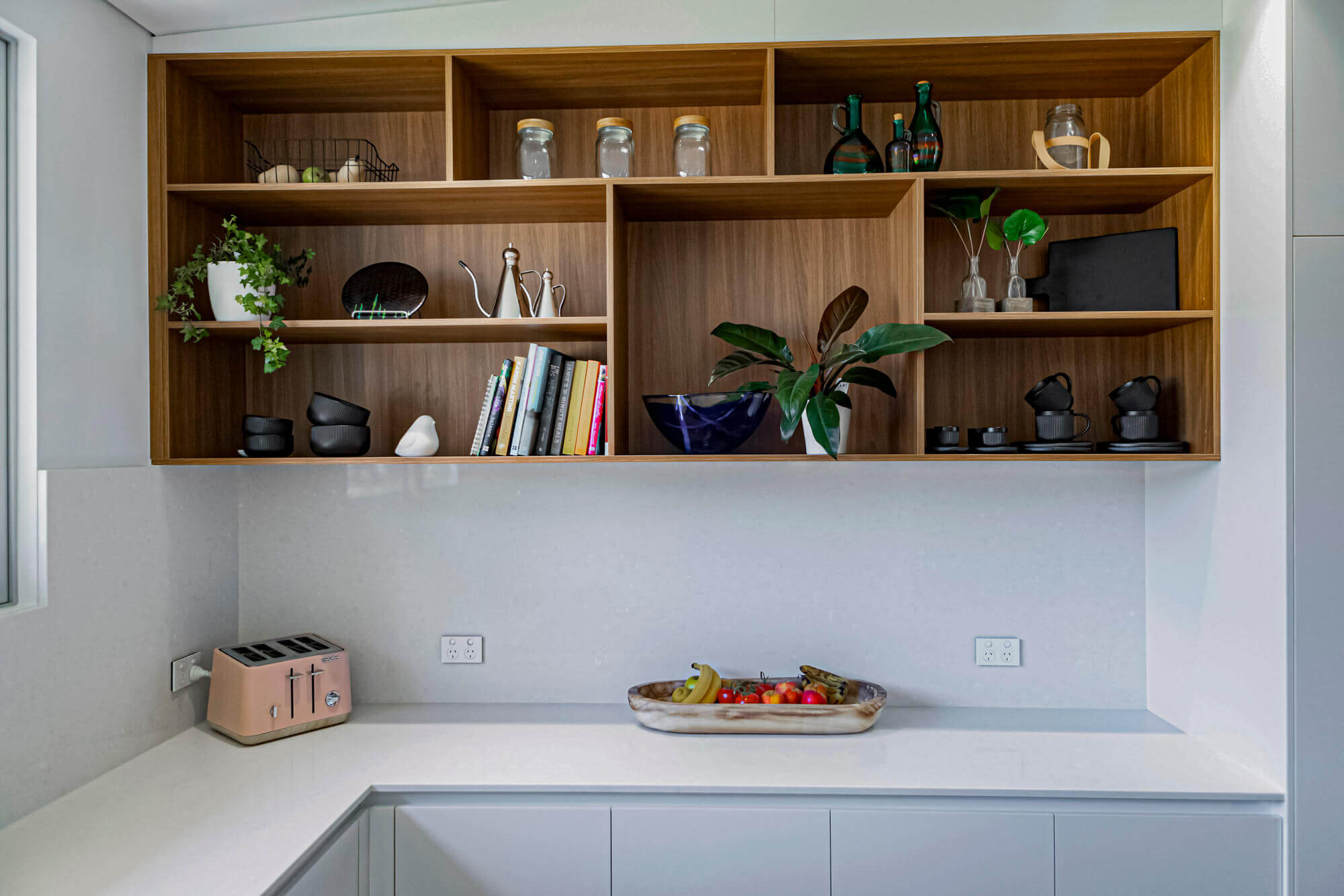 The impact of good cabinet design
Cabinets are the visual centrepoint of every kitchen, and well crafted and designed cabinetry is essential for luxury kitchen design. Clever carpentry can also help integrate and conceal appliances in your kitchen, providing a clean look to the entire kitchen space.
Bringing your kitchen to life
Once the design has been refined and finalised, our team will take care of the building and installation of the kitchen components, including cabinets. Here at The Maker Designer Kitchens, we are involved with bringing your dream kitchen to life from start to finish. You don't even need to adhere to a specific kitchen style, and can combine elements of many to create a style which is uniquely your own.
Choose the best kitchen maker for your new kitchen
Choosing an award-winning industry leader in luxury kitchen design, manufacturing and renovation is paramount in creating your dream space.
The team at The Maker Designer Kitchens Perth offer excellent customer service combined with exceptional design, carpentry and installation services. Our design service brings it all together— from your initial design to your stunning finished kitchen.
We are West Australian based, and we craft all of our cabinets and benchtops locally by our team of highly experienced cabinet makers.
Visit our showroom to see all our cabinetry styles in real life. Being able to see and touch the cabinetry, added customisations and material options available, you will get a feel for the high quality of our custom kitchens, and you will be able to start to visualise what you wish your dream kitchen to look like.
You will also be able to speak with one of our friendly staff. You will be able to discuss costs and design options face-to-face, and it will be the perfect beginning to your kitchen renovation journey.
Are you ready to update your kitchen?
Get in touch with us and speak with one of our experienced staff to discuss some potential design ideas and to launch the first phase of your new luxury kitchen project.