BEFORE & AFTER: More Of Our Fantastic Kitchen Renovation Projects!
Over the past year, the team here at The Maker Designer Kitchens have worked on some stunning projects around the Perth area, and we never pass off an opportunity to share with you some of our latest and best-loved kitchen before and after shots. 
Whether it's a modern take on a Hamptons kitchen, or a modern kitchen makeover, no matter where you are in your kitchen transformation journey, our unique three step design process allows our clients to realise their luxury kitchen dreams while incorporating some of the latest kitchen design trends. 
Here are some more of our before and after renovated kitchens.
Swanbourne: Dated to Designer
Our client Liz had a clear vision for this project. Shaker profile cabinetry was a must, as was a neutral black and white colour scheme that included warm elements. 
In designing Liz's kitchen, we played around with multiple kitchen remodel ideas and colour combinations to find the right match that would also complement the original wooden floors throughout her home. 
For the cabinetry, we opted for Polytec Black Tempest for its blackened finish which is warmer than a flat matt black, yet demure enough not to feel overly extroverted. The contrasting cabinetry is Ultra White and the vinyl Hamptons Profile was selected throughout the entire kitchen. Luxury Caesarstone Empira White features on the island and pairs perfectly with Caesarstone Pure White in the remainder of this kitchen as they have the same white base. These iterations of white are also reflected in the Ultra White cabinetry and provide a seamless flow in this luxury kitchen design.
Liz's old kitchen had a permanently fixed table – so in this new kitchen, we worked with her to create a striking island design with seating and storage options. Integration was a key consideration in this renovated kitchen to keep everything off display so the design aesthetics could shine through. Behind the white wall of cabinetry is an integrated fridge/freezer, two Hafele Tandem Pull Out Pantry Units and acres of storage. Left of the sink zone is an appliance cupboard subtly concealing everyday appliances like the kettle and toaster. If you connect with this kitchen transformation, you can read more about this project here.
Landsdale: A Modern Overhaul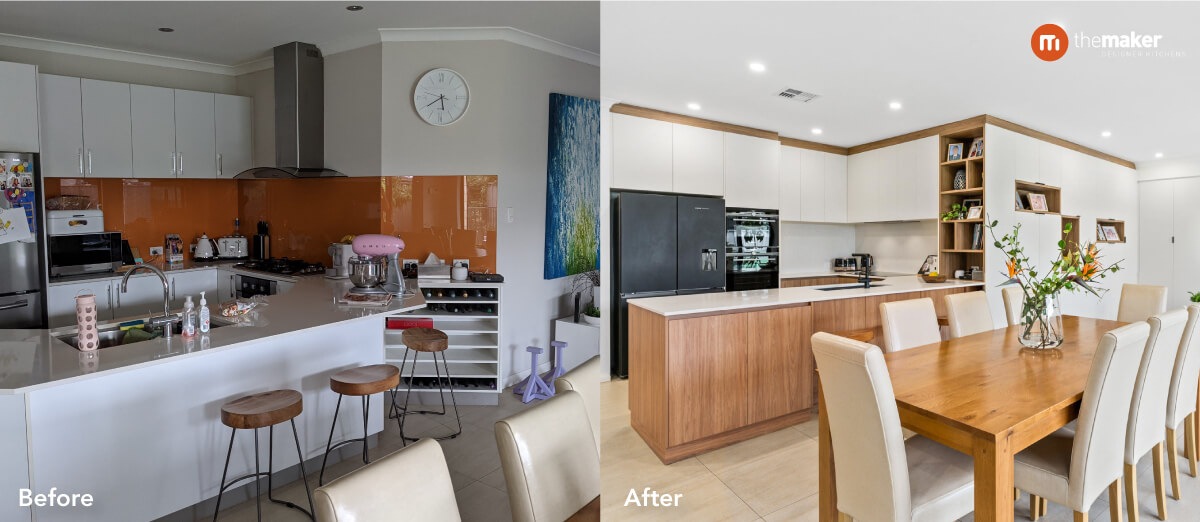 Our clients Mark and Rebecca were looking to completely revamp and modernise their kitchen and family room in their home. Take one look at the before picture and you can see why Mark and Rebecca were eager to give us creative licence to create a unique design that would refresh the appearance of their home and provide practical storage options throughout the kitchen and family room. 
The existing layout proved to be the most practical for this zone. We removed the angled walls and created a striking two-tone design with open shelving, contrasting peninsula and Caesarstone splashback.
Gone are the dated and mediocre cabinetry. No more clumsy handles, and patchwork splashback; Mark and Rebecca's new kitchen features a handless cabinetry design that flows from the kitchen into the family room and is connected with a feature ceiling scribe. 
This kitchen before and after shows how important colour combinations are in achieving that contemporary look, while also refreshing and invigorating the space. Polytec Prime Oak and Papyrus Legato create a warm modern feel and pair beautifully with the Caesarstone Frosty Carrina benchtops and splashback. For more on this superb facelift, visit the Project's dedicated page here. A big thanks to Mark and Rebeca for trusting us completely. We adore your new kitchen as much as you do!
Inglewood: An Ode To Open Plan Industrial Design
Open plan kitchens and living areas have the potential to do wonders for any home with limited space or small kitchens. Our recent project in Inglewood proved that right. One of the main objectives for our clients for this kitchen renovation was to open up the space to the kitchen, living room and dining room areas. 
This renovation took place in an old character home where each of the zones was in its own room. Their old kitchen was crowded, with the stove cooktop crammed in the corner, it was clear that a rethink was in order. 
We helped our clients redesign their kitchen layout; which included removing all the walls enclosing these spaces for a more modern open plan design. 
Our clients chose an industrial kitchen style for their newly renovated kitchen. We realised the brief by choosing defined dark Polytec Storm handleless cabinets, paired with Caesarstone Fresh Concrete benchtops and exposed red brickwork. 
During the renovation process, our clients uncovered red brickwork and instead of working around it we decided to work this raw element into the final design concept as a feature wall. 
The new layout is able to accommodate a breakfast bar with seating – something our clients were keen on from the outset. 
Bassendean: A Fresh Take
Our Bassendean clients Matt and Shar came to us with the vision of updating their kitchen and laundry room to make the most of the available space. From the outset, we saw opportunities to modernise their kitchen with a new induction cooktop, semi-integrated dishwasher, integrated rangehood and undermount sink. 
Key objectives for this kitchen renovation were to maximise storage options and freshen the overall appearance to make it feel lighter and more spacious.
In the design phase, our designer worked closely with Matt and Shar to create a tall cabinetry design that replaced the existing bulkhead to the ceiling and included four extra cabinets for additional storage. The tall cabinetry design really opens up the space to make the kitchen feel bigger and lighter; as does the Polytec Montage and Boston Oak colour scheme. 
We love how the Caesarstone splashback and framed oak cabinetry around the cooktop zones add a striking modern feature and relate to the front of the kitchen peninsula.
Although not visible in this kitchen before and after, part of this renovation included the laundry zone through the doorway on the left which includes another sink, feature shelving and cabinetry storage.
East Perth: From Awkward To Polished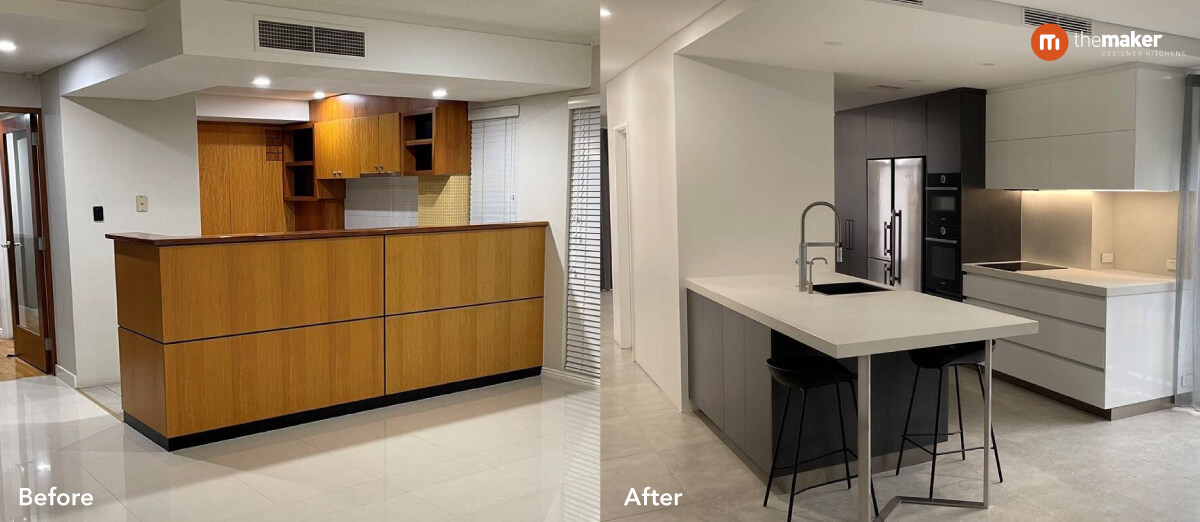 This kitchen renovation in East Perth involved a significant redesign of the kitchen zone that involved moving walls to create a more modern layout. The original layout of this apartment was awkward and unbalanced, and it was clear the interior design clearly wasn't the priority.
Our client's objective for this kitchen renovation was to create a contemporary minimalist design that accommodated all their small appliances and storage needs but had everything off display.
We worked with our clients to implement a new walk-through design and modernised the kitchen to create a more practical design that met their needs. Inside the kitchen, we have lots of integrated storage solutions including multiple banks of drawers, a large appliance cupboard, a Euro Cargo waste bin, a tall deep pantry design with custom drawers and two Tandem Pantries and a custom vertical divider storage for cutting boards and oven trays.
The colour scheme brings the contemporary feel with striking Cloudburst Concrete benchtops and stone splashback and Polytec Cavia Linia and Polar White Cabinetry. Also delivering on the minimalist design are the updated handleless cabinets and the cantilever style design on the kitchen peninsula which has a custom stainless steel leg, and doubles as a dining area.
Refresh Your Kitchen With Our Expert Team
At The Maker Designer Kitchens, our kitchen makeovers emphasise luxury design and high-end inclusions that will make your new dream kitchen kitchen stand out. 
When you choose The Maker Designer Kitchens to renovate your space, your vision and needs become the centre of our three step process. From design and build, to the final installation, you work hand in hand with our expert team to realise your dream luxury kitchen. For more about our process, or to discover the latest kitchen styles and trends – download our 2022 kitchen trends ebook for free.