OUR FAVOURITE KITCHEN LAYOUTS!
When undergoing a renovation, sometimes it can be tricky to imagine your kitchen design any other way that how it currently looks, however a well-planned kitchen layout is crucial to gaining an efficient and enjoyable space. Every space is unique but there are some standard configurations and common constraints that come into play in any kitchen remodel, so how do you decide which kitchen design layout will work the best for your kitchen when there are so many different types?
To help inspire your dream kitchen design we talk about some of the most commonly seen layouts, and what to consider when choosing one for your home!
Galley Kitchens
Named after a galley on a ship, this kitchen layout features a central walkway between two rows of cabinets and are ideal in homes with smaller kitchen areas, as a galley style design makes good use of all available space. A great benefit of the galley kitchen is all your appliances and workstations are easily accessible from one another – making it super-efficient when it comes to food preparation, cooking and cleaning up. Potential downsides to this style are that it can lack storage, and can sometimes feel a little anti-social, so if you are a big entertainer this layout might not be for you. However, an effective solution to this (if you have the space) is to simply make the second countertop an island bench.
Island Kitchens
The island layout is one of the more popular kitchen configurations and is ideal for people who want their kitchen to be a social hub, as it enables the cook to entertain while preparing food (and the guests get the pleasure of taking in the delicious smells over a glass of wine!). This style of kitchen can also offer a bit more design flexibility and flair, as various shapes can be created using the 'island' – like an extended breakfast bar & eating area for example. However it's wise to keep in mind the open connection between the kitchen and living area, which means there is little separation from the noise and activity coming out of your busy living space.
Straight-Line Kitchens
Most commonly seen in compact spaces – such as apartments, units or small homes with constraints such as corridors or windows. It's important to check your designer has ensured that adequate room is available for food prep, as due to the nature of the layout it means the sink, cooktop and refrigerator can take up most of the room, leaving little bench space.
However, this layout works particularly well when the dining table is directly adjacent to the kitchen, meaning the table can double as an additional preparation area. In even smaller spaces an island on castors is a good idea as it offers flexibility to move it around if required.
U-Shaped Kitchens
A very flexible kitchen design solution, this kitchen comprises of bench space and cabinets on three sides of the room, and is ideal for areas where space is not a constraint – however it can very effectively be used in smaller kitchens too with clever design. This kitchen is typically the most efficient in terms of reducing the amount of distance required to reach and work between the various elements required for day-to-day cooking. Typically, the sink is located at the centre of the U, with the fridge, pantry and cooking appliances on either side.
L-Shaped Kitchens
An L-shaped kitchen lends itself to a medium to large area that needs to utilise the corner of the room and is ideal if you want to incorporate a dining table or seating area into the scheme. An L-shape is also handy when there is more than one chef in the house, as it allows 2 or more people to work in the kitchen at the same time. Better suited to a larger room, working equipment can be grouped conveniently without the need to travel too far between centres – however sometimes this configuration is all about fitting everything in, and the flow when cooking may not be ideal (but still perfectly use-able!).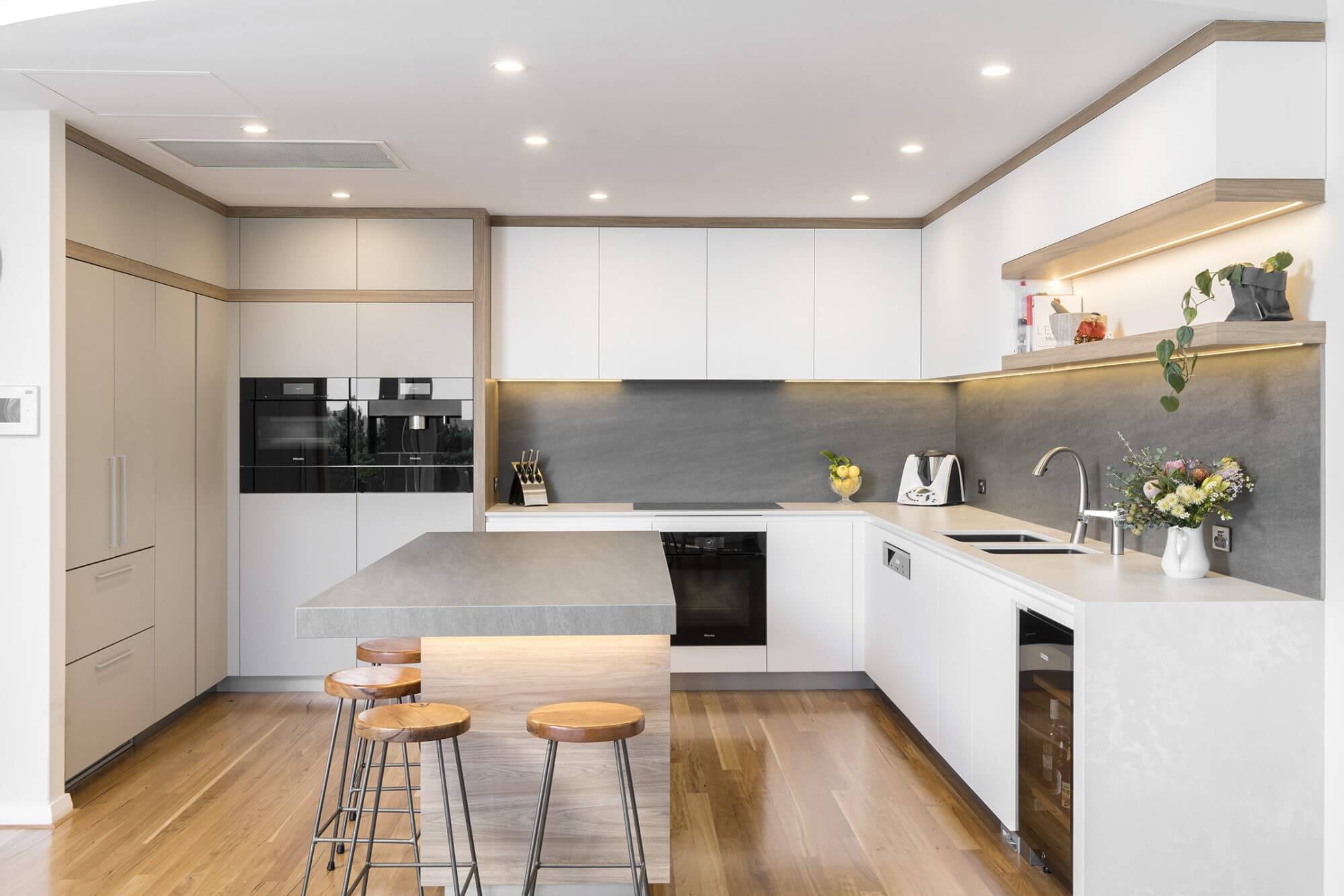 Ultimately, the ideal kitchen layout is the one that best suits your home, lifestyle and enhances the way you like to enjoy your kitchen. The Maker's professional kitchen designers are ready to assist with all your questions about layout, functionality, colours and products. With 6 fully operational kitchens in a range of popular styles, our kitchen showroom in Perth is the best place to start on the road to your new kitchen. To make a booking for a design consultation with one of our expert kitchen designers, give us a call today on 1300 270 000.