9 Timeless Kitchen Design Ideas That Will Never Be Outdated
When you do a major kitchen renovation, you want to get it right. A kitchen renovation is a major project, but a rewarding experience which allows you to design and achieve the kitchen of your dreams. 
Designing a timeless kitchen which doesn't date is often high priority for kitchen renovators. In this blog, we sit down with our designers to unveil exclusive insights on classic design inclusions and must haves for your kitchen renovation to ensure it lasts the test of time. 
While one of the primary advantages of a kitchen renovation is the enhanced functionality it brings, in regards to design elements and style choices, you aren't obligated to choose the most fashionable style currently trending. To ensure your new kitchen maintains its appeal over the long run, selecting timeless design elements and materials is a great approach.
At The Maker Designer Kitchens, we offer a complete design service to create your dream kitchen completely customised to your style. Our collaborative three-step design process empowers you to actively participate in shaping your kitchen's design. You'll have the opportunity to personally choose your desired kitchen style, layout elements, and inclusions, with the guidance of our skilled designers. Following this, our expert team will take charge of building and installing your ultimate kitchen, guaranteeing exceptional results right down to every last detail.
Continue reading to learn more about our top 9 timeless kitchen trends, hand selected by our interior designers.
1.Keeping it simple
Simple design choices create a canvas for you to decorate, whether it be your choice of homewares, styling and decor, which may change over the years to match your changing preferences and contemporary trends.
Think of a high quality simple kitchen as a much loved designer jacket; never boring, yet created to last the test of time through many seasons.
Here are some of our designers' favourite classic and simple design choices:
Single colour kitchens
Single colour kitchens with elegant product selections such as shaker style cabinetry or waterfall benchtop edges will always remain timeless. These elements create interest to a kitchen with a single colour-scheme, and aren't 'fad' design choices that will date in years to come.
Single colour or monochromatic kitchens allow you to inject colour in through your choice of appliances, homewares and decor, which you can swap out over time as your style evolves.
Timeless layouts
The layout of your kitchen is just as important as the design choices, as it directly impacts its functionality. Streamlined kitchen designs that focus on functionality, your working zones and prioritize your cooking style and home life.
Symmetrical kitchen designs in light and bright kitchen colour schemes are timeless. U-shaped kitchens can create one of the most practical working kitchen layouts, so it is especially preferable for those who enjoy spending time cooking in their kitchens.
Feature kitchen islands that have a simple yet statement element about them frame your kitchen beautifully and are aesthetically pleasing to the eye for your kitchen renovation.
Classic details
Chrome or silver sinks, tapware, and cabinetry handles have a timeless quality that endures the test of time. Cabinetry handles when kept simple stand the test of time – however if you would like to embrace a contemporary design style it is an item that in the future you can replace and retrofit.  
Clever integration
Contemporary technologies don't need to be dominant or flashy; frequently, they harmoniously blend into your kitchen, allowing the design itself to shine. Appliances that are integrated and practical kitchen storage solutions, such as concealed waste bins or built-in pantries, contribute to maintaining a sleek kitchen design by hiding these elements within tailored custom cabinetry.
2. Functional kitchen islands
Kitchen islands have become an essential feature in modern homes, serving as architectural focal points and central workstations. Kitchen islands are now more versatile than ever, facilitating a huge number of everyday tasks, from meal preparation, enjoying breakfast, or flipping through the Sunday newspaper with a coffee.
When creating a custom kitchen island design, we prioritise its functionality by asking our clients how they intend to use it. This guides us in establishing the kitchen's workflow and strategically placing elements like sinks, appliances, pantries, and meal prep zones. Beyond functionality, islands offer additional seating, storage, and space for integrated appliances. They can also be designed to include accessible cupboards and storage for children. 
Kitchen islands are a great place to embrace smart technology solutions like Hafele Point Pods which seamlessly integrate your power outlets into your kitchen islands surface as opposed to unsightly outlets on the sides. Hafele Docking drawers create the perfect storage hub for all your home technology devices.
Not only are they incredibly practical due to their versatility, feature kitchen islands also serve as a prominent design feature and focal point of your kitchen. Split level island designs that can accommodate extra seating and breakfast bars for your kitchen island. If you are limited for space you might also think about combining your kitchen island with your dining area to make a combined island that functions for meals and makes better use of space.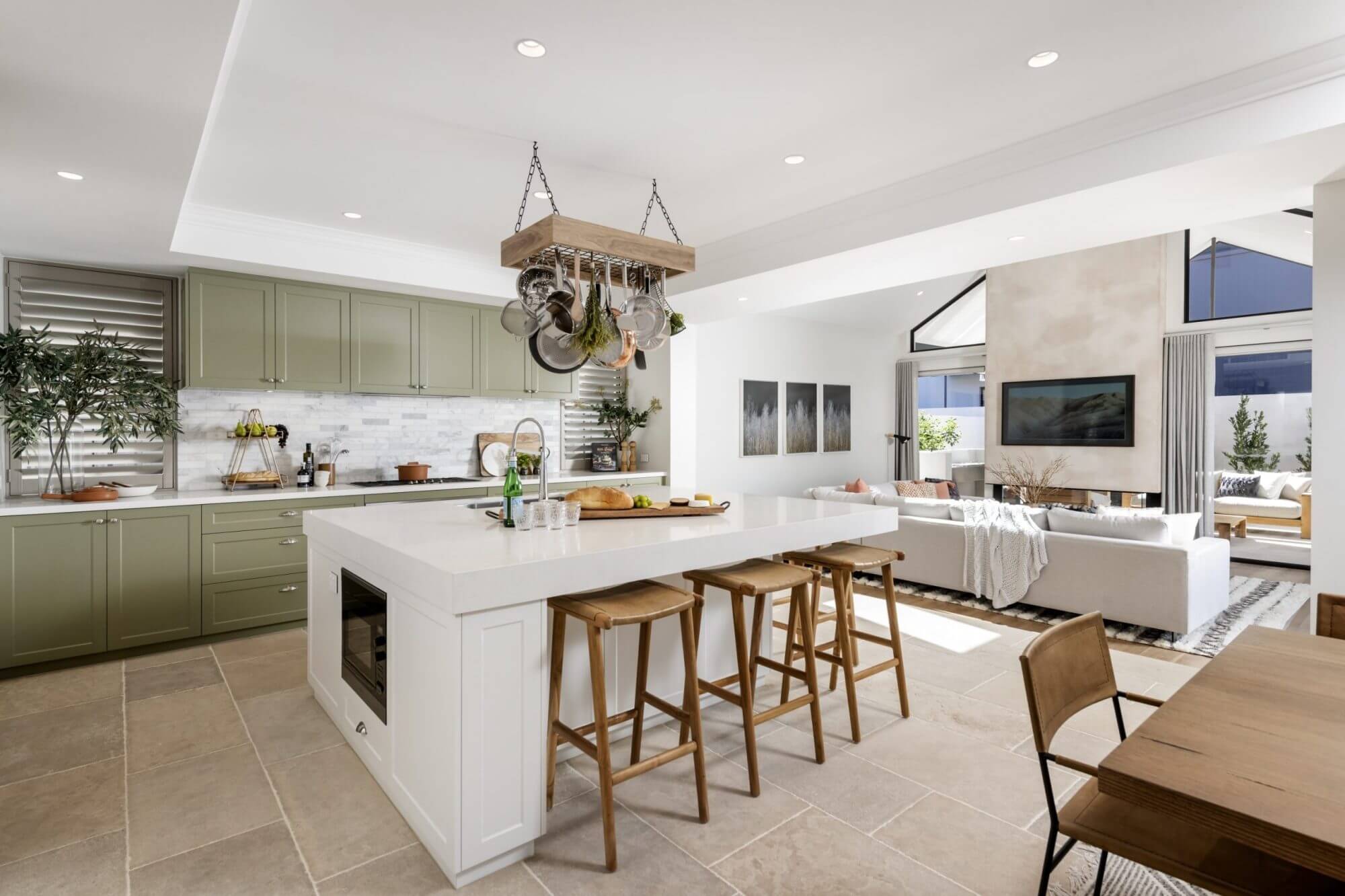 3. White kitchens
White will always be one of the most timeless colour selections you can choose for your kitchen. White serves as the ultimate neutral colour palette, and remains by far the most popular choice for the majority of our clients.
There are so many reasons why we love white, but in summary:
White enhances the sense of spaciousness in a room

White effortlessly reflects light, creating an overall brightness

It complements any chosen design style for your home

White kitchens maintains a consistently clean and refreshing appearance
White kitchens open the door to creative colour experimentation in home decor while embracing evolving design trends.
Incorporating textured finishes, such as white Steccawood battens and Polytec Calcutta selections, adds depth and interest to a white kitchen's palette. Shaker-style cabinetry (we love the Polytec Hamptons and Sussex profiles), adds timeless charm and texture to your white kitchen in your kitchen renovation.
White feature benchtops can be elevated by selections such as Caesarstone's new Dreamy Carrara, or the Frosty Carrina which offers a timeless white base with subtle grey veining which adds texture and interest. Integrating stone benchtops onto the splashback further dials up the luxury of a white kitchen design.
To read more about how to design a white kitchen check out our blog here: Trend Series – The White Edition.
4. Shaker cabinetry
Shaker (or profiled) cabinetry are recessed panels and doors, as seen in the kitchen below. Upgrading your cabinetry to custom shaker cabinetry instantly elevates your kitchen, and is a timeless choice which will last the test of time.
Typically you would find shaker cabinets in Traditional Styles and Hamptons-style kitchens – but you can make it work in various kitchen styles, as seen in various contemporary 2023 kitchen trends.
We have designed kitchens for clients that combine shaker and flat panel cabinetry. For example, in a modern style kitchen we designed shown above, we paired classic shaker cabinetry in a contemporary design that also features Polytec STECCAWOOD curved cabinetry and benchtop.
In our beautiful Waterman's Bay kitchen renovation, we created a striking modern shaker kitchen which combines two-tone shaker cabinetry with a striking Caesarstone Rugged Concrete kitchen island. This kitchen is a stunning example of how selections you normally wouldn't pair together can work brilliantly in an eclectic kitchen design.
5. Hamptons Style kitchens
The Hamptons style has graced kitchens across the world for many years, and for good reason. Hamptons kitchens are a classic style which never seems to date and continues to be a highly sought-after style for many of our clients.
Hamptons-style kitchens feature a light and airy colour palette with white or light-coloured cabinetry, often incorporating shaker-style doors and natural stone benchtops. Classic elements such as subway tile backsplashes, wooden flooring, and pendant lights with glass shades contribute to the clean and inviting aesthetic. Kitchen islands with open shelving, along with farmhouse sinks and coastal-inspired decor, enhance the relaxed yet elegant atmosphere of these kitchens.
Drawing inspiration from the coastal sophistication of Long Island's Hamptons location, this kitchen style has gained huge popularity in Perth, as it resonates with our coastal lifestyle. The practicality and comfort of Hamptons kitchens harmoniously enhance their elegance, resulting in a space that is not only stylish but also invitingly homely.
6. Stone benchtops
Timeless choices also extend to your material choices. Choosing high-quality, long-lasting materials for your kitchen is not only fantastic for durability but makes for a timeless design decision. 
Quartz benchtops are the superior choice for your kitchen benchtops for their unmatched strength and durability. At The Maker Designer Kitchens, we proudly use Caesarstone Quartz stone in our custom-made benchtops, as it is known for its unwavering high quality, superior strength and luxury finish. These are some of the reasons we love Quartz as a benchtop choice:
Stronger and tougher than marble, granite, and other natural stones

Sustainably sourced using natural minerals and recycled materials

Resistant to stains and easy to clean and maintain

Scratch and high temperature resistant

Non-porous, impenetrable surface – prevents bacteria and mould growth

Comes with a lifetime warranty
Caesarstone provides a range of finishes including concrete, honed, natural, polished, rough, and ultra rough across their products, as well as a comprehensive colour range. Explore the complete selection of Caesarstone samples at our Bassendean showroom.
7. Timeless lighting options
Lighting encompasses more than just your overhead pendant lights or ceiling fixtures. It includes intricate elements like integrated LED strips lining your pantry, running along the cabinetry base, and even creative decorative choices like placing them at the bottom edges of your countertop and cabinetry (kick lighting) to add extra wow-factor. 
As part of our design process, we introduce our clients to integrated lighting options, as a must-have for their kitchen renovation. Integrated lighting is something which must be decided on during the planning and design phase, as it cannot always be fitted later. Here are some lighting options to consider:
Task lighting
Task lighting is the biggest consideration for kitchen lighting as it directly impacts everyday activities. It should be decided on during the design phase of your kitchen, so it can be seamlessly integrated into cabinetry and other areas during the build.
Task lighting involves direct lighting designed for specific activities like reading, writing, cooking, sewing, or intricate tasks. It enhances visibility in targeted areas, offering sufficiently bright light to illuminate fine details, alleviate eye strain, and minimise disruptive shadows.
Kick lighting
Kick lighting involves placing small, often concealed lights at the base of cabinets or furniture, emitting a subtle downward glow. It provides ambient lighting, enhancing aesthetics by creating visual depth, and even offers mild task lighting. LED strips or fixtures are commonly used, and control options range from switches to dimmers or motion sensors. This type of lighting adds both functionality and an elegant touch to interior spaces.
Feature pendant lighting
Feature pendant lights serve both a functional and decorative purpose in your kitchen design, illuminating your workspace while adding style and personality to the overall aesthetic of your kitchen. They come in a diverse array of styles, ranging from sleek and modern designs with clean lines to intricate and vintage-inspired options that exude timeless charm. Feature pendant lights are a component of your kitchen which can be changed up over time if you wish.
8. Kitchen integration
Good integration is a must have for a kitchen to remain functional over the years. It also allows you to integrate modern technology into your kitchen in a way which is concealed from view, meaning it doesn't impact your overall design. The great thing about having integrated technology concealed behind custom cabinetry, is you get to enjoy all the advantages of modern technology, even if your kitchen style isn't overtly modern. 
The integration of concealed solutions in your kitchen design goes beyond aesthetics, significantly enhancing both functionality and storage capacity. Beyond this, the incorporation of smart technology takes your kitchen to the next level of usability and convenience. This includes the implementation of intelligent cabinets that can be easily adjusted and customised to your needs with just a touch, and docking drawers that seamlessly hide away kitchen gadgets when not in use, keeping your space clutter-free and adding a layer of intuitive convenience to your kitchen experience. These features ensure that your kitchen not only looks great but also works efficiently to meet your practical needs.
You can also hide larger appliances such as fridges and dishwashers behind custom cabinetry, creating a seamless sense of flow in your kitchen design. 
Integration provides you with the creative freedom to experiment with uninterrupted colour schemes within your design, allowing you to emphasise standout design elements that can bring your space to life.
To read more: How Integrated Design Works For The Modern Kitchen.
9. Freestanding ovens
Freestanding ovens have been around for hundreds of years, but of course have evolved over time to the more luxury options we see today.
Freestanding ovens serve as a distinctive design feature that elevates the luxury element of your kitchen. They can also add a sense of grandeur and character to your space, depending on the style of oven you choose.
Here at The Maker Designer Kitchens, our designers love Falcon ovens, which offer a diverse range of oven styles, spanning traditional to contemporary, accommodating for various kitchen aesthetics and styles. These ovens provide multifunctionality, including features like 6 gas burners, teppanyaki grills, and separate oven sections with distinct cooking settings. Ideal for preparing larger meals, they boast ample cooktop space and oven capacity. 
While traditionally found in country or Hamptons-style kitchens, freestanding ovens also shine in other styles such as industrial or contemporary, where having appliances on display is typical of their kitchen styles. Even in modern kitchen designs, a statement-coloured freestanding oven stands serves as the ultimate luxury design choice. There are also freestanding ovens on the market that have built-in induction cooktops, offering a versatile cooking solution in a single appliance.
Build your forever kitchen with The Maker Designer Kitchens
Designing and building luxury kitchens that last is what we do best. Through a collaborative design process, we consider your new kitchen's necessities, your unique style, and your way of life. Our talented designers offer insight into details you may not have yet considered, including smart technology solutions and integrations, all which will elevate your new kitchen to new heights. 
While we continuously lead in cutting-edge kitchen design innovations and trends, our unwavering dedication to constructing high-quality, classic timeless kitchens remains consistent across all our projects. We want to build you a kitchen that you are going to love, forever. 
Ready for your dream forever kitchen? It all starts with a visit to our award winning showroom or you can connect with us online by clicking the button below.