What's NEW & Popular In Kitchen Design Right Now!
Designing and constructing a new kitchen in 2023 is an exciting endeavour, considering the multitude of innovative products and appliances flooding the market, alongside the constantly evolving design trends.
Looking at our projects completed this year, and looking ahead to what this year has to offer, our team of designers here at The Maker Designer Kitchens have compiled this guide to what's new in kitchen design in 2023. 
From hidden kitchen storage to the most popular colours we cover some up and coming kitchen trends 2023 is throwing our way. Let's take a closer look at some of the latest trends in kitchen design right now to inspire your kitchen renovation.
STECCAWOOD Stone Range
Polytec STECCAWOOD has been one of the hottest trends in kitchen design for the last few years. Available in four different profile styles – half round, square, rectangle and concave curve, this style adds beautiful texture, dimension and movement to cabinetry, while also allowing your design to embrace curves uniquely and stylishly. 
Recently, Polytec has expanded its STECCAWOOD colour range with the release of its Stone STECCAWOOD range which includes natural materials such as stone and marble-inspired designs. If you're interested in experimenting with STECCAWOOD products, this range is the perfect playground to get acquainted with their all-new Marmo di Monte, Marmo di Torre, Portland Stone, and Athena Stone options. With a smooth finish and a realistic alternative to fluted honed stone, all four options are set to be trending in new kitchen design projects this year. 
If you visualise STECCAWOOD stone in your kitchen design, or want to learn more about how their products can elevate your design, simply reach out to our team or visit our Perth showroom where you can view samples.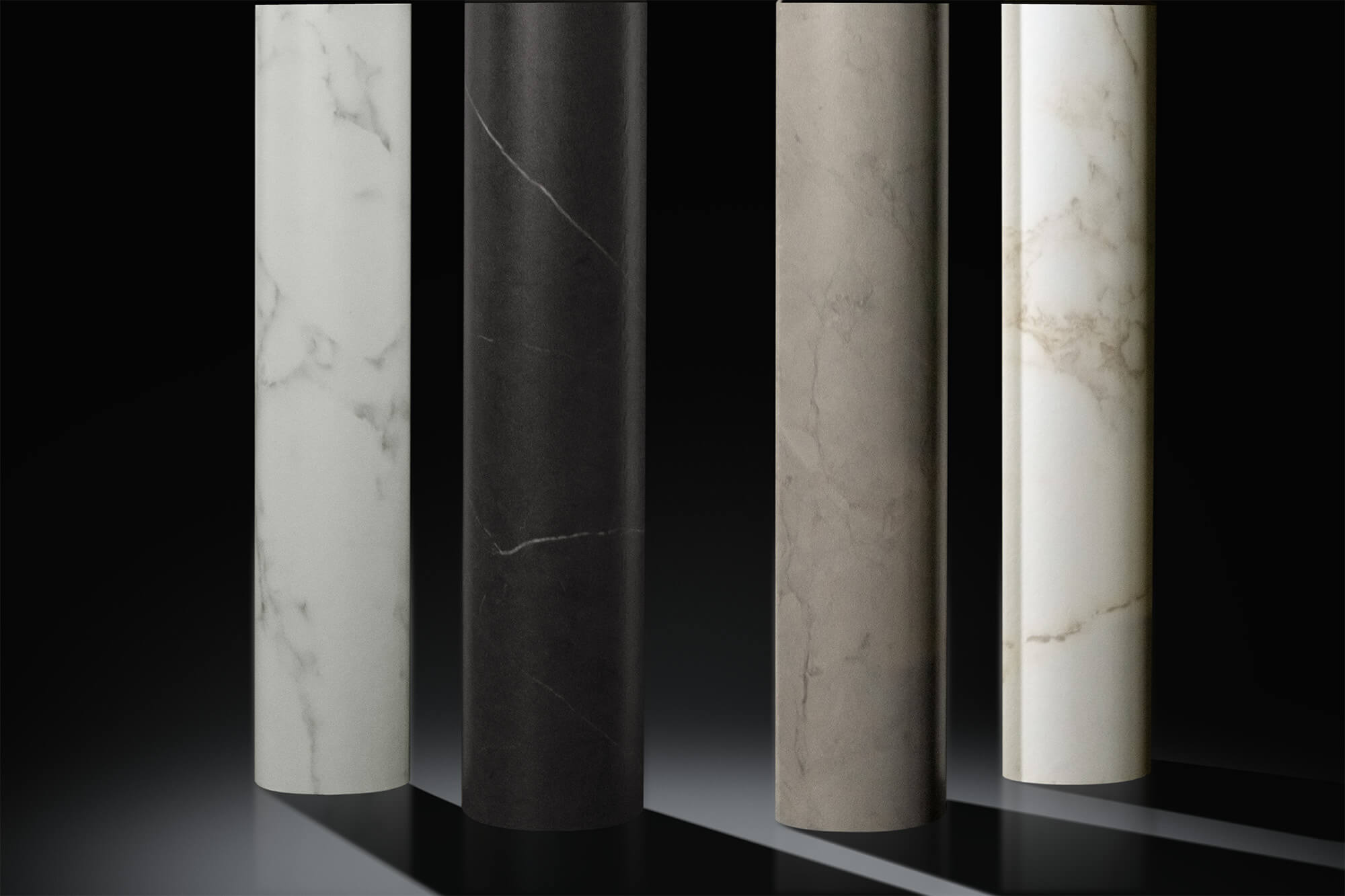 Green Kitchens
We just love the organic and calming effect of green kitchens. Green is an eye-catching yet timeless colour choice for your kitchen design that will never go out of style and is popular with many of our customers right now.
When choosing a shade of green for your kitchen, you have the option to enhance the appeal of flat panel cabinetry or create a stunning contrast in your design by using it to accentuate a kitchen island with a contrasting colour.
From the moment it was released, Polytec Topiary has been popular with our clients, and it's easy to see why. As shown in the kitchen below, this mid-tone green works perfectly both as a single-block colour and in a two-tone design. 
If you like green but find Topiary a bit too bold, we also love Polytec Verdelho for its lighter pale-toned palette that brings subtle hints of green to your design and fits neatly into a calm and relaxed palette. 
Polytec Topiary is by nature versatile, as it works for modern-style kitchens like those shown below and beautifully compliments more traditional styles such as a Hampton's design. 
Hidden Storage
One of the biggest kitchen trends in 2023 is clever and well-thought-through storage concepts. Think kitchen storage which is easy to access, but also hidden from sight when you're not using it.
An excellent example of hidden storage is the use of custom cabinetry to create dedicated breakfast zones or conceal everyday items such as your microwave, air fryer or coffee machine. 
Hidden storage helps to create functional working zones in your kitchen, while also allowing you to keep a clean and tidy kitchen when everything is closed and concealed. As parties and gatherings move indoors over the cooler months, keeping benches clean and kitchen cabinets organised is a must. Hidden storage is a lifesaver if your kitchen is somehow a source of never-ending clutter.
When you opt for integrated storage, you open up the possibility of incorporating secret pantry doors that conceal specific areas in your kitchen exclusively for your personal use. Our custom cabinetry design allows you to fully embrace the concept of hidden storage in your kitchen, as we tailor our designs to cater to your unique needs and the way you use your kitchen. 
Some popular hidden storage zones we have completed for customers are concealed stations for thermomixes, cake mixers and custom pantry designs like those shown below.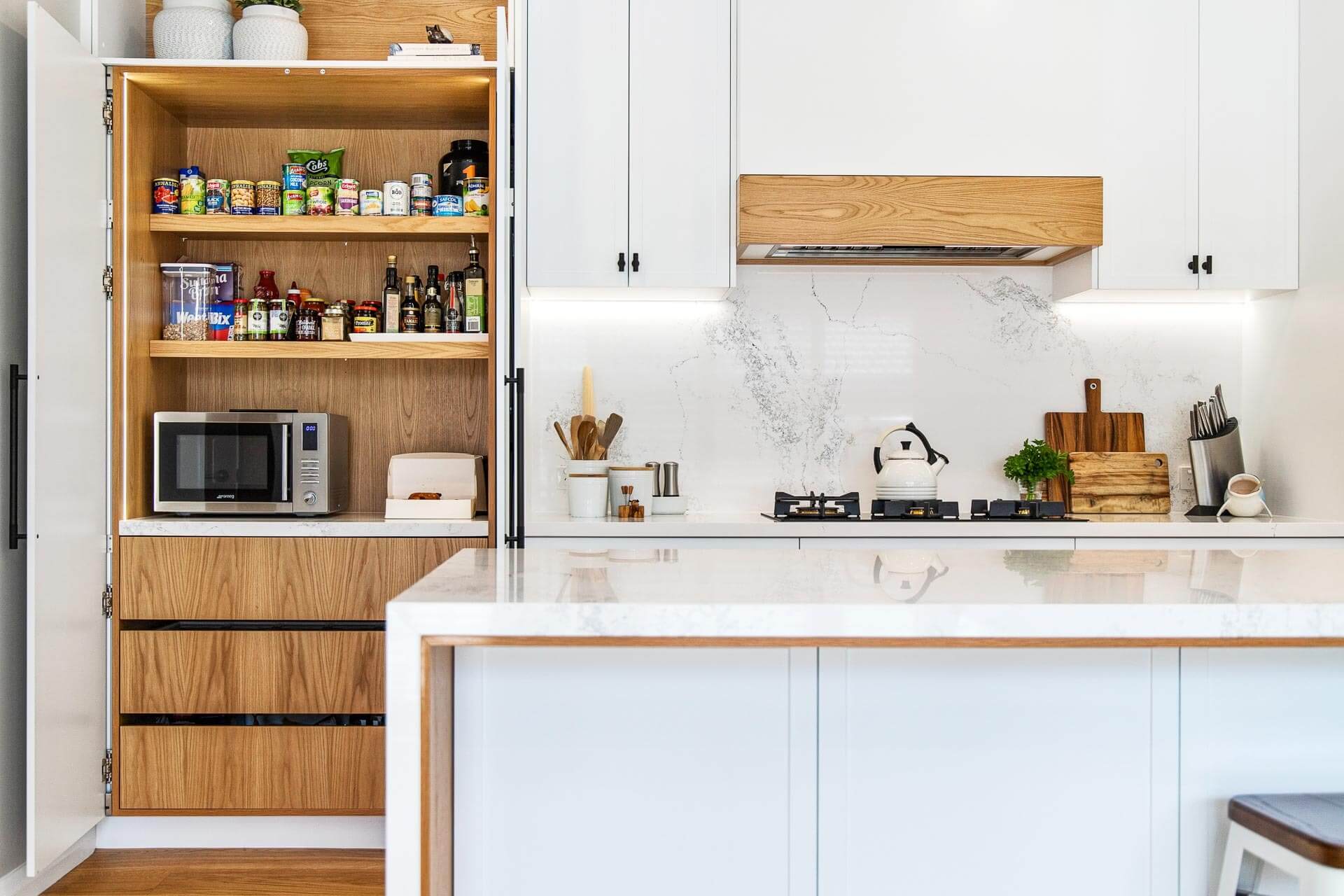 Coloured Internals
Give your kitchen style that extra wow factor with coloured internals to your inside cabinetry like in the white and oak kitchen shown above.
This elevates the flow of colour in your kitchen design and adds depth to your cabinetry in places that would otherwise feel one-dimensional. 
Alternatively, mix it up and create a contrasting colour scheme. In the project shown directly below the overall colours in the cabinetry throughout the kitchen are Verdelho and Florentine Walnut while the inside of the pocket doors reveals a bolder green featuring Polytec Topiary – giving it that layered, multidimensional look without over-contrasting the colours. 
This layered look links in well with the hidden storage trend as you get that beautiful flow of colour through your working zones and equally stunning aesthetics when your storage is concealed, or off display. 
Shaker Kitchens
The timeless appeal of Shaker style cabinetry has experienced a resurgence in 2023, gaining even greater popularity than before. While Shaker cabinetry has long been a staple, it has now firmly established itself as the favoured choice for cabinet styles right now.
Modern shaker cabinetry is a defining and iconic style for contemporary kitchens and bleeds into almost all kitchen designs from Hamptons to coastal. For example, we absolutely love the Polytec Hamptons Profile which can work well in any one or even two-tone set-up. 
While this eclectic style reflects the traditional kitchen designs we probably grew up with, it by no means is immune from modern iterations and in 2023, we're seeing more and more of these, from glass-fronted designs (more on this below) to asymmetrical open shelving combinations all the way to innovative lighting features that really pull the design into 2023.
To read more: What is a 'Modern Shaker' Kitchen?
Fluted Glass
Glass-fronted cabinets have been popular in kitchen design for a while now. The latest evolution of glass cabinet design is the stunning Polytec Fluted Glass which offers a beautiful texture and obscures the view into the cabinets.
Fluted glass has a retro feel about it – reminiscent of older mid-century design elements from 1950s kitchens, which is all the rage right now in modern kitchen design.
Including integrated lighting can show off what's stored inside your cupboards, while adding a point of interest. 
In this Swanbourne Renovation we completed below, the fluted glass cabinets add beautiful texture and an elegant feature to this striking monochrome colour scheme. Fluted glass cabinets are also a popular choice for custom cabinets, entertainment units and bathroom vanities where you prefer to keep items off display.
Dining Table Islands
The 2023 design trends are leaning towards personalised design elements for homes, specifically tailored to fit the available space. One such distinctive approach is the use of dining table islands, allowing you to make your own statement in the space. With the decline of formal dining rooms in contemporary homes and a move towards open plan interiors, we are seeing a growing desire to accommodate larger spaces for dining and entertainment purposes.
In line with this, we're witnessing larger oversized kitchen islands that integrate or completely replace the dining table. In the City Beach renovation we completed below, the kitchen island's multiple levels create multiple kitchen working zones and a dedicated seating area that can double as a workspace or play area – depending on who takes a seat. 
Kitchen islands provide a central hub and gathering space in your kitchen that brings together the design elements of your kitchen while also giving the chance for homeowners to express their design sensitivity and personality. 
Doggy Cantina's
Man's best friend deserves to have a dedicated retreat, where they can enjoy a paradise tailored exclusively to their needs. 
Doggy cantinas take pet care to the next level by offering custom-made pet feeding areas that include dedicated zones for food and essential pet accessories. It's also a spot for puppers to kick back and relax – away from the hustle and bustle of the hallways and high-traffic zones. 
Including this set-up either next to or close to your kitchen can be a great way of bringing everyone in the family, your furry friend included, closer together at meal times.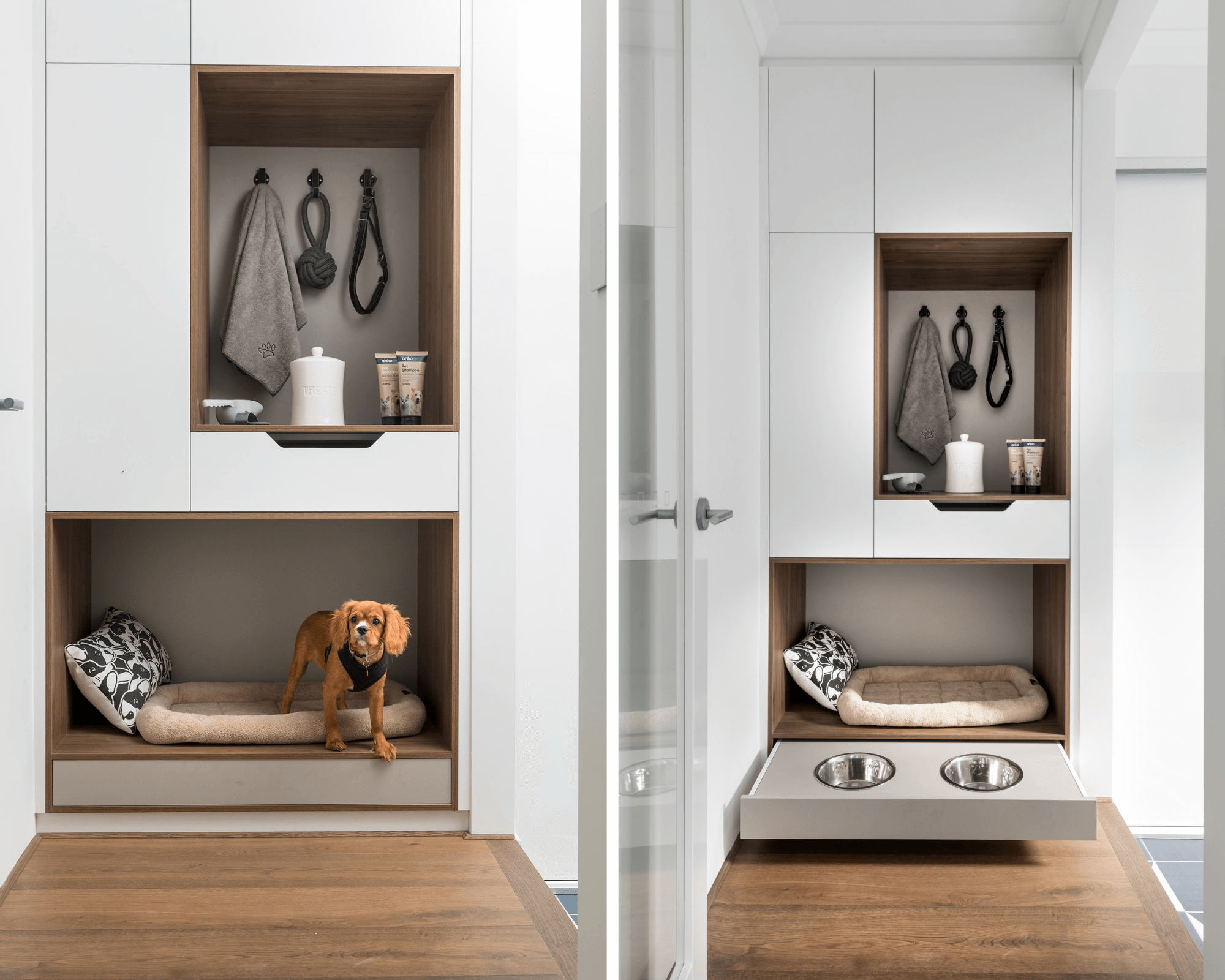 See The Latest Design in Action: Visit Our Showroom
Feeling inspired? If you're planning on designing your kitchen using the latest trends and technologies, getting the right inspiration and expert advice is essential. Here at The Marker Designer Kitchens, our dedicated team of interior designers are ready to level up your kitchen to include all the right features that will set your design apart.
For more inspiration, download our trends eBook for free, or come visit us at our Bassendean Showroom for an exclusive look at what's new in kitchen design this year.