THE BEST HAFELE STORAGE IDEAS FOR YOUR 2023 KITCHEN RENOVATION
In kitchen design, form and function go hand in hand – you can't have one without the other. In this blog, we discuss the importance of choosing the right storage solutions for your luxury kitchen. Storage is not just a matter of convenience; it's a necessity if you want your kitchen to achieve new levels of organisation and cleanliness.
During the design phase and kitchen renovation process, storage should be considered as a priority, rather than an afterthought. This ensures that your storage solutions seamlessly integrate with your kitchen design, and prevents the need for costly retrofits.
Discover how Häfele's innovative range of storage solutions can elevate your kitchen renovation to the next level.
Transform your kitchen with pantry organisation
Poorly designed kitchens can often lead to clutter and disorganisation, with kitchen items piling up because they don't have a  designated spot. This can make finding kitchen essentials difficult and make your kitchen feel chaotic and messy.
The lack of an organised pantry is usually to blame. Häfele Tandem Pantries are a great addition to creating a well-organised pantry where all your items are visible. The tandem pantry comes in full and half size heights, and you can also select different widths for your space.
If you opt for the half-size Tandem pantry (like shown below), it's good to know that you can still customise it further by adding kitchen drawers above or below it. To create a functional pantry area we always recommend designing your storage space to include integrated LED Lighting that turns itself on with a sensor when the doors are opened.
Integration
If you're wondering how to maximise storage in your kitchen design, then look no further than integration. Integrated design brings together minimalistic design principles with innovative storage techniques to keep your kitchen clean and ready to use. 
Having an integrated waste bin in your kitchen is an absolute must-have these days. While the Hailo Euro Cargo ST45 has been a long-time favourite on our inclusions list, we're now noticing a shift in clients' needs towards the Hafele One2Five Waste Bin System or the Hailo Euro Cargo ST60 shown below. 
As more people are becoming conscious of their waste management practices and seeking diverse options, these Hafele waste bins offer extra compartments for recycling, organic waste disposal and composting. They also have covers that keep flying bugs away. However, if you're short on space, don't worry – the Euro Cargo ST45 is still an excellent inclusion that can revolutionise the way you manage waste in your kitchen.
If you want to see these inclusions in action, visit our Bassendean Showroom to see these and more examples of how to incorporate innovative storage solutions in your luxury kitchen design.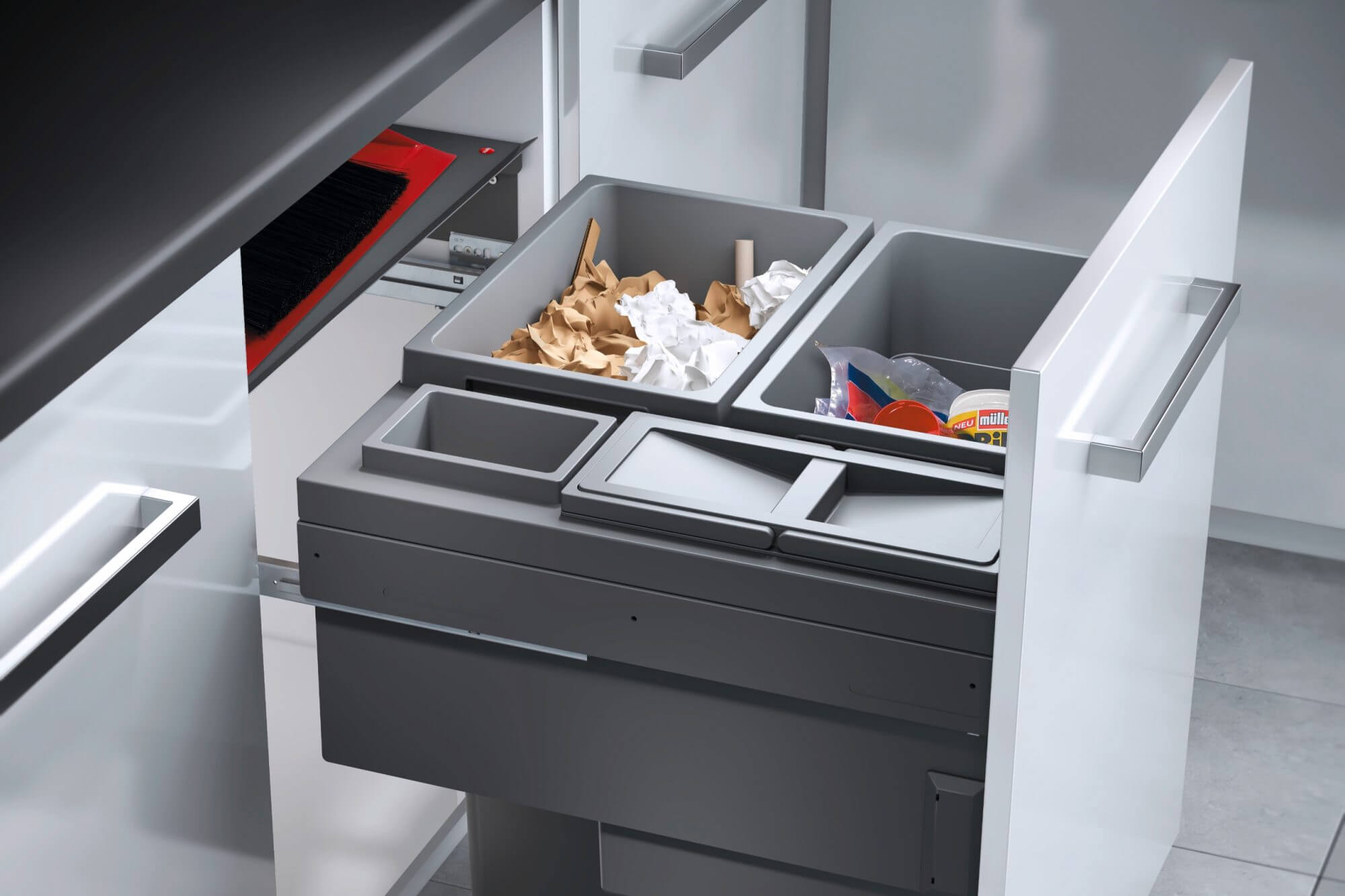 Modernise your kitchen cabinet storage
Appliance cupboards are often overlooked in kitchen design; but can be an effective way of storing everyday appliances like your kettle and toaster. They allow for easy everyday access and can be quickly concealed by simply closing the cupboard. Häfele offers a bifold or a roller door option designed to coordinate with your cabinetry and colour scheme, ensuring a cohesive look and feel. 
We also recommend Häfele corner storage units as a must-have for your kitchen renovation. Our all time favourite is the Hafele Le Mans || Corner Unit for storing heavy or bulky items like pots and small appliances. The unit has two easy to use pull outs that slide in and out of corners, making great use of awkward corner sections.
Keep in mind that these units can't always be retrofitted, so it's best to discuss this with your kitchen designer well in advance. If you've the right space, the Häfele Magic Corner Unit is another option that provides ultimate corner access and improved ergonomics.
Technology storage solutions
As families begin to embrace technology in the home, the kitchen is also becoming a hub for learning and entertainment. Managing the storage challenges that come with additional laptops, iPads, phones and chargers can be difficult without the right approach. 
To avoid clutter and the inevitable mess that comes with tangled charging cables, we recommend installing Docking Drawers to allow you to regain some extra space and control over when and where technology is used or visible in the kitchen. 
Hafele Point Pods are an excellent choice when you wish to conceal power points in your kitchen. They work brilliantly in kitchen islands as they can be installed on one or two sides and be visible only when in use. With a soft touch to the top they rise and lower themselves and prevent you from having unsightly power outlets on the sides of your kitchen island. 
The added value of working with our team is that our interior designers can help you stay true to your design vision while still offering optimal functionality and accessibility of technology in your kitchen. We have both of these items on display in our Bassendean showroom for you to view.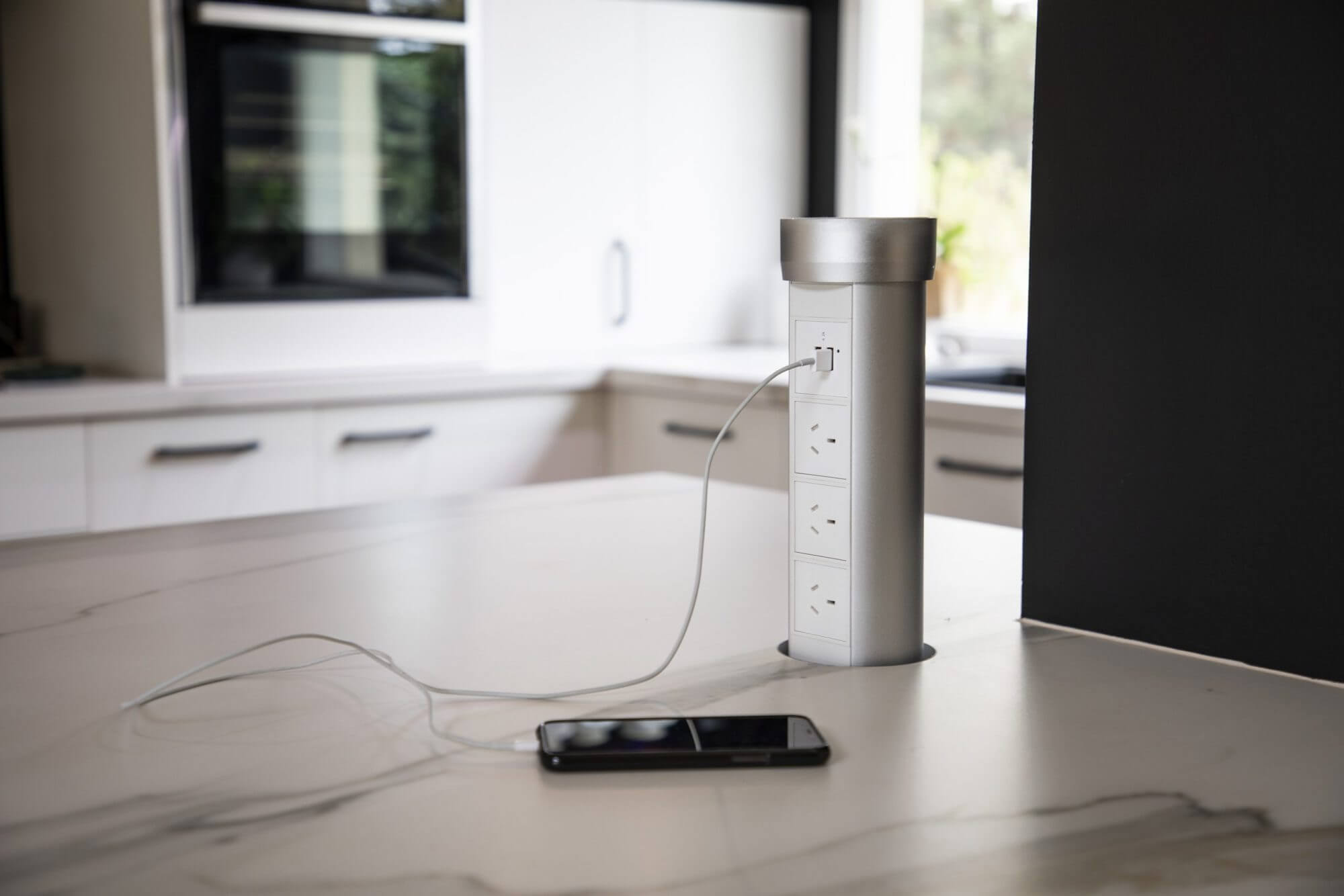 Innovative storage solutions
Innovative storage techniques are a luxury inclusion that can complement any design trend or theme. At The Maker Designer Kitchens, we are proud to offer our clients access to the latest and most sought-after solutions for your modern luxury kitchen. 
Häfele's No.15 Pull Out storage solution is just one example of the innovative storage solutions we can offer as an inclusion. With three options to choose from  being the  2 Tier Pull Out, Baking Tray, or Towel Rail styles – you can customise your storage according to your needs. We recommend placing them symmetrically in any small space next to your fridge, oven, or dishwasher for easy access. Shown below is two 2 Tier pull out systems placed either side of a bank of drawers
Upgrade your kitchen with Häfele storage
Experience the innovative kitchen storage solutions from Häfele in person at our Bassendean showroom. If you're impressed by what you read, imagine how much more you'll be inspired when you see them in action. 
Our interior designers will take the time to understand your lifestyle and kitchen needs during your first design consultation with us. Our three step design process allows us to get every detail right when it comes to integrating functionality and storage into your kitchen renovation, in line with your preferences.
Book a consultation today to speak with our experienced designers, and start to visualise how these solutions will enhance your luxury kitchen renovation. Or, stop by our showroom to see our range of Häfele storage solutions firsthand.