OUR TOP 5 INSPIRATIONAL KITCHEN DESIGNS
Who doesn't love kitchen makeovers? Whether you're getting inspiration for your own kitchen redesign or just browsing for kitchen renovation ideas, looking at amazing examples of inspirational kitchens is always fun!
Here at The Maker, it's our mission to find the best kitchen ideas, and distill the most beautiful kitchen concepts into accessible flatpacks. So we spend a lot of time checking out the latest and greatest kitchens.
While we've seen countless different designs, and thousands of individual kitchens, there are some that are truly inspirational that we just have to share.
The Classic Kitchen
No, we don't mean an outdated, budget kitchen with orange laminate and framed timber veneer! We're talking about the functional, elegant and timeless kitchen. Sturdy, clean lines and design elements focused on practicality.
With a focus on practicality and quality, these kitchens are built to fit in with their surroundings rather than make a statement. Neutral, white and cream colours that will never go out of style paired with natural lighting and simple symmetry create a warm and inviting kitchen of timeless style.
The Modern Kitchen
The modern kitchen is a little similar to the classic kitchen, it's a focus on simplicity and quality. But where the classic kitchen fits with its surroundings and is ever about function over form, the modern kitchen is set to make an impact.
The modern kitchen is defined largely by the cabinetry, colours and lighting. The cabinets are sleek and modern, there's no gaudy timberwork or ornate handles in this style. Streamlined storage solutions and integrated appliances is what really makes this style work, dishwashers, microwaves and fridges hidden behind cabinet panelling.
The lack of visual clutter in the modern style, combined with colours of bright gloss white and dark wood, and elegant task lighting is what really makes an impact and makes a statement. The modern style is all about sleek luxury and contemporary elegance.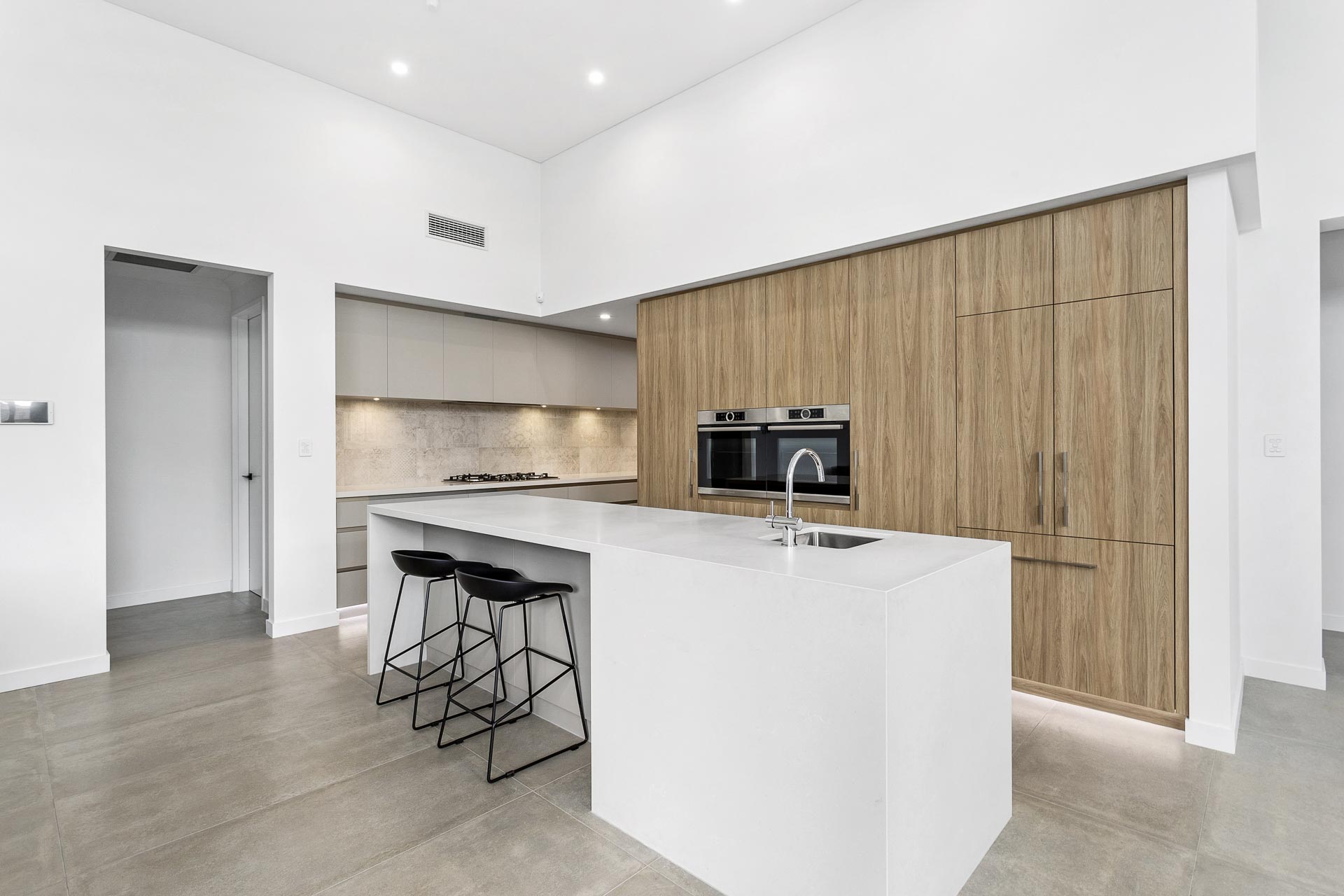 The Traditional Kitchen
Still not talking about beige and orange with cheap linoleum flooring! The traditional style is what you'd expect to see in an elegant country home in the English countryside. They're welcoming, rustic and warm, focussed on making the kitchen the heart of a home.
Traditional kitchens often use rustic colour choices of whites and creams, accented with rich natural timber to create a natural, cosy ambience. The style encourages personalisation, glass-faced cabinets work brilliantly, and a little extravagance with intricate woodwork details on doors, corbels and pilasters.
The Hamptons Style Kitchen
This kitchen is one that will always be popular, especially in a coastal, beach city like Perth. It's a style that captures the essence of the beach house, with a coastal and relaxed feel, yet also providing a sense of luxury and elegance.
The style is itself inspired by the Hamptons of Long Island, a summer getaway destination of New York, where the cozy beach town meets high-ticket sophistication and class. The look depends on maximising natural light and emphasizing a connection with the outdoors, often featuring tall windows and light colours. The colours chosen are almost always a bright white with accents of light blues and teals.
For more tips on how to create a Hamptons style, check out our post on Designing a Spectacular Hamptons Kitchen.
The Industrial Kitchen
Most of the other styles featured in this post are about bright whites, elegant simplicity and timeless beauty. The industrial style takes that norm and tips it upside down. This is a style that's raw, textural and dark. It's a style that used to be pure efficiency and a real work environment, but has slowly blossomed into raw beauty and ease that just keeps growing in popularity!
It's a very unique style, focussed on raw, textural elements such as exposed brick, concrete and tiles. Taking inspiration from a New York style industrial apartment, or for something closer to home, think Biscuit Factory in Fremantle, the industrial style kitchen can really be a feature piece of any home.
Industrial kitchens typically feature a number of 'recycled' materials, with a focus on hard-wearing and durable feature bench tops of stone or stainless steel. Match this with plain, dark cabinetry, some open shelving and eclectic lighting (think chandeliers made from brass plumbing materials) and you've got yourself a truly stunning kitchen.
We hope you've enjoyed this feature on some of our favourite styles, styles that really inspired us to do what we do. If you'd like to see them in person, contact our office on 1300 270 000 to book a showroom appointment, and chat with our award-winning consultants on how you can transform your kitchen, today!