THE BEST KITCHEN DESIGN TRENDS FOR 2020 SO FAR!
2020 is already shaping up to be a great year for Kitchen Design, as we enter a new decade there are some bold trends really taking centre stage. Here we've compiled some of the best kitchen trends for 2020, prepare to be inspired!
Bold Glass Backsplashes
Bold backsplashes have always been a great way to make a statement in the kitchen and glass ones are really making a big appearance in 2020. They are a great way to spice up your kitchen by introducing a splash of colour or different texture. Glass splashbacks are durable, easy to clean, and create a sense of elegance. They're extremely tough and don't change colour when they get hot or splashed with oil. Glass splashbacks come in a huge range of colours- this and their practicality is what makes them one of the best kitchen trends of 2020.
Industrial Style Stainless Bench Tops
Industrial style kitchens known for their durability and efficiency, entertaining becomes super easy with stainless steel benchtops and lots of space to prep. Not only are they made to last, they look sleek and can be dressed up or down to suit the rest of your home's style- super versatile. The industrial style kitchen's stainless bench tops are your super easy to clean, saving you time and hassle in the kitchen. With our lives becoming so busy and a growing movement towards practicality, this trend is here to stay!
Minimalistic
Minimalism is one of the hottest trends right now, it's all about down-sizing and decluttering, with roots in buddhism. Minimalism has hit the kitchens too, and it's making a big splash! When it comes to kitchen styling-minimal design means minimal fuss. The style features handleless drawers and pull-out pantries, with lots of bright and light colours, giving the impression of lots of space and leaving you plenty of room to move. This is a sleek style that can be adapted to every home, and complements all home designs- just create space and hide your appliances! Have a look at our Minimalistic Style Kitchens to see how great they can look- and imagine one in your own home!
Natural textures and colours
We're really seeing this one skyrocket in 2020- natural textures and colours. Think cosy and warm interior with an apple pie baking in the oven. Natural lighting and a neutral colour palette make this work, and it is easy to make your new kitchen the heart and soul of your home. To modernise this look add whites to your cabinets or benchtops as this will accent the neutral tones, creating a warm and welcoming feel. Neutral colours never go out of style, use them to keep your kitchen trendy for a long time, and always be your favourite room in the house!
Curved Benchtops
Curved benchtops are a new, slightly strange trend, but they're a beautiful display of practicality and workmanship. Done right, curved benchtops create more space and have a luxurious feel- the centerpiece of the room. Curves add contrast to a kitchen dominated by straight lines and this builds awesome and interesting visual impact. Use curved benchtops as a feature, or get really creative and use them to create smooth transitions towards other rooms and really get the most from your kitchen space.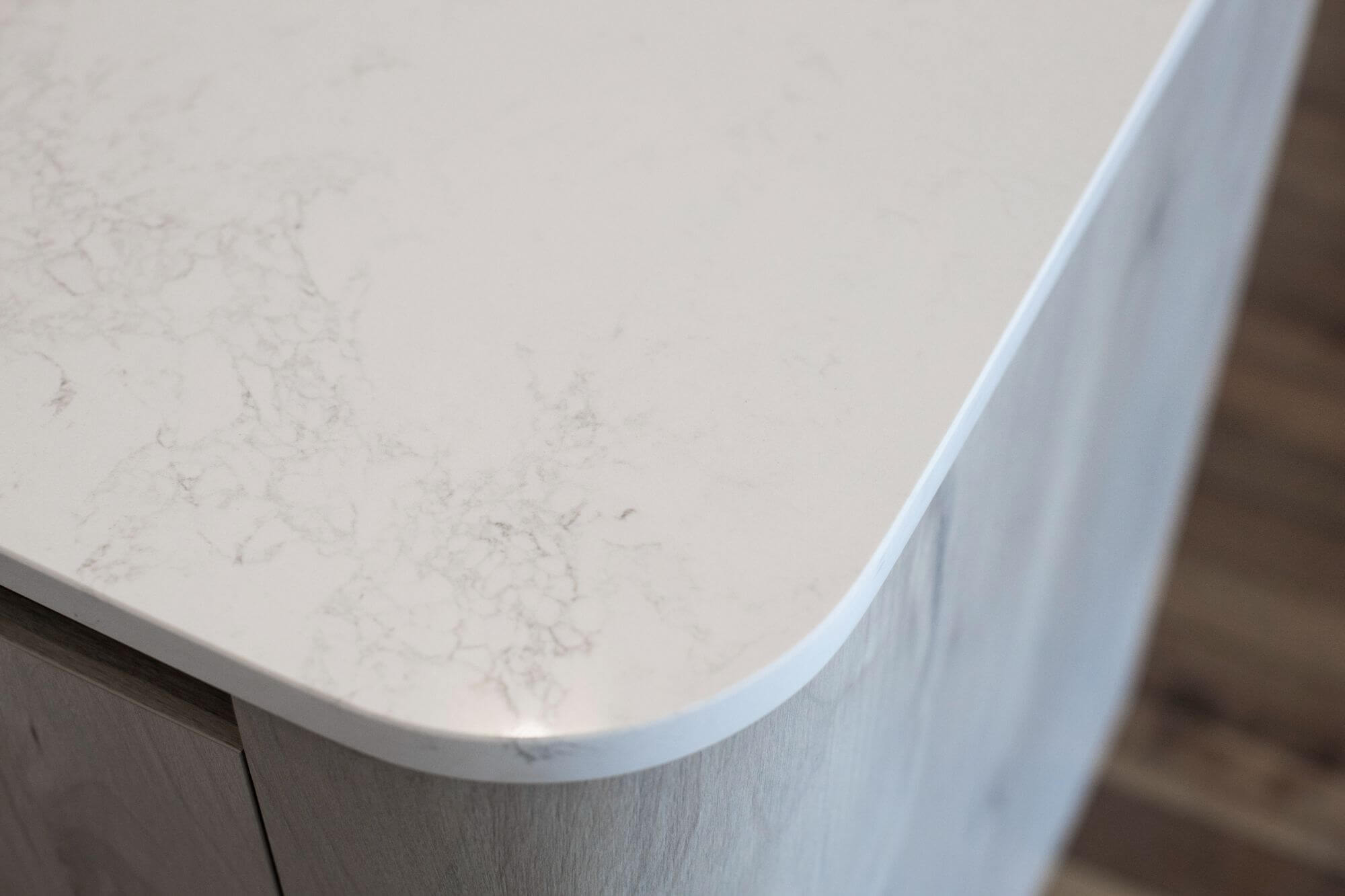 Feeling inspired? Ready to check out some of these really cool trends in person? Head on down to our showroom and chat to our interior designers. Make 2020 the year you build the kitchen you've always wanted, the best time is now!