LATEST TRENDS IN KITCHEN APPLIANCES
Redesigning your kitchen with luxury appeal starts with breaking down how you cook and interact with your space. In many ways, the tools we use to cook with are the glue that holds your overall design together. We're talking about kitchen appliances you can't live without; the items that make your kitchen unique and dynamic.
The last couple of years has changed how we use our kitchens. We've embraced new ways of living, eating and socialising. This year, many of us are carrying forward new habits we learned during a tumultuous time. Adapting and renovating your kitchen design to suit your needs has never been more important. 
When it comes to kitchen renovation, finalising your appliance choices before moving forward with your chosen design allows you to seamlessly integrate your appliances with your kitchen. 
Here we will take a look at the latest trends in kitchen appliances: what they mean to the modern luxury kitchen and how they will take your kitchen renovation to the next level. 
Small Appliances
For many of us, cooking healthy daily meals has meant we are chasing ways to make our time in the kitchen as intentional as possible. Smaller appliances are the key to making this time as effective as possible. Thermomixes, multi cookers and air fryers feature as some of the most loved small appliances that get the job done right with minimal hassle. 
Small and dynamic appliances like the Thermomix are proving to be even more popular given their wide range of applications – making everyday meals easier and more time-efficient. As families are getting back into the routine of work and school life, cutting down time spent on meal prep is proving to be important for many. As larger dinner parties make a cautious comeback, we are seeing small appliances increasingly being relied on for speedy prep and minimal cleanup.
This trend calls for separate butler's pantries, sculleries or custom storage appliance cupboards to house these extras and keep them out of sight – yet easily accessible when needed. 
Downdraft extraction cooktops
When it comes to kitchen appliances you can't live without, down draft and integrated ventilation systems are the pinnacle of innovation and luxury. They rise from the bench behind your cooktop or sit subtly beneath the bench drawing the vapours and fumes downward. As an alternative to bulky rangehoods, they add a modern and luxurious touch to your kitchen leaving more space for cabinetry, or simply leaving your kitchen more spacious and open. If your cooktop is located on an island, non-intrusive and quiet downdraft extraction systems can allow this space to be reclaimed as a social hub of your kitchen. 
Circular rangehoods
A popular trend we're noticing is feature rangehoods that pull focus as the central design element in the kitchen. Circular rangehoods are striking – not least because they contrast the square industrial style we're all so accustomed to, but they also add a unique modern twist to an otherwise predictable scene. 
Circular rangehoods shift your kitchen design from pure functionalism to a rounded and softer and more relaxed aesthetic. Taking away sharp edges will drastically change your kitchen landscape so it's important to sync up this choice with complementary cabinets, benchtops and appliances.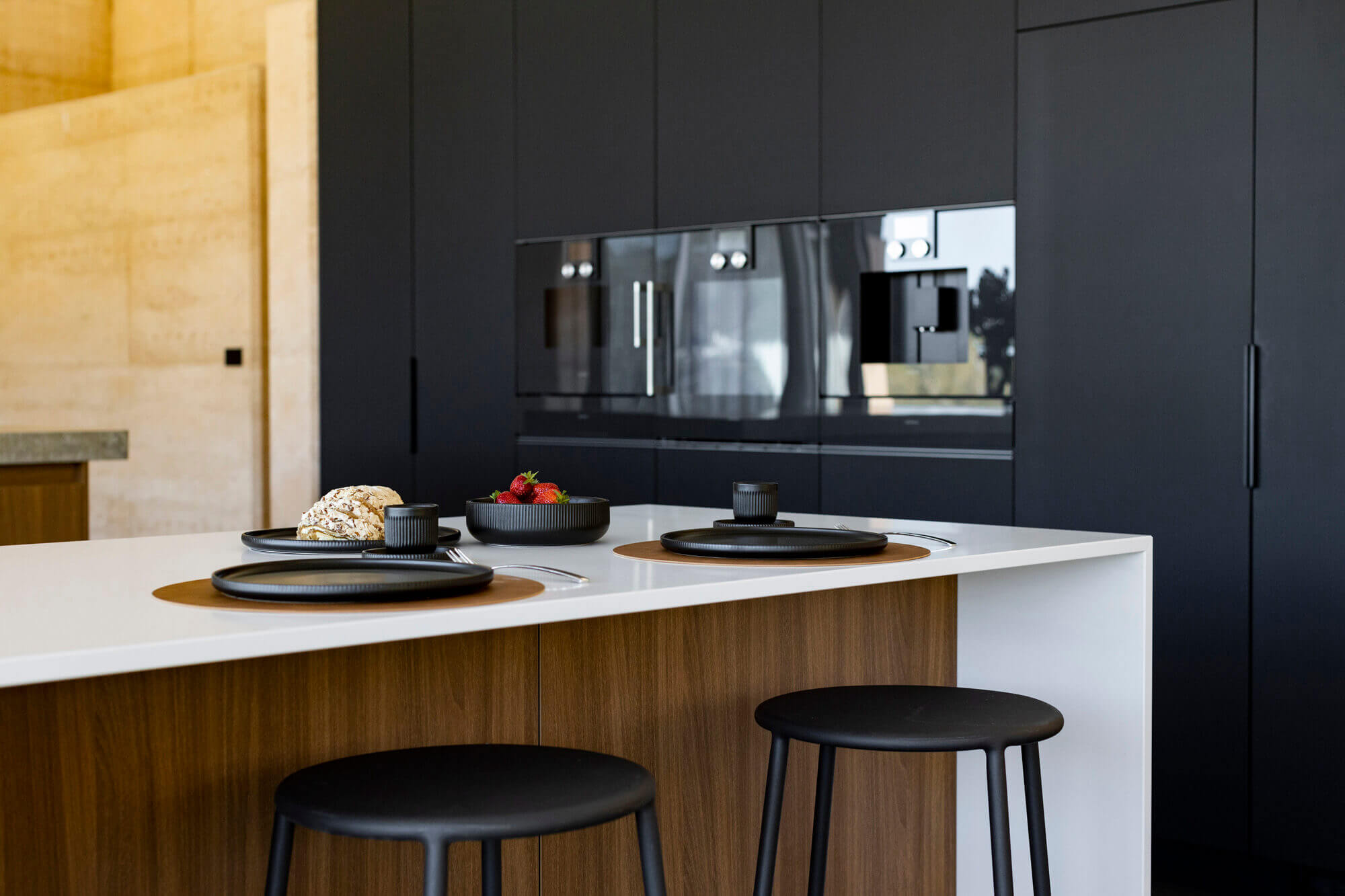 Appliance stacks
Whether it's making a fresh coffee, dispensing ice, keeping toast warm, or quickly heating your lunch – a luxury kitchen does it all. Appliance stacks or cooking combos bring together the essentials in one location for easy access. 
By incorporating your desired combinations – combi-microwaves with warming drawers beneath, ovens and matching coffee machines work well with integrated storage fridges and freezers. The likes of Gaggenau Appliances like pictured above offer a stunning suite of tools for the highly integrated luxury kitchen. As a luxury feature, well-organised appliance stacks reflect the latest trends in kitchen appliances and complement an integrated kitchen design. 
Steam ovens
2022 will be a year of exploring new cooking methods, and steam ovens, (you may know them as combi ovens) are quickly catching on as a must-have in luxury modern kitchens. With endless uses, a steam oven can greatly expand your repertoire, not to mention you'll never need to wait for the pot to boil in order to steam vegetables again. 
Steam ovens also offer a host of exciting benefits to the health-inspired cook. Steamed foods retain more nutrients and moisture – which can reduce your reliance on fats and oils. They also free up space on your cooktop allowing you to cook more at once and manage your time more effectively. 
Integrated fridges and freezers
As the most frequented appliance in your kitchen, fridges and freezers deserve a special status in your overall design. Integrating these appliances into cabinetry continues to trend in 2022, with homeowners opting to conceal them behind custom designed cabinetry. In the image above there is an integrated fridge/freezer hidden behind the custom cabinetry directly to the left of the double ovens.
Bespoke built-in fridges and freezers also bring together cleanliness and functionality whilst saving space and elevating your kitchen design beyond the ordinary.  
Integrated kitchen design favours a minimalistic approach, creating space and maintaining a clean finish across all surfaces. If you are interested in seeing how your kitchen renovation could incorporate an integrated fridge and freezer, reach out to our expert team for a design consultation. 
Elevate your kitchen with luxury appliances
There is no doubt that the right appliances are essential to the design and functionality of your kitchen. Whether during everyday routines, family gatherings, or even that special alone time in the kitchen – having appliances that you can trust will work when needed but disappear when not – is critical. 
Feeling inspired to take your kitchen project up a notch? Every kitchen renovation starts with a discussion about appliances. And that's where we help you. 
Our experienced team at The Maker Designer Luxury Kitchens are here to help you realise your dream kitchen from start to finish. Give us a call or visit our Bassendean showroom to experience the latest in kitchen appliances first-hand and chat with our award-winning designers to kickstart your renovation today.