WHAT'S YOUR SPLASHBACK STYLE?
Your kitchen splashback is one of the key elements in your overall kitchen design that really brings a style together. Not often the first thing you think about when planning your dream kitchen but a crucial design element that can make or break your design.
Choosing a style for your kitchen splashback is exciting and there are so many different ideas to explore! Tiles create beautiful texture and allow you to introduce colour. Or maybe your kitchen has beautiful veined stone and you're looking to continue this up the wall.
Your kitchen splashback is a fantastic opportunity in your kitchen design to really personalise your layout to reflect your own unique style. To help you get the creative juices flowing we've collated some of the hottest splashback design styles trending right now.
Timeless in Tile
Herringbone and Kitkat tiled splashbacks (see kitchen above) have been, and still are, very popular choices for kitchens right now. There are so many beautiful colours and choices for these styles available now and they are a great way to bring beautiful texture and movement into your overall kitchen design.
Tiled splashbacks are a versatile choice that pairs well with most kitchen styles. If you're really looking to create impact, selecting a tile that injects a pop of colour into your design really creates impact. Earth tones in shades of green and blue are trending right now as are colourful combinations like this beautiful splashback shown below that gives this stunning walnut kitchen an eclectic retro vibe.
Sophisticated Stone
Nothing says luxury more in a kitchen design than a beautiful stone benchtop and splashback combination throughout. This looks absolutely stunning when completed with a richly veined marble like in the kitchen we completed below that has Caesarstone Statuario Maximus benchtops and splashback.
Completing your kitchen with a stone splashback requires the workmanship of an experienced stonemason, particularly when working with a veined style to reduce the appearance of joins and create a seamless flow of colour from bench to wall. This is something we specialise in with over 21 years experience in cabinetry and stonemasonry.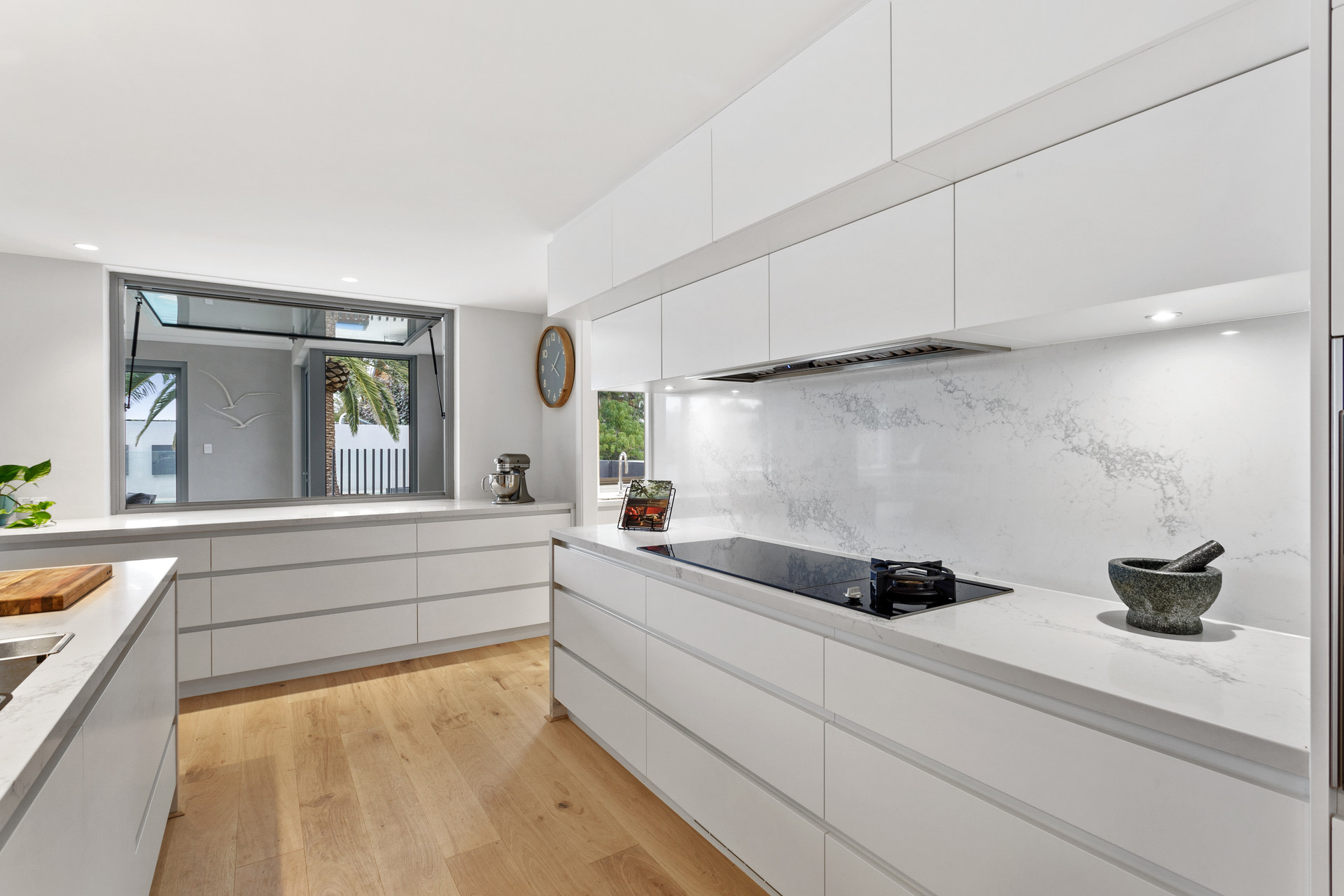 High Rise
Minimalist kitchen design in recent years has reimagined the typical look and feel of kitchen cabinetry. Overhead cupboards and storage are less frequent these days, quite often replaced with a statement floating shelf as a feature in a kitchen design.
With more visible wall space splashbacks are now making their way to the ceiling, creating beautiful opportunities for feature blocks of colour or texture in a design.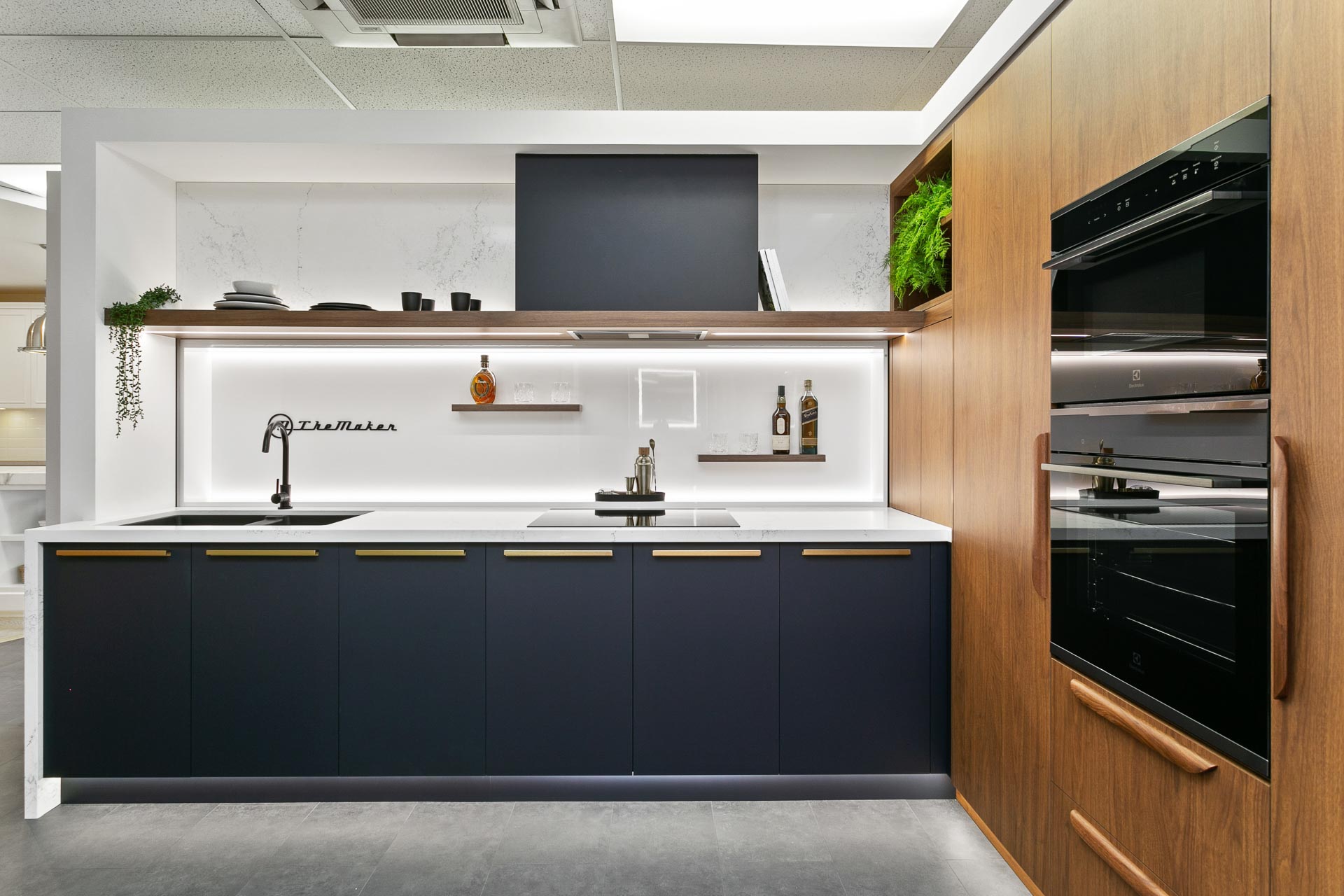 Half Height Feature
A new trend for splashbacks in kitchens right now is a half height splashback. This looks great when completed with matching stone to your benchtops to continue the look and feel up into the splashback.
This is also a great compromise for having a stone splashback in your kitchen if your budget did not permit for the full splashback option. It can also be done brilliantly with a tiled splashback.
Window Splashback
Let there be light! We always love a window splashback in a kitchen design as it brings in lots of natural light to show off design features and create a very functional working zone.
Window splashbacks are a particularly great choice for dark cabinetry kitchens as they help with ensuring your design has adequate light in the darker colour scheme. Window splashbacks can still also be paired with many of the trends listed above like the kitchen we completed below that also uses stone.
We hope you've enjoyed this feature on some of our favourite kitchen trends and styles that really inspire us to do what we do. If you'd like to see them in person, contact our office on 1300 270 000 to book a showroom appointment, and chat with our award-winning consultants on how you can transform your kitchen, today!