5 BEAUTIFUL MINIMALISTIC KITCHEN DESIGNS TO MAX YOUR SPACE
Minimalism is all about stripping back to the bare essentials, and when done right, without compromising practicality or form. With the busy lives we all live now a days, a minimalistic home means less distraction and stress, and more freedom and time. This lifestyle improves mental health, and welcomes peace and clarity. To begin to live minimally, start by decluttering your home, think before you buy new items, and practice gratefulness regularly.
Minimalistic kitchens are an amazing way to really double down on the concept. Turn the stress of making a meal for the family into a therapeutic and relaxing activity. Treat your kitchen like a yoga room, where you can wind down and stress-less. We've put together some of our favourite minimalist kitchen designs; open and spacious kitchens to free your home and mind from clutter- so you can get down to the cooking!
1. The Classic Minimalist
This first kitchen is one of our all time favourites, as it completely captures the essence of minimalism and minimalist kitchen design! With handleless cabinetry, neutral tones and a full length window, it's everything a minimalist kitchen should be- and it's stunning. Note the soft contrast between the white primary colour, the pale gray benchtops and delicate timber accents, paired with feature lights and varying levels to create depth and texture. It's interesting, elegant and incredibly functional.
2. Timeless Luxury
When luxury and minimalism meet, incredible things happen- like this kitchen. It's an example of what happens when you mix sophistication and a taste for the finer things, with an appreciation for simplicity and practicality. Wide, open benchtops and flowing space seamlessly make an already large space seem practically huge. It's stunning, the veined marble and gloss white cabinetry paired with a dark, textured floor making an impact. The multi-layered roof so neatly defines the kitchen space, and adds the detail that really ties it all together.
3. Modern Minimalism
A rarely considered aspect of minimalist kitchen design, is the economy of space and that means. By giving you plenty of space, and generous walkways, extending your dining and living space outside. Pair leafy greens in your outdoors dining area with timber accents and a minimalist layout, and you'll find yourself with one of the single most relaxing, refreshing and rejuvenating environments achievable.
4. A little bit of Texture
Deceptively simple, this kitchen is gorgeous in its modesty. It's got understated, elegant handles where necessary and uses a few complementary colors and textures to make its statement. Almost perfectly capturing the essence of minimalism with simple shapes and lots of space, this kitchen is perfect in its blend of practicality and understated style.
5. The Perfect Blend
A little bit of timber facing, some texture in the walls, pseudo-floating benchtops and a tucked away scullery. This minimalist kitchen even has feature lights and perfectly placed windows. If you're looking for the perfect, modern, minimal kitchen design that'll fit with any style of home- this is yet.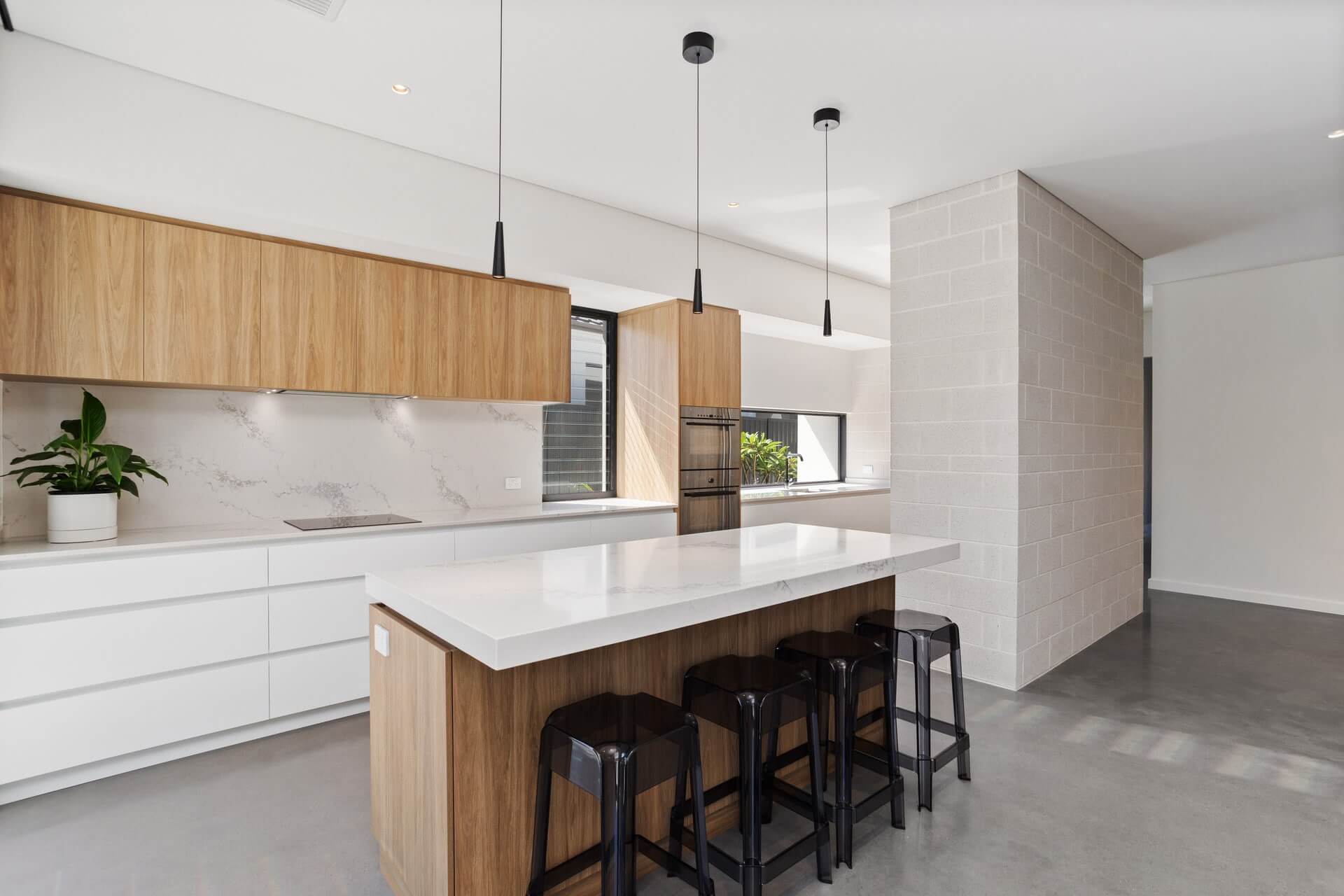 Your kitchen needs to complement your house and style, and should also be a place of comfort and functionality. This reason, and the beautiful simplicity of a minimalistic kitchen are why it's one of the most popular styles at the moment. If these designs have got you inspired and you're keen to get started on bringing your own kitchen dreams to life, why not check out our style guide? We've got a veritable gallery of minimalism style kitchens! If you'd like to take a look at this style up close and personal, to really get a feel for it, contact us on 1300 270 000 to speak to one of our highly experienced designers, or book an appointment to view our showroom in Perth!