MUST-HAVES FOR YOUR HAMPTONS STYLE KITCHEN
Hamptons style kitchens: Sophisticated, elegant, oozing coastal glamour and one of the most continuing sought-after design styles for kitchen renovations and new builds alike. So what makes this style so alluring? Taking inspiration from the luxury and class of Long Island, New York, this style seamlessly blends classic and contemporary all in one and for that reason has remained timeless, particularly in the Perth market in a fitting nod to our coastal lifestyle. Of course, there are some classic elements to this design style that separate it from the rest, so today we'll be taking a peek at what those must-have elements are for your Hamptons style kitchen.
Shaker-style cabinetry
Perhaps the most synonymous and identifiable feature of the Hamptons kitchen, shaker-style cabinetry is essential. Shaker cabinetry in a Hamptons kitchen will commonly be white, referencing the light and bright coastal feel, finished in gloss or lacquer. Cabinetry is a large element of this design style, with glass-fronted cabinets also a popular feature, adding to the luxurious and high-end feel. The added bonus of glass-fronted cabinetry is that you can show off some styling items such as bowls or vases – thinking deep ocean blues and soft teals for an oceanic vibe.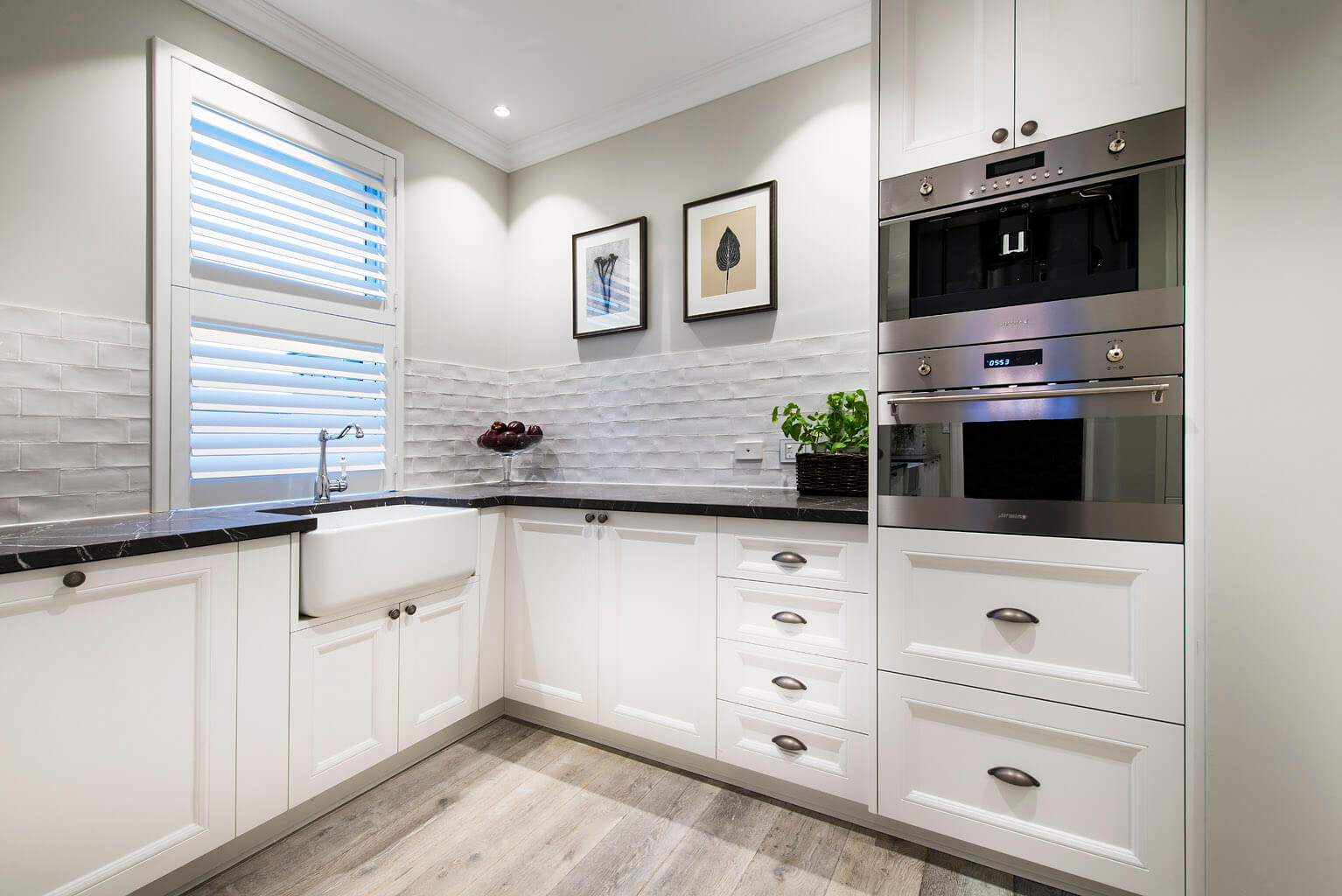 Marble benchtops
Another necessity for your Hamptons kitchen is a feature marble benchtop. Nothing says luxury or high-end like a marble benchtop, and the thicker the better – the feature island in our showroom is 80mm thickness. But don't worry if you don't have the budget for Calacatta marble, you can achieve a similar result by using Caesarstone engineered stone which has a range of fantastic selections for less, and the added benefit of being more durable as it is a non-porous product.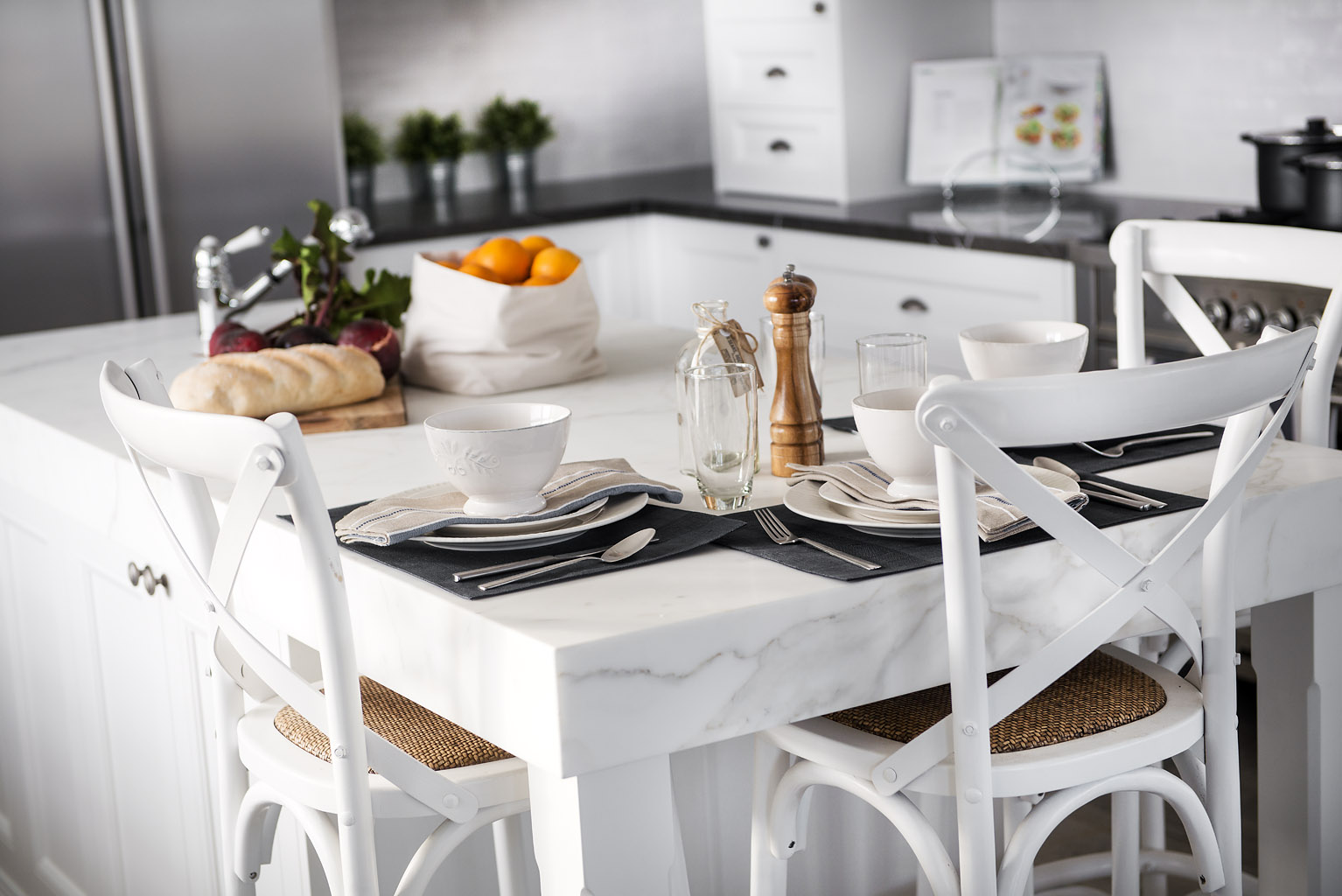 Timber elements
Most Hamptons style kitchens will have timber floorboards, with natural and raw materials another classic feature of this style. If you've gone with white cabinetry, consider a darker floorboard such as jarrah as a contrasting option to the crispness of the cabinetry. There are plenty of lighter coloured floorboard options though, if that takes your fancy. If timber floorboards aren't your thing, you can always bring timber elements in through other means, with wooden barstools around the island bench helping to provide a contrast, or timber styling items (even as simple as a wooden chopping board).
Pendant Lights
Lastly, some fabulous pendant lights over your island can allow you to express some individuality in your kitchen. Styling your kitchen with decorative items is also a 'must' for your Hamptons style kitchen, with raw materials such as straw or timber a good fit for the style, along with different shades of blue for crockery, appliances, decorative bowls and vases a great idea to bring in that coastal sophistication. Adding a touch of greenery with small indoor or hanging plants can also be effective in breaking up the crisp white of the cabinetry or island bench.
Head along to our showroom in Bassendean to view a full-sized Hamptons kitchen in real life, and be able to see and touch the different textures of this style. Our award-winning showroom is staffed by our experienced kitchen designers who can assist with your project with a personalised design to suit your budget, lifestyle and home. For more information, contact us today on 1300 270 000.