HOW TO MAXIMISE STORAGE IN YOUR KITCHEN DESIGN
Everyone uses their kitchen differently. Whether you live alone, with a partner or within a family unit can greatly change the way you use your kitchen, and the features in your kitchen should reflect this.
The Impact of Storage
Well thought out and designed storage solutions are key for optimal functionality of your kitchen. It is really important to consider how you use your kitchen everyday when it comes to selecting storage options which are right.
Read on to find out more about exciting and cutting edge storage solutions available at The Maker Designer Kitchens.
Custom Cabinetry
The most effective way to maximise storage in your kitchen is with custom cabinetry because it can be designed specifically to meet the functionality needs of your space. It allows you to create a productive work triangle using your sink, cooktop and fridge. 
No matter what the size of your kitchen space is; custom cabinetry allows you to maximise storage in your kitchen with your own unique kitchen design suited exactly to the dimensions of your home. An option which is not available with any sort of pre-sized, off the shelf type of renovation option.
Do it With Drawers
Whilst cabinets have a place in every kitchen – We always recommend designing your kitchen to also include drawers as they provide excellent opportunities to maximise storage in your kitchen.
Drawers are a fantastic choice for lower sections of cabinetry, as they are the more practical solution for heavier items such as cookware and serving platters.
Deep drawers are a popular choice as they can fit a large amount of kitchen items, including electrical appliances. Shallow drawers can be fantastic for integrating spice racks, our favourite being the Hafele Salsa Pro Spice Drawer Tray.
There are no hard and fast rules when it comes to drawer size. Drawers can be custom designed to suit the dimensions of your kitchen, and what will work best functionally with the design.
Put Your Pantry in Order
Depending on how you like to stock and organise your kitchen pantry there are a couple of different ways to maximise your storage here. Option one is you can include a storage unit such as the Hafele Tandem pantry system which has two sets of shelves to keep your pantry items organised and accessible. 
This system has innovative pull out technology which allows for an unobstructed view and easy access to items in the back, when you pull out the drawers. It's a great option for zoning and categorising your pantry items
If you like to stock items in bulk and want maximum storage, we recommend a custom cabinetry design that is all drawers or a combination of drawers and shelves.
Our design experts at The Maker Designer Kitchens can help you design a practical layout which will fit the exact dimensions of your pantry, including features such as LED lighting to illuminate pantry items for ease of accessibility. Visit our showroom to see these pantry design options discussed on display as well as other storage solutions we have to offer.
Appliance Cupboards
Custom cabinetry can also be utilised to create appliance cupboards, which can create extra space to store your bench-top appliances. Appliance cupboards are a fantastic way to store your toaster, kettle, coffee machine and Thermomix, all whilst keeping them accessible. When these appliances are not in use, they can be stored in the appliance cupboard off display, creating a cleaner aesthetic in your kitchen design and providing you with more counter space.
Butler's Pantry or Scullery
If you have the space and your kitchen design allows for it, a butler's pantry or scullery is a great way to maximise your storage and food preparation options. A butler's pantry is typically a dry storage area located just off the side of your kitchen, which contains extra storage space to store dry goods, plates, glassware and small appliances. 
A scullery tends to be a larger area connected to your kitchen which can include a sink and extra bench space for food preparation. A scullery can also accommodate for storing a dishwasher, fridge, freezer or wine cabinets.
Traditional, Hamptons and Luxury style kitchen designs quite often include a butler's pantry or scullery, but any style can work with this addition if you have the space.
Corner Your Storage
Without a well thought out kitchen design cabinetry corners will become the first dead zone in your kitchen.
We recommend the Hafele Lemans II corner unit to all of our clients when renovating their kitchen as it provides easy to use pull out trays to make those deeper sections of cabinet suddenly more accessible. It allows you to declutter your cabinets and stops you from having to pull everything in your cupboard out just to reach the one item that happens to be in the back corner.
Another fantastic corner storage unit is the Hafele Ninka Quatro Qanto, an innovative option which allows you to access what's below the surface of your benchtop at the touch of a button.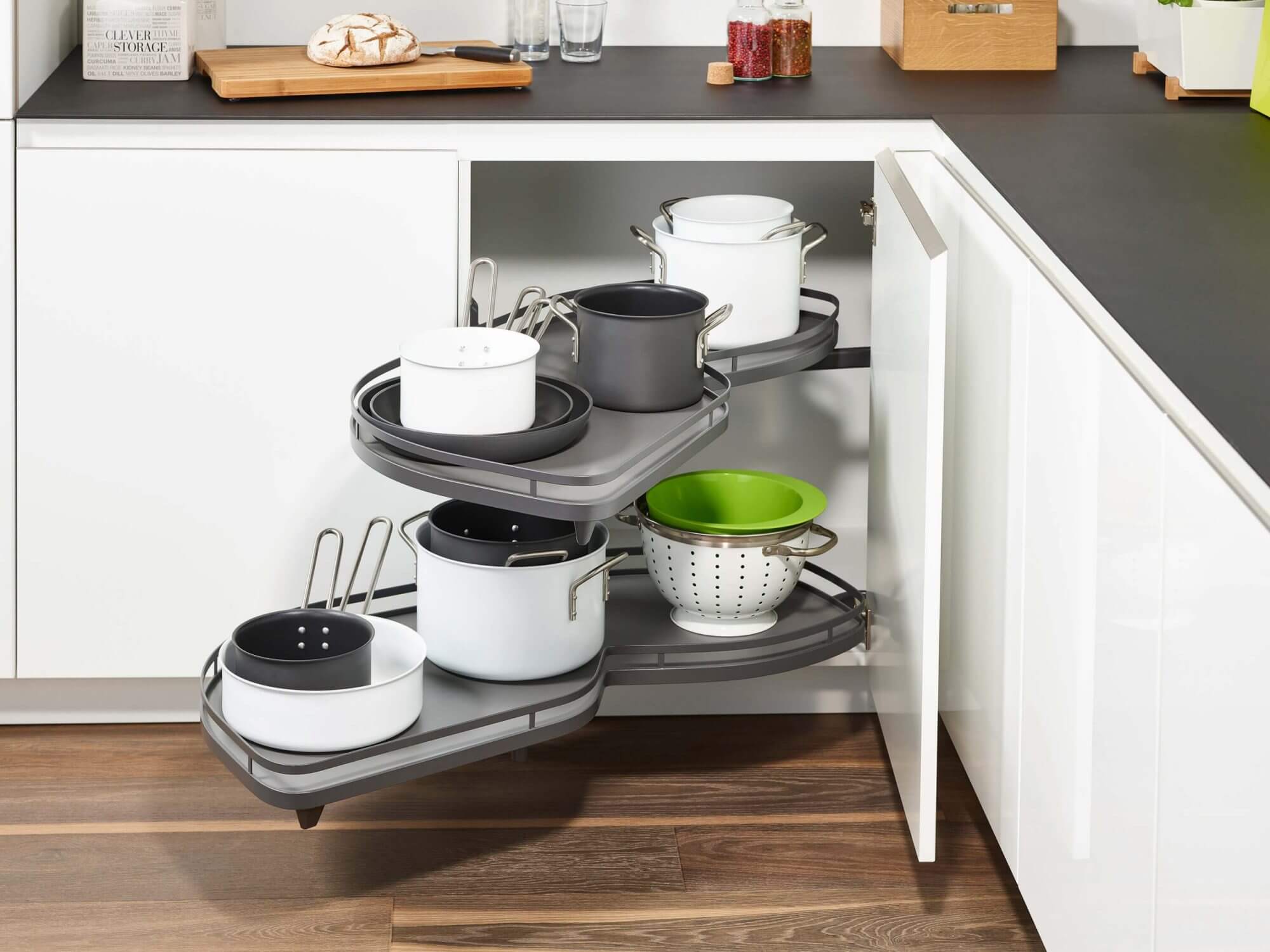 Under Sink Storage
The zone under your sink will always have less space, as it has to cater for the bottom of your sink and plumbing. However, you can design your under sink zone with clever storage options, such as the Hafele Potero Cleaning Agent, a pull out storage option designed to maximise the minimal space which is there. This unit is ideal for storing your home cleaning products, all in a detachable portable basket.
Get Storage Savvy
All of the above mentioned storage options should be considered right at the planning and design phases of your new kitchen build. Many storage solutions cannot be fitted later down the track, and in order for them to be as seamless and functional as possible – they are best installed alongside the other components of your new kitchen.
No matter what your design preference, or way you like to use your kitchen, we can provide you with expert advice on which smart storage solutions will be best for you. Get in touch today or book a design consultation with a kitchen designer at our Bassendean showroom.