The Elements Of Modern Country Kitchen Design
It's 2022 and modern country kitchen design is trending. A fine balance between tradition and contemporary design, modern country kitchens are a reminder that simplicity and practicality work.
But creating a modern traditional kitchen takes more than just finding modern alternatives to traditional materials. It's also about curating your design elements to meet your vision and custom design. With country kitchen design making a strong comeback this year, let's take a closer look at how to blend the old with the new and create that rustic charm reminiscent of country-style farmhouses and kitchens from the 1950s.
If you're hunting for inspiration for your renovation, the design team at The Maker Designer Kitchens are happy to speak to you about your country kitchen ideas. 
Create warmth and character
Country kitchen design generates an honest, warm and homely feeling. Traditionally, this was achieved by vintage furnishings, natural wood, and large generous appliances that will cater for large family gatherings. Picture the scene with flickering candlelight and music wafting in from another room. 
Today, modern country kitchen design recreates this scene by mimicking the style in subtle ways, while focusing on white kitchens with clean lines and smooth surfaces with hints of natural textures. Consider contrasting distressed wood in architectural features with smooth stone surfaces and oversized stainless steel appliances. This blend of natural and industrial textures can give you that rustic charm but with a modern twist. 
Authenticity is key
Rustic kitchen design tells a story of tradition and values. 
By using heirloom furniture pieces, you can invoke family traditions by incorporating antiques into your space. The trick is to manage this without them feeling dated or misplaced. Wicker chairs, wooden dining tables, or even bespoke silver cutlery can work together to bring depth and authenticity to your space. When it comes to fitting out your space, opting for high-quality pots and kitchenware adds authenticity and practicality to your design. This vintage approach creates a refined yet homely atmosphere that typifies the country kitchen design and style.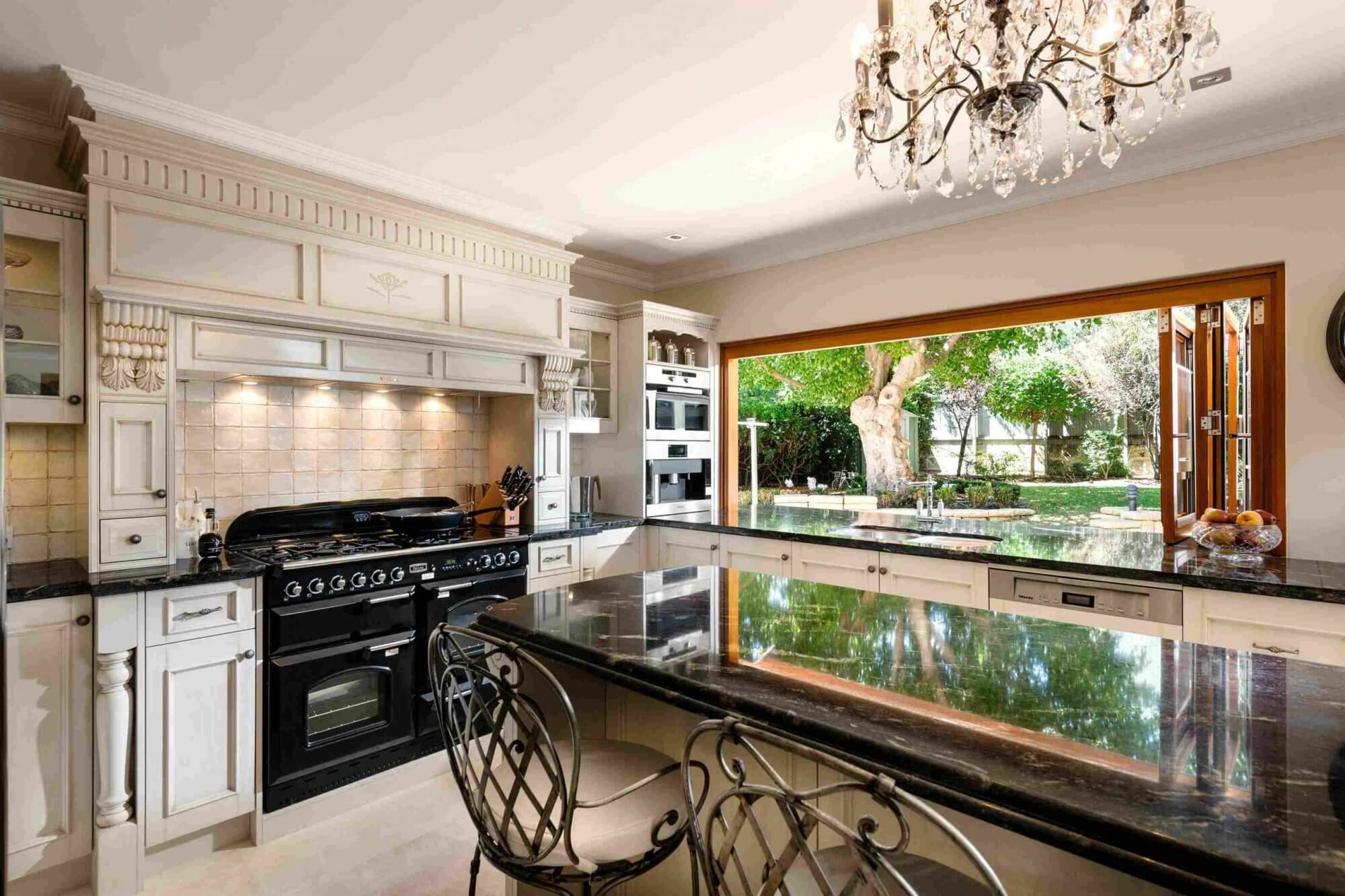 Dial-up the sophistication
Country kitchen design should be a healthy mix of comfort and sophistication. Incorporating high-end integrated appliances along with luxury farmhouse style benchtops like a veined White Attica 5143, a creamier Cloudburst Concrete 4011 or a Rugged Concrete 4033 can contemporize the space while maintaining a grounded country vibe.
Polished concrete flooring can also provide a modern touch to your kitchen, and complement matching benchtops, especially when used in conjunction with floor-to-ceiling cabinetry. 
Use attractive lighting
Lighting is an important consideration in country kitchen design. We recommend warm lighting over cool, and adding a dimmer can create a different ambience depending on the occasion.
Modern accented lighting features coupled with a traditional Art Nouveau-style chandelier can work wonders in a high-ceiling kitchen either set above a central dining table or island. Clever use of glass window cabinetry with integrated lighting can make for a show-stopping display. 
Celebrate practicality
At the heart of country kitchen design are functionality and practicality. Whether that's in the layout or the appliances you use, traditional kitchens were built with the cook in mind. Modern interpretations of traditional country kitchens should echo that in their design and fit-out. The butler's sink exemplifies the traditional style with enough room to wash your biggest pots without a hassle. Other on-nonsense additions like practical work triangle configurations bring out the best of country style kitchens. 
Details matter
Modern rustic kitchen design is all about getting the little things right. From the power outlets to the handleware, it's the details that shine through when you step back and observe the space. Traditional style mouldings, casings and trim allow you to accentuate the details without compromising the modern aspects of your main features and appliances. Stylish handleware and intricate yet practical furnishings can further blend tradition with modernism in your country style kitchen. 
Modernise the social hub
Traditional country kitchens were always the social hub of the house. And while that hasn't changed for centuries, the technology that makes modern kitchens function as social hubs today has advanced a great deal. 
Modern traditional kitchen design should keep the social hub alive and well by integrating a customised zone for docking stations, pop up power outlets with USB connections or a dedicated tech drawer. Keeping messy cords hidden away improves the overall functionality of your kitchen by removing unnecessary distractions – allowing you to focus on the task at hand.
Renovate your country kitchen with The Maker Designer Kitchens
Country kitchen design is a trend we're seeing more and more. And incorporating it into your home takes careful planning. That's where our expert team of kitchen designers Perth come in to walk you through the design, build and installation phases of your renovation.
Contact our team today on 1300 270 000 or visit our Bassendean Showroom to get inspired for your modern country style kitchen renovation.