6 HOT Ideas to Inspire Your Kitchen Renovation right now!
There's never been a more exciting time to renovate your kitchen. No matter whether this is your first, second or even third renovation, there are so many exciting new products and styles to choose from right now!
As we have highlighted in our 2023 kitchen trends ebook, many exciting kitchen trends are dominating the renovation space in 2023 – and with our expert team fully clued in on all of them, we have for you six kitchen renovation ideas that will inspire your next big kitchen design adventure.
1. Look at your layout
Don't always assume that your new kitchen needs to be the same layout as it always was. In fact, we recommend rethinking it. Remember, the main point of a renovation is to renew and rejuvenate your space; rethinking your layout could be one of the most critical parts of your design and you should feel empowered to think big. Take the time to review the space and see if a different layout can help create a more functional work zone, or fit your day-to-day needs more effectively. As a key component of our three step design process, our experienced interior designers can help you assess your kitchen and find the right layout to suit your cooking and living needs. 
Re-working your kitchen layout can create opportunities to include a scullery or butler's pantry in your kitchen; or maybe a kitchen island or even a servery zone that opens into the outdoors. Exploring a new layout could mean including a tech hub area where you have a dedicated desk zone where you can keep up with home admin while you get dinner sorted.
2. Include your dream appliances
Once you've found your ideal layout, it's time to think about the many exciting appliances on the market that can make cooking a dream and create the wow factor in your kitchen. 
For a luxury feel in 2023, we recommend Pitt cooktops that integrate directly into your stone benchtops and allow you to choose custom spacing to match your cookware. Cooking technology has never been so advanced, with so many options to choose from like pyrolytic ovens that turn food residue to ash and combi ovens that cook using steam and convection. For a modern touch, downdraft extraction rangehoods offer a sleek look for your kitchen drawing fumes downwards while remaining out of sight when not in use.
Freestanding ovens now come in all the colours of the rainbow, so you can choose the perfect statement colour for your space. Innovative sink designs come complete with chopping boards and strainers that are organised inside the sink bowl. A kitchen renovation is the perfect excuse to adopt some of these brilliant cooking items in your home to make cooking a dream and create a stylish design.
 Matching your kitchen renovation ideas with the types of appliances you want to include before the design stage helps our designers meet your cooking needs and style preferences as part of your design concept. We recommend visiting an appliance specialist to get advice about what which appliances would be best for your cooking style in your newly renovated kitchen.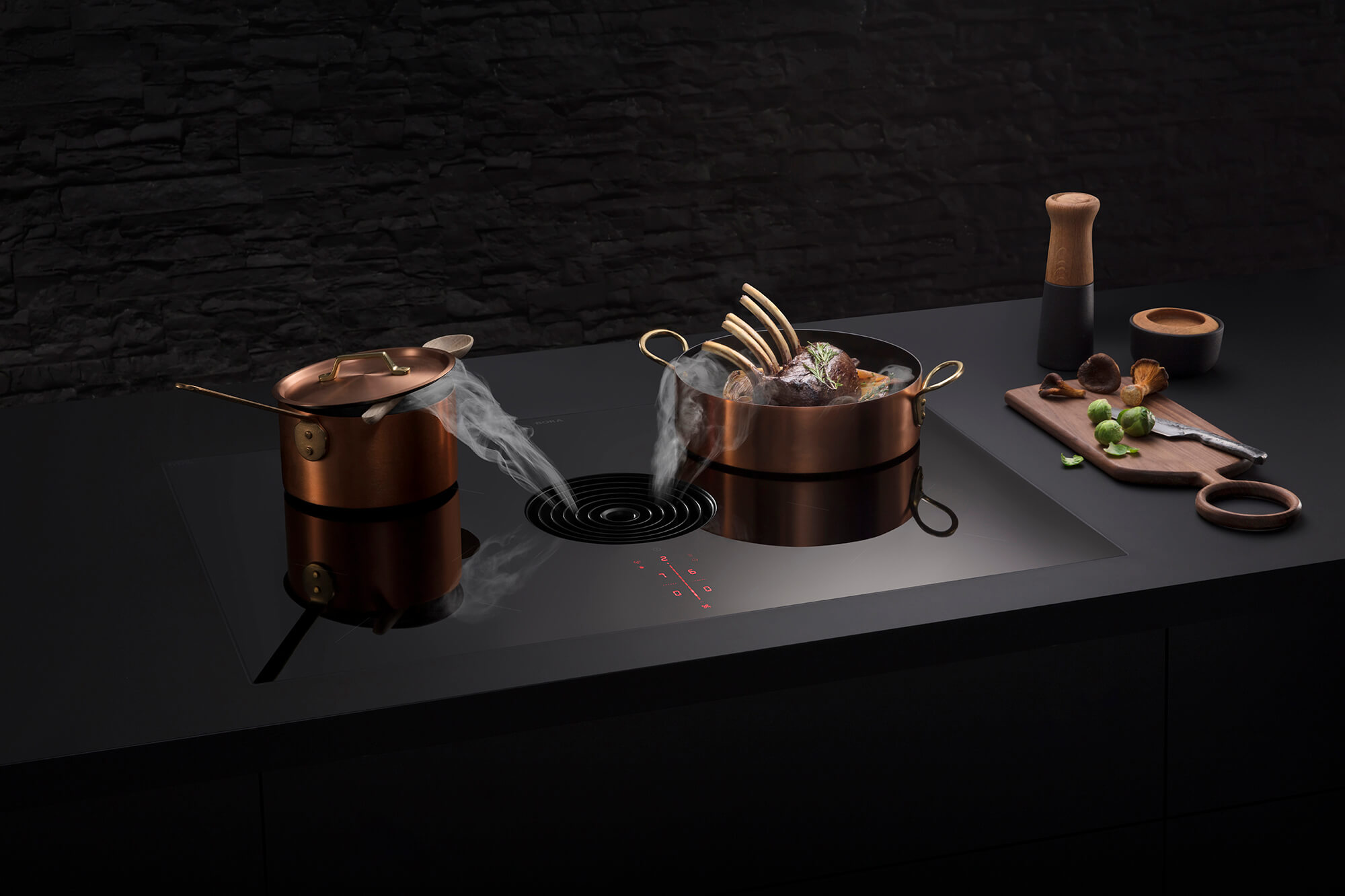 3. Make integration a cornerstone of your renovation
As one of the biggest kitchen renovation trends 2023, integration can be applied in your kitchen in a vast array of styles – achieving stunning results. For example, an integrated waste bin such as the Hafele Euro Cargo ST45 or ST60 is an absolute must-have – nobody wants that unsightly old floor bin anymore! 
If the goal of your kitchen renovation is to maximise storage space in a small kitchen, why not make corners work hard in your kitchen with the Hafele Le Mans Corner Storage Unit or the Magic Corner. Integration also allows you to completely conceal the appearance of your fridge and dishwasher with an integrated fridge design that hides this everyday appliance behind custom kitchen cabinets.
Of all the kitchen trends 2023 has to offer, Integration is one of our favourites. It allows you to create a state-of-the-art kitchen design that works hard below the surface and looks aesthetically beautiful from the outside. If you plan to use integration in your kitchen renovation, the early research and design phase will be critical as it changes the way we custom build your kitchen and many of these integrated styles cannot be retrofitted.
As part of our three step process, our Interior Designers will help you evaluate which integrated smart storage accessories and integrated appliances are best suited to your kitchen.
4. Bring out the luxury with feature panelling
Feature panelling is a hot design trend in 2023 and features in some of the most show-stopping renovations this year. Our team can assist you in creating your own beautiful and unique kitchen design by including custom feature sections with some of the latest Polytec profiled styles.
In 2023, Polytec STECCAWOOD is a luxury choice for your kitchen that can be used to create feature sections of flat or curved sections of cabinetry. There are 11 different profiles to choose from varying from flat, half round and their latest addition the concave curve profile called Cove. 
We suggest using Polytec's Calcutta range as it offers a striking way to apply vertical panels to your kitchen design across doors, drawers and feature panels.
If you're tired of your old cabinet doors, Polytec now offers an aluminium door with fluted glass. This looks fantastic for overhead cupboards and custom furniture designs for your kitchen renovation.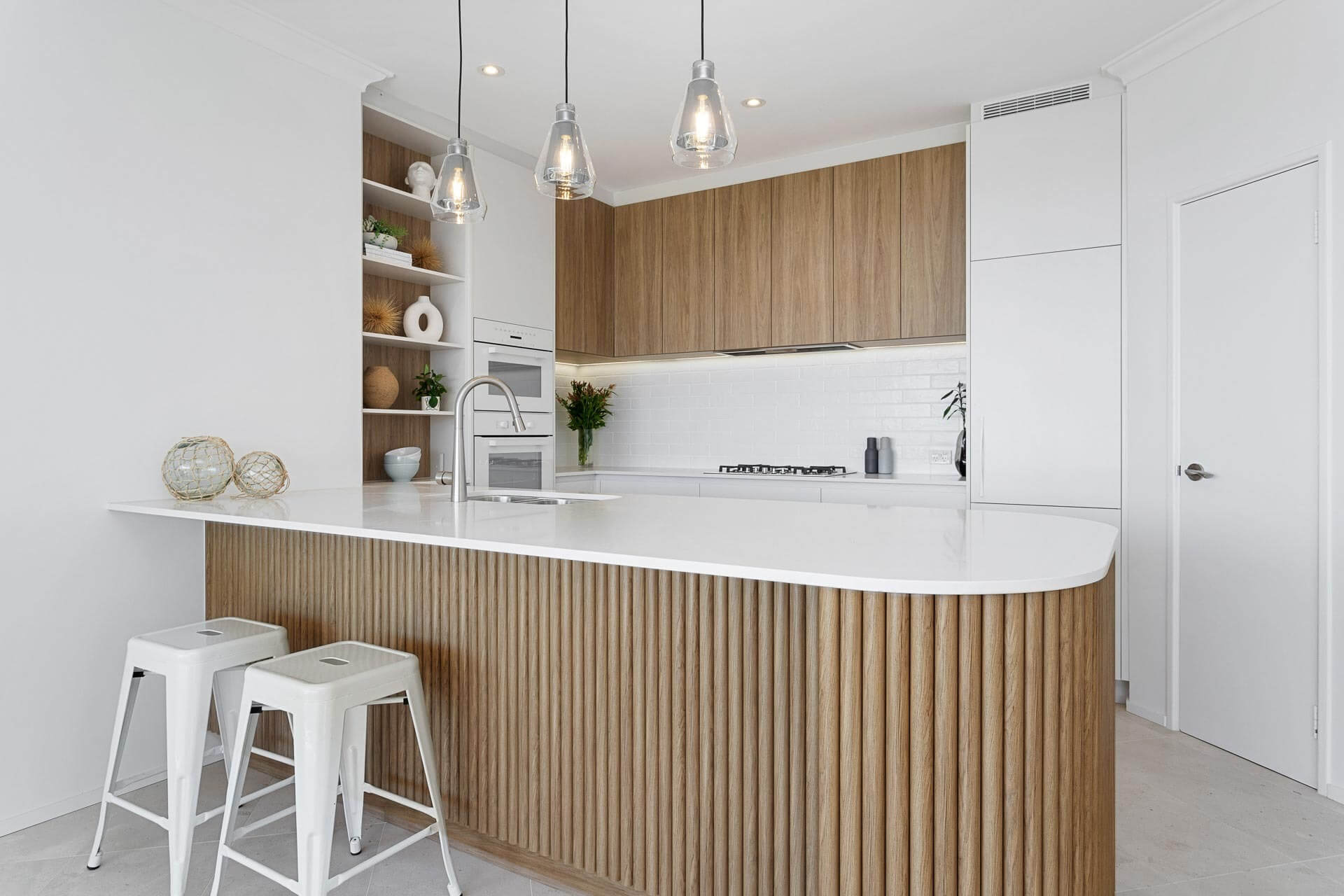 5. Shake up your design with profiled cabinetry
Chances are you associate profiled cabinetry with older country or traditional style kitchens. This is no longer the case. Profiled (or shaker style) cabinetry can create a striking and timeless look and feel for your kitchen. For example, Polytec now offers a beautiful range of sleek and modern profiles such as the Chifley or Sussex styles that look wonderful in a modern home.
Profiled cabinetry is also a great choice for an all-white kitchen as it creates texture, dimension and points of interest for your kitchen renovation. If you enjoy breaking design rules or have an eclectic style – why not combine flat panel and profiled cabinetry in your kitchen renovation to create your own unique kitchen style?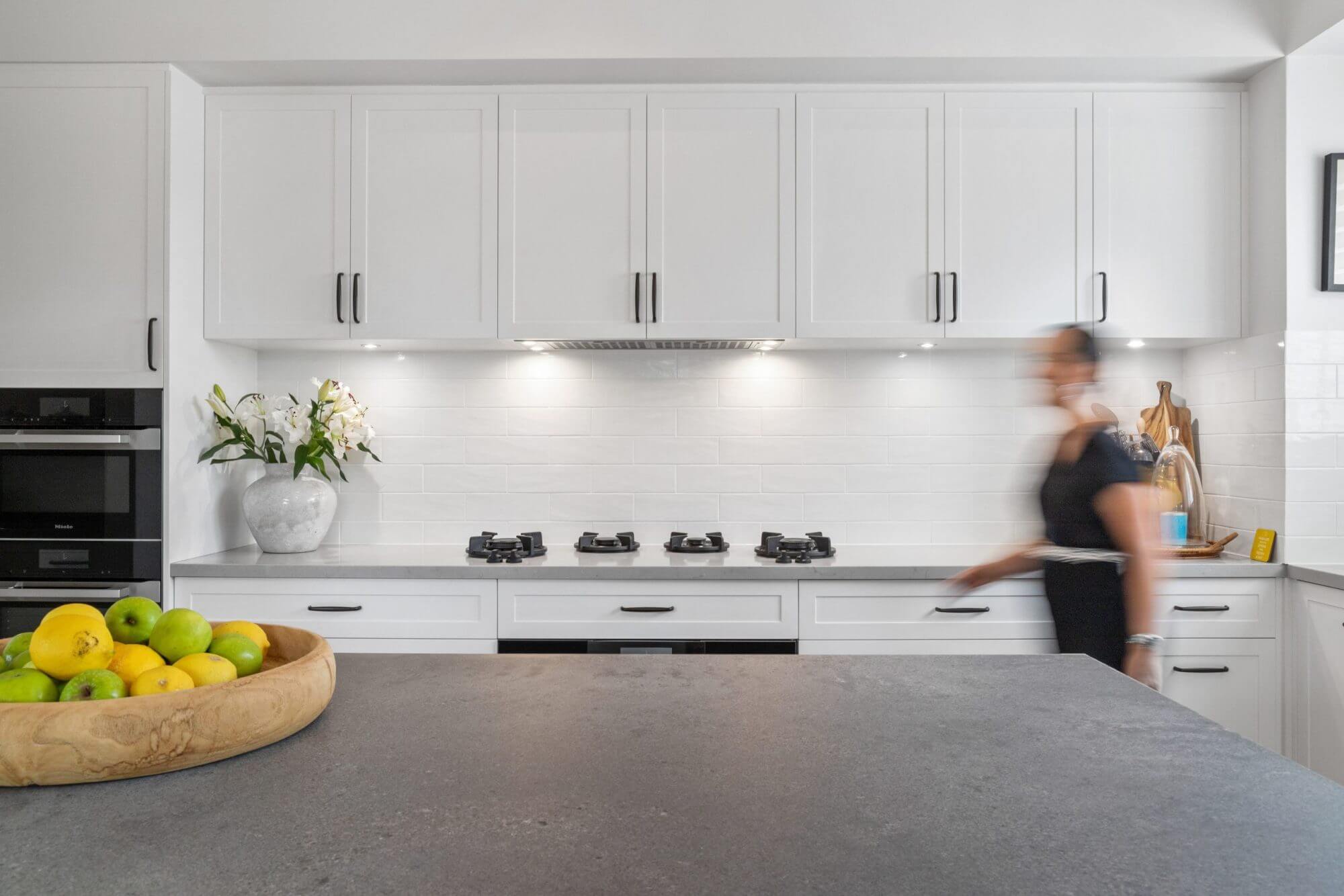 6. 2023 is the year to include smart technology in your renovation
Who doesn't love technology that makes everyday living easier? At The Maker Designer Kitchens, we believe that making everyday life easier for the homeowner should be at the core of any renovation. Smart kitchens include technology built into your design to make that happen.
In 2023, countless smart technology inclusions can bring your kitchen renovation to the next level. The Blum Aventos kitchen cabinets are a great addition to your luxury renovation and they open and close with a gentle touch of a button – naturally, they are perfect for overhead cabinets. The Blum Servo Drive system is a handleless electrical opening system for integrated or handleless fridges and dishwashers.
As an alternative to visually intrusive power points on the side of your kitchen island or kitchen backsplash, you can now integrate a PointPod into the benchtop that also includes USB charging and disappears downwards when not in use. Docking drawers are a great addition to the modern kitchen providing USB and powerpoint charging capabilities inside the drawer which creates a dedicated charging zone that declutters your kitchen space.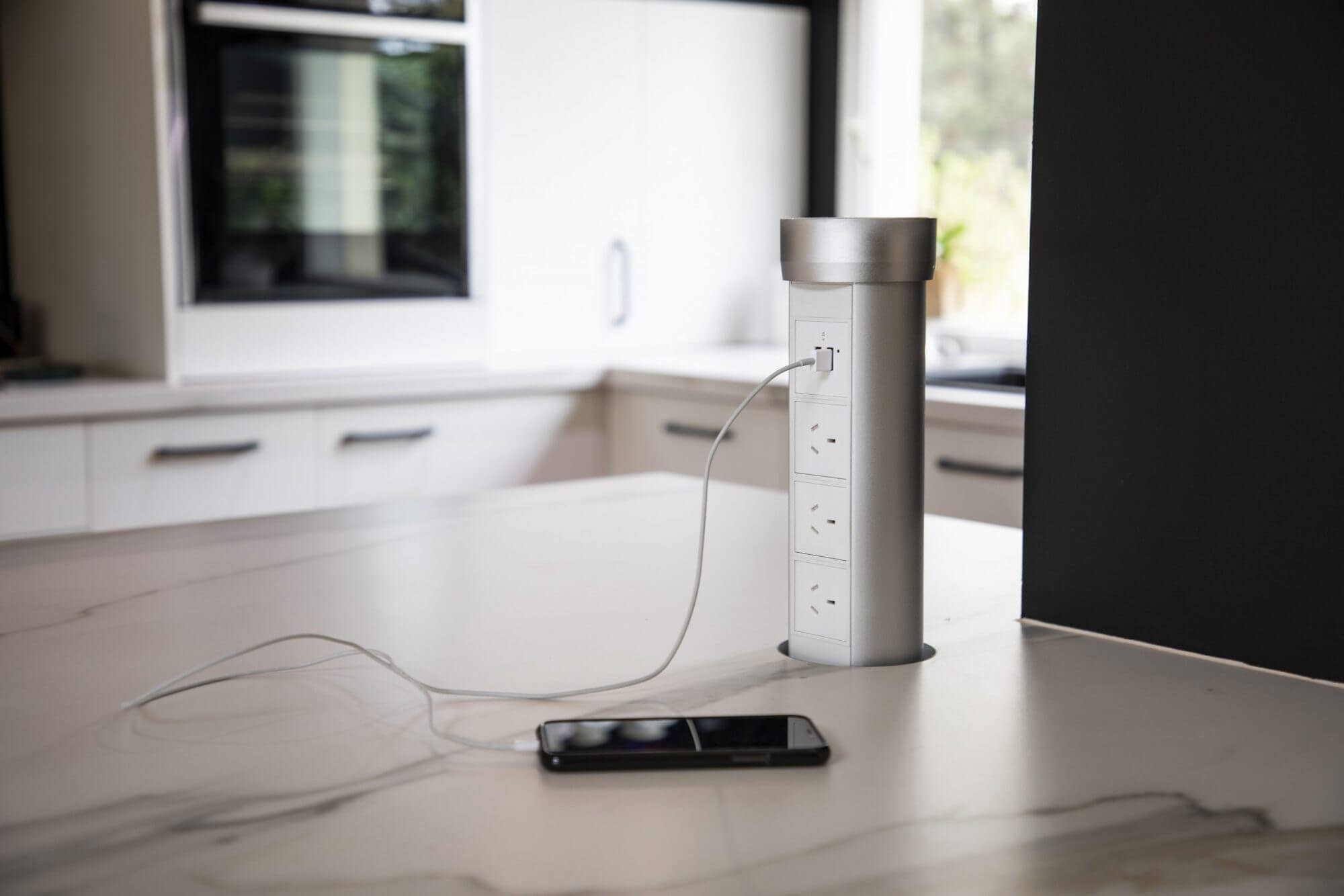 Make your kitchen renovation ideas a reality
Are you feeling ready to start your kitchen remodel? With a dedicated team of designers and a commitment to local craftsmanship, our process walks you through the initial design, build, and installation of your new kitchen. 
With extensive experience as one of Western Australia's leading kitchen designers, our team of designers are in tune with the latest 2023 kitchen trends in Australia and are ready to speak to you about your dream kitchen renovation.
We invite you to visit our award winning Perth showroom to be inspired by the ideas discussed here and more. On display we have four working kitchens in different styles as well as all the latest innovative kitchen trends and ideas you expect when you renovate your kitchen with us.
No appointments are necessary and you will also get the opportunity to discuss your project with our qualified interior designers. We're open Mondays to Fridays 8.30am – 4pm and Saturdays 9am – 1pm. Find us at 12 Dyer Road Bassendean, 6054.
Alternatively click the link below to connect with one of our team online.