BEFORE & AFTER: Snapshots Of Spectacular Kitchen Renovations
We love a good before and after. Apart from the chance to show you some of our top kitchen renovations, before and after blogs like these allow us to demonstrate how we meet the brief for our clients. 
When you renovate with us, we will help you completely transform your space into your dream kitchen. Starting with the design and build phases, our process involves close collaboration with our interior designers who will gain a strong understanding of how you wish to renovate your kitchen. Our goal is to design and build your dream luxury kitchen that you will enjoy now and in the future. 
For a taste of what your future kitchen could look like, why not visit our showroom where we display four different working kitchens in different styles? You can also get a feel for all the luxury selections and inclusions you get when you renovate with us.
We are proud to have Perth's largest kitchen showroom and consider it an integral part of our design process – helping provide added value to our clients as we have been for over 22 years.
Without further ado, here are some of our favourite kitchen renovation before and after projects. 
Cottesloe: luxury revival with STECCAWOOD curves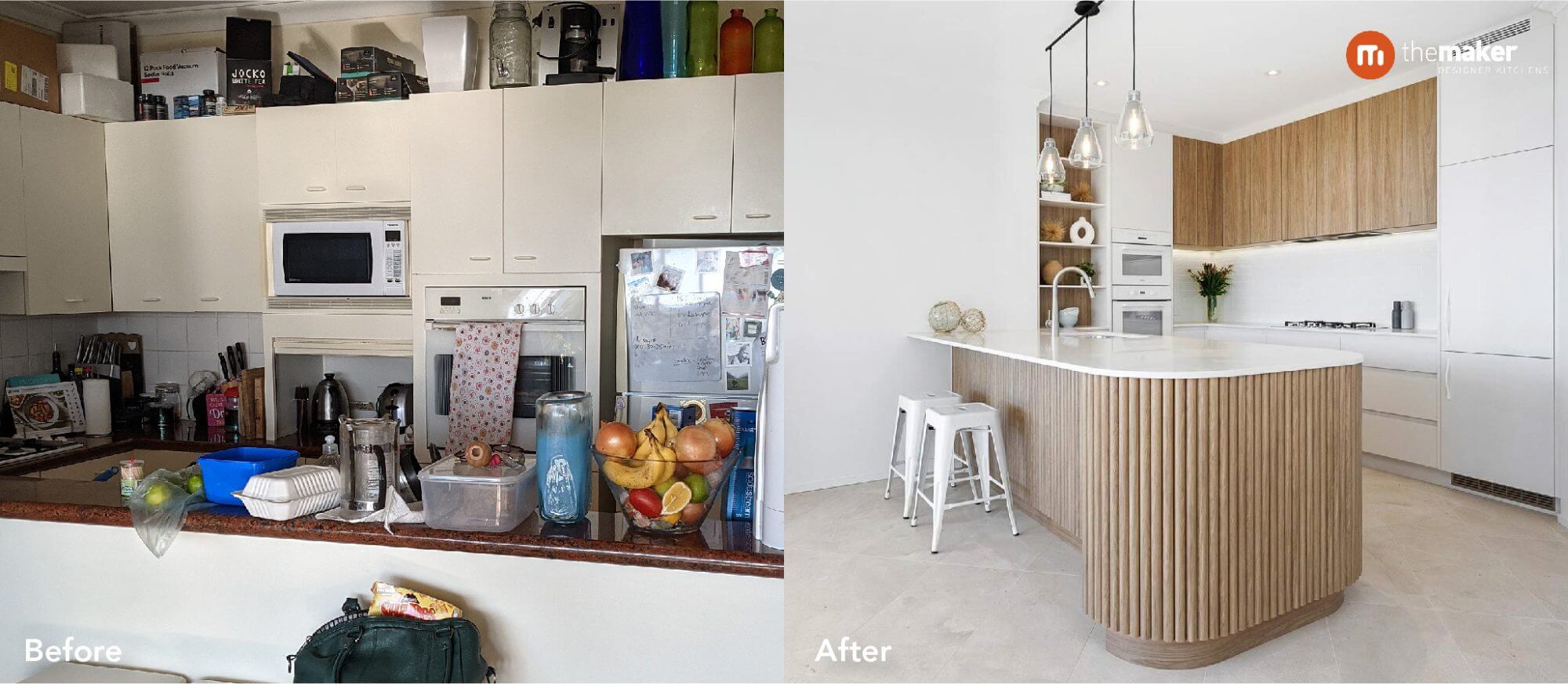 Grant came to us wanting a kitchen renovation for his rental property that reflected the location and respected the coastal orientation. 
From the get-go, we focused on tactile materials and texture to help convey an organic design. Simple use of 20mm Osprey Caesarstone benches, Aston White Smooth cabinets and elements of Prime Oak Woodmatt, Steccawood and curves really helped represent this.
Handleless integrated cabinets and white appliances allow for continuous flow and a timeless look that is reminiscent of the windswept beaches a stone's throw away. 
Grant's old kitchen layout made the space feel cramped – however, integrated floor-to-ceiling cabinets reduced clutter and facilitated the relocation of his cooktop and oven tower which really opened up bench space and outlook. As the hero of the design, the large peninsula was key to enjoying the view and allowing an emphasis on entertainment.
Clever use of custom cabinets helped to disguise that awkward wall layout in the corner. A keen eye will notice that even though the footprint is similar, these small yet meaningful improvements make this a great transformation. Grant's kitchen renovation in Cottesloe is one of our favourites because it demonstrates how renovating with us can totally transform your space.
Lesmurdie: award-winning Hamptons design
Our clients Karen and Stuart reached out to us with the goal of expanding their kitchen space to cater for their grown family. With a broader home renovation underway, our role was to create a stunning Hamptons style kitchen that not only met their design wishes but also fit into the design of their new home layout. 
While their old kitchen featured some aspects that were in the Hamptons style, ultimately, we knew that a thorough re-think was in order. The old space was functional for a small family, but even then it was starting to feel crowded. 
Maximising bench space became a priority, as was opening up the kitchen to more natural light – an essential feature in Hamptons design. 
For the ultimate facelift, we used Polytec Hamptons Profile cabinetry in classic white to emphasise the solid lines and detailing throughout this kitchen. The glass-fronted cabinets are illuminated by integrated lighting to showcase their contents and perfectly frame the bespoke feature rangehood. 
When you look at the original kitchen, you'll see that the old rangehood and the overhead cabinetry simply did not align, making the space feel disjointed and unbalanced. With careful use of symmetry, from the lighting to the centralised seating arrangement on the main island, not to mention the luxury Falcon Nexus Freestanding oven and rangehood and AEG integrated dishwasher, our design team managed to completely transform this kitchen into an award-winning luxury Hamptons design. 
Something our clients weren't expecting was their kitchen to be awarded the 2022 winner for New Kitchen $60,001- $80,000 at the 2022 Housing Industry of Australia Kitchen and Bathroom Awards.
Kallaroo: a contemporary coastal revamp
Our clients wanted a contemporary coastal style kitchen where entertaining family and friends was as easy as it is fun. They wanted the island to be a social hub for the whole family to gather for meals and also as a space to socialise and entertain friends. 
Our design team opted for a Cantilever island design as the key feature in this kitchen renovation. It adds that social aspect with its floating modern design and seated sections on both sides. 
Our clients also mentioned that they wanted a kitchen space that had more practical storage solutions tailored to their family lifestyle. With that in mind, we made sure to include specific storage space for kids' school bags and homework and a charging station for iPads as well as a small appliance cabinet for baking goods. 
The best design solution for this space was to reorientate the kitchen to open the space up to the rest of the dining and family areas. As part of the design, we also proposed relocating the windows to include a glass window splashback which also brings beautiful natural light into the home. 
To wrap up the design with the coastal style, we used a Caesarstone Organic White and a Polytec Boston Oak Woodmatt combination for the Cantilever. To keep the contemporary feel, we chose a fresh Classic White Matt design for the remainder of the cabinetry.
Harrisdale: a timeless luxury refresh
Our recent Harrisdale clients wanted a modern contemporary design that was both practical and timeless with a focus on more accessible storage solutions. 
We worked with the clients to reinvent the kitchen layout to make better use of space and create a practical working zone that reflected their daily needs. They wanted a large island with a feature stone that looks luxurious and added interest to the space. We designed the new island for this kitchen to feature 40mm Caesarstone Statuario Maximus benchtops with a stunning waterfall edge to showcase the veins of this quartz selection across the top and down the side of the kitchen island. 
Our team made sure to include two-sided seating on the central island, making it a dynamic zone for kitchen prep, while also adding an extra social dimension to the space – ideal for entertaining large groups. 
During the design phase, the clients expressed their wish for their new kitchen to be bright and fresh. Based on this, we designed a glass splashback window to bring in more natural light to their home. To further deliver on the luxury feel, we used modern Polytec classic White cabinetry in a sleek handleless design to accentuate the new look.
Last, but not least, we made sure that this kitchen also delivered on practicality – a key element in the client's brief. An appliance cupboard to conceals small appliances, along with the secret pantry door gives the kitchen a contemporary modern look while incorporating cleverly designed cabinetry that marries smart storage solutions with immaculate design features.
Illuka: the ultimate kitchen renovation before and after
Our design team is proud of this kitchen before and after. 
Debra and Kevin wanted a modern refresh on their dated and relatively small kitchen including a total revamp of the layout and flow through to the powder room and laundry. Our designers were happy to guide them through our three step process and help them realise their dream luxury kitchen design. 
Debra really wanted an island but wasn't sure she could while also creating a Butler's Pantry in the then walk-in linen. After some careful design work and a simple rethink of the layout, the kitchen design was finalised with all boxes ticked.
Integrated appliances and colours reflect a totally new modern palette of Estella Oak and Classic White with Caesarstone Frosty Carrina and Statuario Maximus as a feature. Contrasting the white paint above with heavy colours down low help to ground the space. We also like how the open island assumes centre stage, yet still creates lightness and spaciousness.
Naturally, the island was the biggest challenge to create something that was both practical and allowed for social entertaining on a smaller scale. Featuring an open waterfall table end and drawers provides both a practical prep area and an entertainment zone. 
When it comes to Debra and Kevin's design, we were lucky enough to work hand-in-hand with their home renovation company to transform this space. It now includes a new doorway to the linen, a new high bay window, floors and redirecting laundry chutes – plus demo/plumbing/electrical fit-outs.
Start your kitchen transformation today
If you like our kitchen renovation before and after shots, chances are you'll like it more when you see your kitchen makeover design reflected here. If you're thinking of making the next step with your kitchen design, our expert team of designers is standing by with decades of experience and a wealth of local craftsmanship to make your dream kitchen a reality. 
From our first conversation to the final installation, our team at The Maker Designer Kitchens makes sure your vision remains at the centre of all our work. Our unique three step design process ensures complete autonomy and ownership over the design while giving you the chance to work alongside qualified designers who are clued in on the latest trends in kitchen styles to deliver the highest quality luxury design. Reach out to our team today for a consultation. You can also browse our range of completed projects here. We look forward to working with you.