YOUR KITCHEN 'MUST HAVES' AS CHOSEN BY OUR DESIGNERS
Our creative juices really start bubbling each time we sit down with a new client to start the process of designing their dream kitchen. There is always so much to consider from the initial layout and flow of the design, overall styling and theme and the individual wish list items that every client has in mind for their perfect kitchen design.
Our experienced kitchen designers will always carefully consider your individual requirements as part of your kitchen renovation to ensure we deliver your dream space. Over the years, and with the vast experience we have in designing functional kitchens, we have compiled a list of favourite items that we like to suggest for your kitchen renovation.
Read on to discover our kitchen designers top three 'Must Haves' that they love including in their kitchen designs.
Rebecca
1. Oven Stack
Modern kitchens are embracing the return of the oven stack. Not only is it more functional than bending over to lift your heavy roast out of your oven; it has a high end appeal that enables you to create a feature in your kitchen with your appliances.
Many kitchens these days will include two 600mm matching ovens combined with an integrated combi microwave oven for cooking smaller meals and even a matching coffee machine.
2. Tall Cabinetry
Floor-to-ceiling cabinetry creates a sleek, luxurious, and stunning style for your kitchen. Frequently used in modern designs you can completely conceal the working elements of your kitchen and this style works really well with an oven stack arrangement.
Tall cabinetry works with handleless cabinetry and looks stunning for classic or traditional style kitchens when a profiled door is selected. Long sections of tall cabinetry create a feature that appears like cladded walls and you can even incorporate feature shelving if it suits your design.
3. Social Kitchen
The hub of the home, the meeting place for family and friends. Rebecca loves nothing more than designing a practical social kitchen that includes interesting seating options and multipurpose island benches for everyday life.
Extended breakfast bars or split level islands with dining table sections not only look spectacular, but super practical. Square islands work well for extra seating and can be used as a dining table in the kitchen zone. Double sided islands always have room for ample storage and you can even work integrated appliances into the space.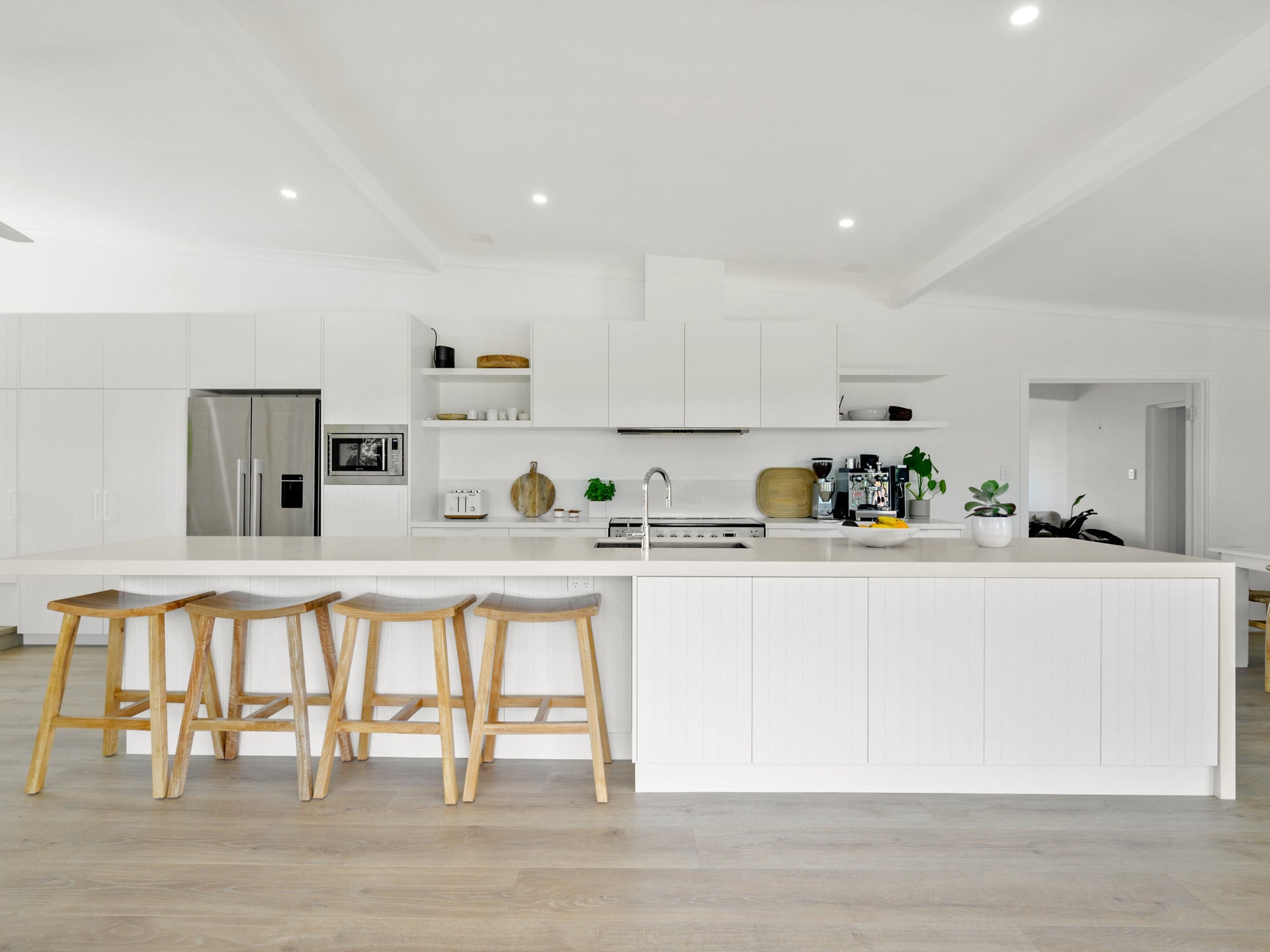 Hannah
1. LED Lighting
Integrated lighting in your kitchen design is always a good idea. It cannot be integrated after construction and when done properly it will really set your kitchen design apart.
Rid your work zone of shadows in the evening with built in lighting in your overhead Cabinetry. Illuminate your splashback and light up your larder or pantry as you open the doors. A standout feature in Hannah's designs is LED lighting placed under the kickboard to create a halo effect throughout a kitchen.
2. Waste Bins
What's under the surface and how your kitchen performs for you when preparing food is critical to a good design. Hafele create innovative kitchen accessories to make your life easier and we recommend to all our clients to include one or even two of the Hafele Euro Cargo ST45.
What's special about the installation of this kitchen accessory is we have created a unique design as shown below in which we install the Euro Cargo at the lowest clearance in your cabinetry to include an extra hidden drawer that you can use to store your bin bags! Visit our Perth showroom to see this on display.
3. Spice Drawer
It sounds boring, but the inclusion of a spice drawer in your kitchen may just change your life and make your kitchen design flow better. We always opt for drawers in our designs as they offer greater storage and create clean lines in your kitchen design.
A spice drawer with the Hafele Salsa Pro insert as shown below is much more practical than the vertical pull out options you need to bend down for. Having drawers in your kitchen is much more user friendly and it will not muck up the overall aesthetics of your complete design.
You can view this all the full range of Hafele Kitchen accessories for your design on display in our Perth showroom.
We hope you've enjoyed this feature on some of our favourite kitchen items. If you are thinking of renovating your kitchen and you would like to chat more with Rebecca or Hannah please visit us in our showroom or contact our office on 1300 270 000 to book a showroom appointment.