OUR TOP KITCHEN DESIGN TRENDS OF 2021!
2021 was an exciting year for kitchen design. We saw many of our clients really embrace some of the hottest kitchen design trends of the year, which led to some stunning new kitchens to showcase in their homes.
Designing your new kitchen is exciting and we love bringing our clients' visions to life. To help inspire you for your upcoming project we've shortlisted here the top kitchen design trends we saw this year and which we think will still be huge in 2022.
Dark kitchens
Dark kitchens dominated in 2021. It was by far the most popular kitchen trend we saw our clients embrace for their kitchen renovations as well as their new home builds.
Dark coloured kitchens sure make a statement and can be done in a variety of different styles. They can be all black or have dark cabinetry offset with wood tones.You can also go for a monochromatic look, which integrates splashes of white to create contrast against the darker elements of the kitchen space.
If you're thinking of embracing this huge kitchen trend we recommend large windows in the kitchen or adjoining rooms, or a glass window splashback, in your design to ensure there is enough natural light coming into the kitchen zone.
Curved kitchens
Curved benchtops serve as a focal point of your kitchen, creating real visual impact, especially when used on a kitchen island. A curved benchtop requires expert workmanship and instantly provides a sense of luxury to the space.
Curved benchtops can be utilised to offer contrast to a kitchen dominated by straight lines, creating a sense of balance and softness. They facilitate a sense of movement in the space due to their fluid lines, perfectly aligning with the notion of the kitchen being the meeting place of every home.
An inclusion of a curved benchtop into your kitchen design can also allow for smooth transitions to other rooms in your home which may feature curved edges.
Curved kitchens were also a pretty huge kitchen trend of 2021 and we expect to keep seeing curved kitchen designs well into 2022.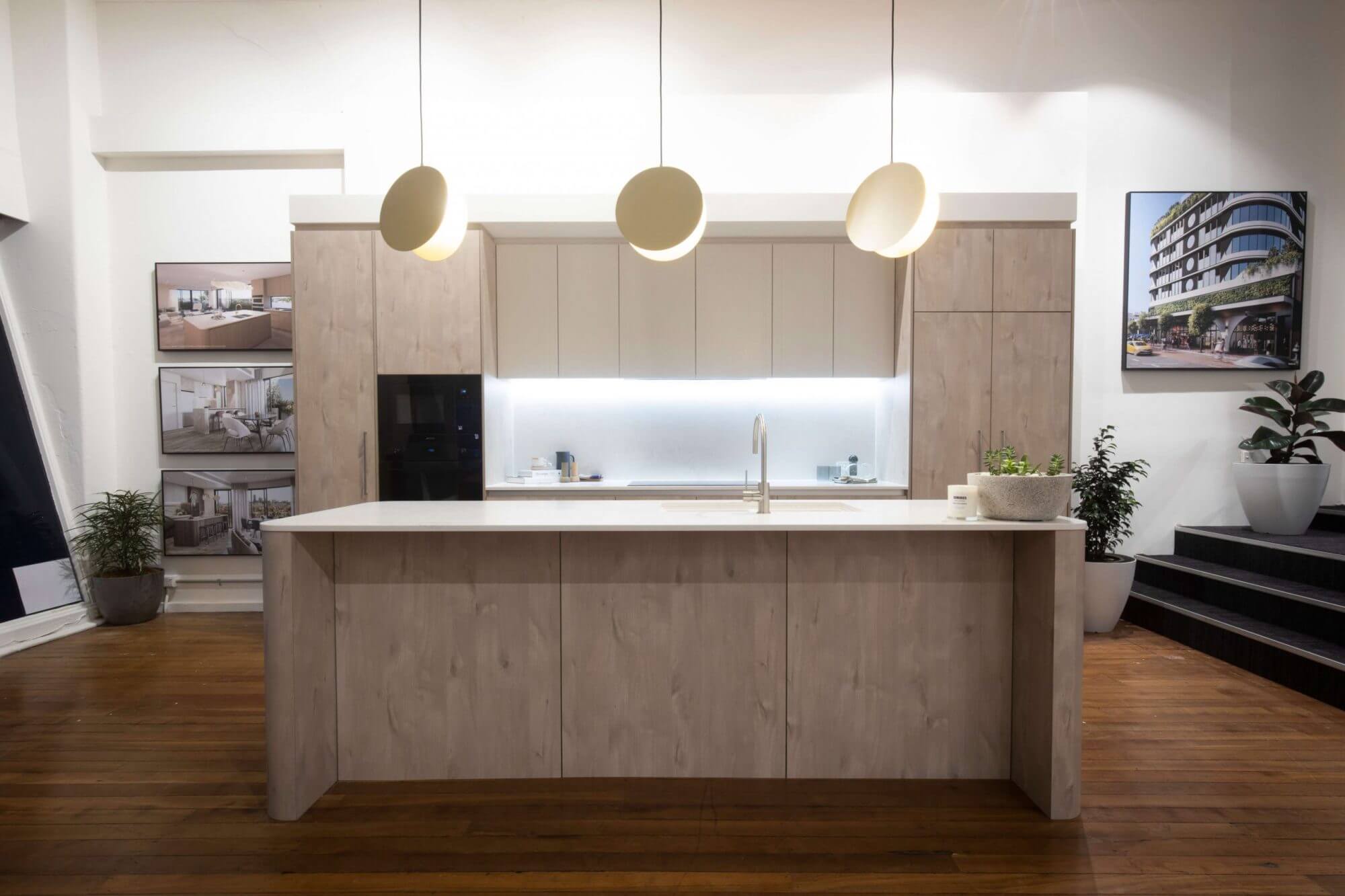 Minimalist kitchens
Minimalist style kitchens have always been popular in modern kitchen design, and we predict it will continue to be so in the coming years. Minimalist kitchens favour clean lines and simplicity which provides a sense of order and calm.
Minimalist kitchens often feature striking marbled benchtops paired with single colour or wooden style cabinetry. It is a style dominated by straight, clean lines, often with neutral colours and textures to add dimension to the kitchen.
With minimalism, less is more. The number of overhead wall cabinets are streamlined,range hoods are often disguised in a sleek boxed treatment and cabinetry is usually handleless. With less overhead cabinetry there is a greater amount of wall space. This opens up the kitchen, allowing more light in and making it feel spacious, airy and clean. 
Concealed kitchens
Another popular kitchen trend in 2021 was concealed kitchens, which often utilise aspects of minimalist style in their design. Inspired by open plan living, the working elements of your kitchen are concealed so they appear invisible.
Appliances such as fridges and dishwashers can be concealed with clever cabinetry, and microwaves can be concealed with trim kits. 
Concealed kitchens are spacious and streamlined. They offer sleek cabinetry, cutting edge storage solutions under the surface and features like appliance cupboards where everyday benchtop items are hidden behind sliding cabinet doors. Cabinetry handles in this style design are often quite minimal.
A concealed kitchen design is ideal for those who love to entertain, as items can be stored off display, reducing any clutter, and providing clean spacious surfaces.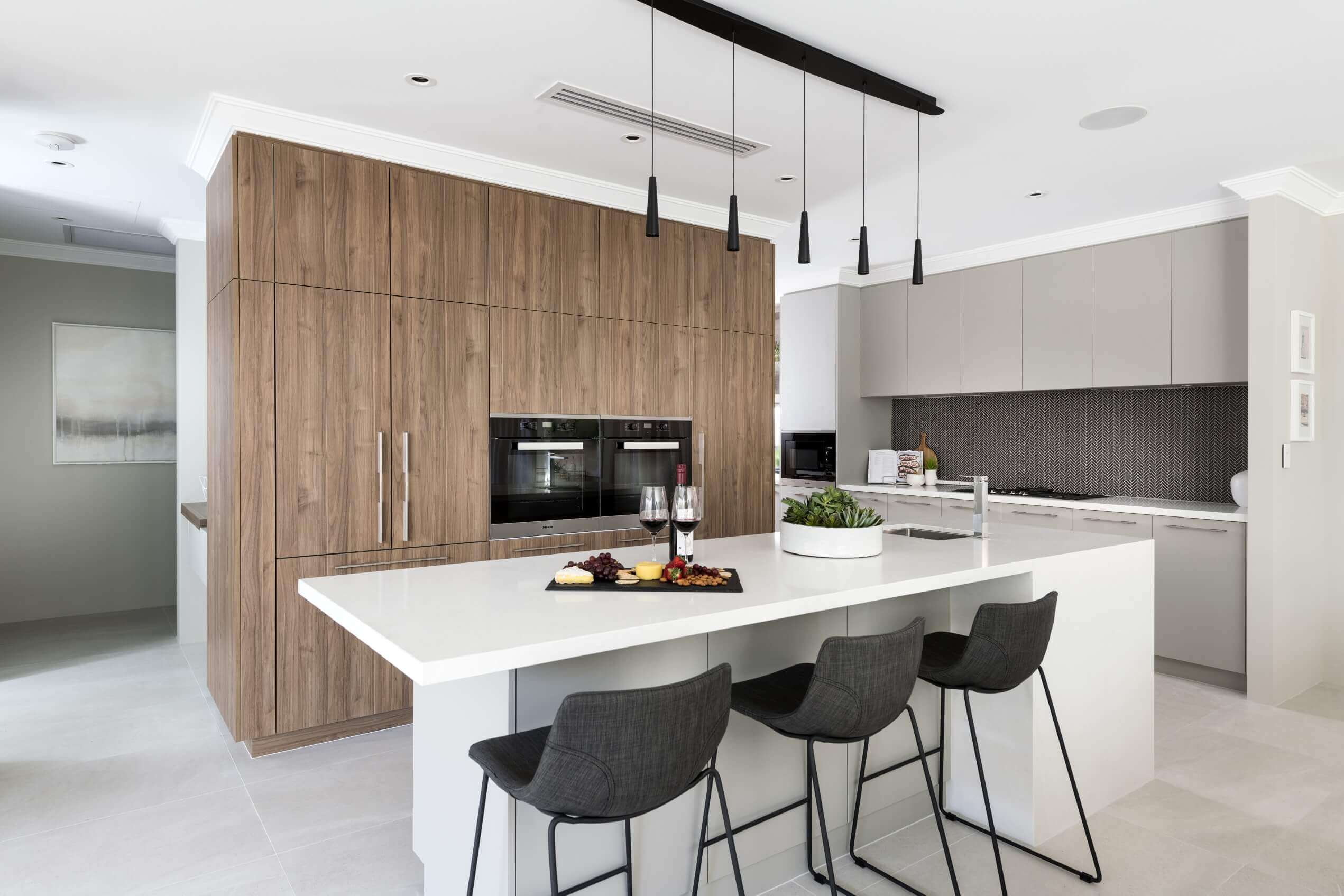 Pitt cooktops
Pitt cooktops are one of the latest and more unique kitchen design trends to incorporate in your design. A Pitt cooktop integrates all the burners and knobs directly onto your benchtop, providing a striking and edgy look. 
A Pitt Cooktop can be customised by allowing you to choose the amount of burners you would like as well as the spacing between the burners. This allows you to lay your kitchen out depending on the sizing of your pots and pans and how you like to use your cooktop. 
We have the only Pitt Cooktop on display in our Bassendean showroom. 
Back to nature
Utilising natural tones in your kitchen design or using real wood and wood-look laminates remains a popular option in kitchen design. Wood look laminates incorporate grain and texture just like the real thing, and are available in a variety of colours and textures.
Wood finishes work beautifully on kitchen cabinetry, especially paired with a natural stone benchtop for a classic design that won't age.
Feeling inspired?
Here at The Maker Designer Kitchens we live and breathe kitchen design, and design innovation is at the forefront of our kitchen renovation projects.
We approach our design process in three stages:
Design phase
– One of our designers will work with you to assess your space, find out more about your lifestyle and find out what's important to you in your kitchen.
– Invite you to visit our showroom, and work with you to select the colour scheme, materials and styling of your future kitchen.
– We measure your space and provide you recommendations on the design concept.
– Discuss hardware and appliance specifications.
– Finalise your kitchen design concept and hand it over to our site supervisor.
Build phase
– Your custom cabinet doors, benchtops and furniture are all built in-house by our team of skilled craftspeople.
– Rigorous quality control processes are applied. Our builds are fitted by default with high quality inclusions; soft-close drawers and cupboards, and the high quality appliance brands; Häfele, Blum and Caesarstone. 
– Once all elements are complete, they are pre-assembled in our warehouse to guarantee all components are just right prior to renovation.
Installation phase
– You will be assigned a senior site supervisor who oversees the entire installation phase of your kitchen renovation.
– Experienced cabinet makers and stonemasons will fit the components of your kitchen.
– After the renovation is complete, our dedicated after-care service team will be available for you to check in with if you have any queries regarding your new kitchen.
Bring your dream kitchen to life
We hope that some of these design trends of 2021 have you feeling as inspired as we are. Get in touch with us today to book a showroom appointment if you wish to be further inspired, and commence the first phase of your luxury kitchen remodel in the new year.