LIGHTING CONSIDERATIONS FOR YOUR KITCHEN RENOVATION
Lighting can often be overlooked and treated as an afterthought in the kitchen renovation process, but lighting plays a major role in setting the mood and tone of your kitchen, as well as having obvious practical implications. Don't make the mistake of not considering your lighting throughout the design process as it could mean the difference between a beautiful and functional kitchen or a poorly lit, 'office' feel to your kitchen renovation in Perth.
Task Lighting
Gone are the days of the kitchen only being used to prepare meals. Nowadays, the kitchen is used for formal and informal entertaining, catching up on the day with family, as a homework zone or coffee with friends, which means you need to have the right mix of task lighting, ambient lighting and natural light.
Task lighting refers to the type of light that you'll need to get jobs in the kitchen done safely and efficiently. Generally, task lighting should ensure that food preparation areas are well-lit and convenient to those in the kitchen. Downlights are usually the most modern and effective task lighting, and when combined with LED strip lighting under cabinets, will ensure shadows cast by your body or by overhead cabinets won't be a problem. LED strip lighting is also effective in the pantry – you'll never hunt around in the deep dark recesses again!
Pendant lighting over your island bench is also a fantastic way of making a statement and creating some individuality in your kitchen, but also as effective task lighting over the island area, where a lot of meal preparation and serving takes place. Whilst pendant lights are functional, they can also be decorative and unique – for example, a beautiful chandelier in a traditional style kitchen.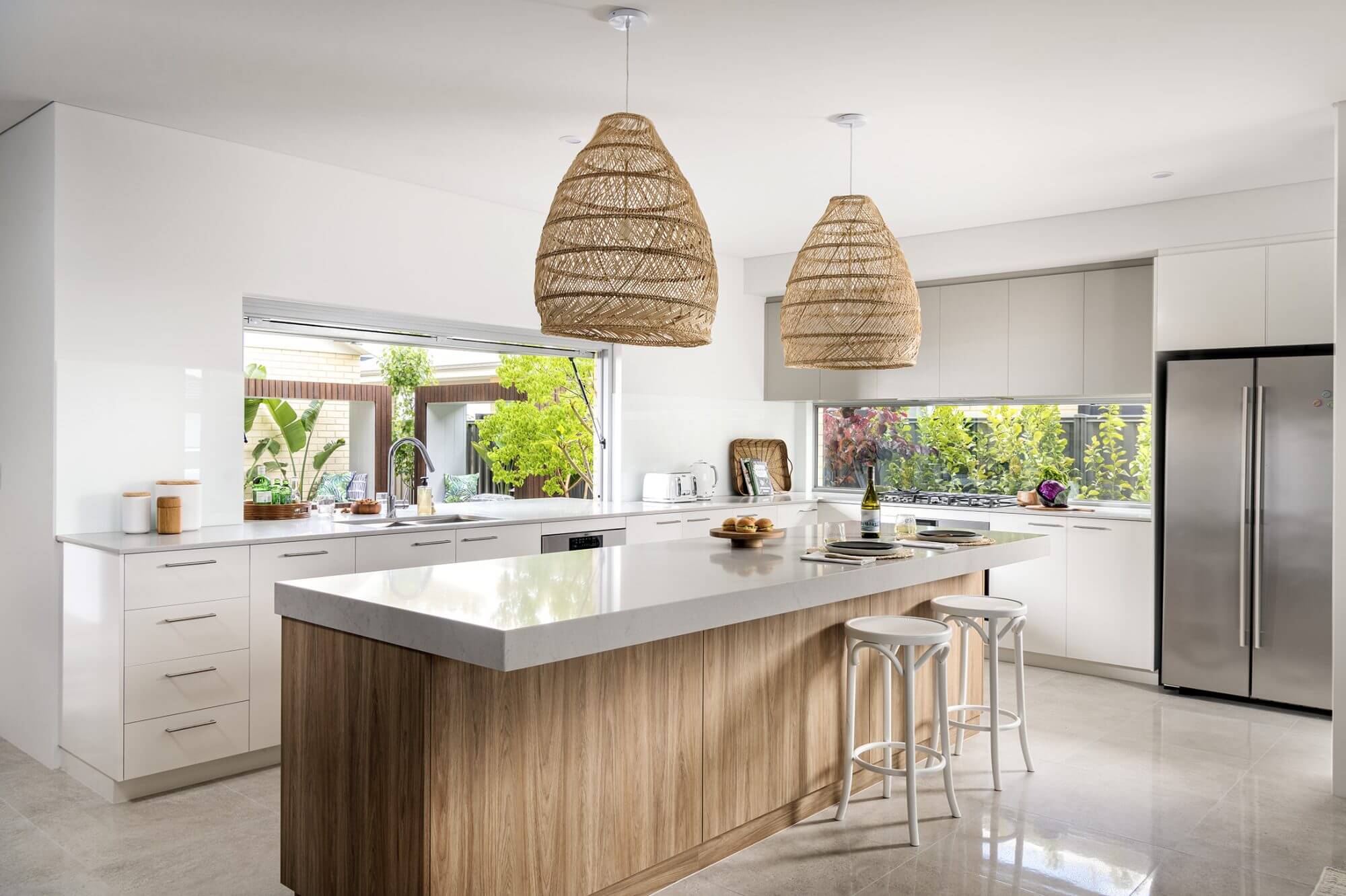 Ambient Lighting
All kitchen renovations in Perth need to consider ambient lighting as part of the kitchen design process. Again, downlights are a great ambient light source, suitable for most kitchen renovations and styles, with the added advantage of being cost-effective and efficient. Consider whether you will opt for a warm or cool white (essentially, a white or a more yellow light). This will depend on the orientation of the kitchen, the flow into other areas of the home, and the mood and look you are going for. The purpose of ambient light, especially in a small kitchen renovation, is to create a diffused and even light level throughout the room.
Natural Lighting
Perhaps the most beautiful source of light (and the cheapest!) is natural light. Natural light needs to be looked at early on during the design and layout of your planned kitchen renovation to ensure it is used as effectively as possible. A window splashback is a gorgeous way of maximising the natural light – especially if the orientation of your kitchen means it looks out over an alfresco or garden area, allowing a pop of greenery into the kitchen as well. Skylights are another natural light option, and this is a great idea for small kitchen renovations in Perth to open up a darker, more confined space.
With natural light sources, heat and sun damage to materials need to be considered and your kitchen designer can recommend suitable products to ensure your kitchen lasts the distance.
Kitchen lighting plays a fundamental role in setting the mood, tone and style of your kitchen, as well as its practical everyday use as the heart of the home. To speak to one of our award-winning kitchen designers about your kitchen renovation in Perth for tips on incorporating lighting into your design, visit our showroom today at 12 Dyer Road, Bassendean, or give us a call on 1300 270 000 to book an on-site consultation.