Kitchen Benchtop Inspiration For Your New Kitchen Renovation
Benchtop Selection Options
Choosing quality materials is an essential prerequisite when designing and renovating a custom kitchen for your home. When you renovate with us, you'll gain access to a range of high-quality benchtop materials. Let's take a closer look at which ones are making waves in modern kitchen design today. 

Caesarstone Quartz
Caesarstone benchtops are our number one choice because of their superior durability and strength compared to any other natural stone benchtop available on the market.
Caesarstone Quartz's impenetrable surface is both nonporous and non-absorbent, making it impervious to stains and extremely easy to maintain due to its scratch-resistant strength and high-temperature resilience. You won't be surprised that Caesarstone Quartz products carry a lifetime warranty. 
When it comes to daily cleaning, simply use soap and water for a sparkling-clean finish. 
Caesarstone has a huge selection of kitchen benchtop colours for every design, budget and home. In their standard range, colours such as Ocean Foam or Clamshell are well suited to a wide variety of kitchen styles. If you're looking to custom design your kitchen and create a real wow factor, we recommend opting for the beautiful veined styles like Empira White or the timeless Statuario Maximus. 
Caesarstone also offers concrete, honed, natural, polished, rough and ultra rough finishes throughout their product palette. Visit our Bassendean showroom to view the full range of Caesarstone samples on display.
Natural Stone
No two natural stone kitchen benchtops selections are the same – making them a luxury and one-off selection for your kitchen renovation. That's why natural stone is best suited to be the focal point in your design given its unique nature. 
Whether it's Marble, Quartzite, Limestone or Granite, natural stone benchtops are a luxury inclusion that allows you to choose a specific finish like leathered, honed or polished to match your kitchen style. Compared to engineered quartz, natural stone isn't as durable and is more prone to chipping and marking from heat or food and drink spills. It's good to remember that these things can permanently change the appearance of the stone.
Concrete
Concrete benchtops make for a statement in your kitchen design. They offer a rough texture finish and a unique look and feel in your design. We recommend Caesarstone as they offer a brilliant range of concrete quartz selections with durability, strength and a lifetime warranty for your kitchen.
For a smoother and more subtle concrete look, you could select Fresh Concrete which pairs well with most cabinetry colour schemes. On the other hand, indulge in the dramatic selections like Rugged Concrete and a Maker favourite –  Airy Concrete (shown below) – which has a grey base with mineral splotches. No matter which direction you choose, some of the best kitchen benchtops are made from concrete and they are the perfect choice for a modern or industrial-style kitchen design.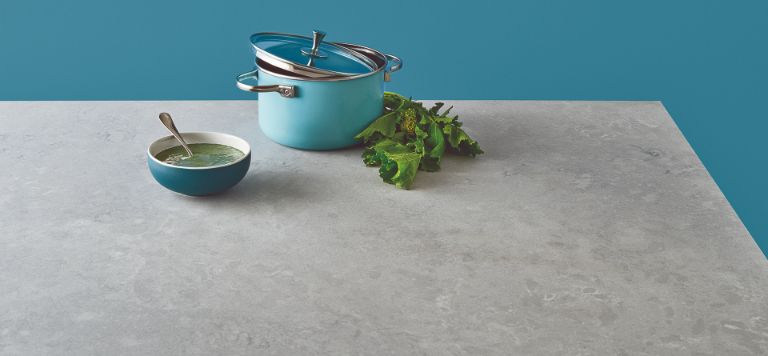 Laminate
Laminate benchtops are another option for your benchtop surface, however, it lacks the hard-wearing finish found in Caesarstone benchtops. At the end of the day, your benchtop is one of the most hard-working surfaces in your kitchen, and opting for a surface that is resistant to scratches and damage from cooking utensils and appliances is a good idea.
For those willing to go the extra mile, we recommend upgrading to Caesarstone benchtops.It works out to be a very small cost variation to laminate, and is a far better return on investment as it will last you a lifetime. 
Wood
Timber benchtops can look spectacular in your kitchen design and work best as a feature section in your design as opposed to the main working zone in your kitchen. Being a natural product, wooden benchtops aren't as durable and can be prone to stains, dents and colour changes from spilled food and drink. Just think about how your wooden cutting board looks after cutting foods like strawberries or meats. We love the appearance of wood to soften a style or complement an existing theme style such as a Hamptons kitchen. If you are set on including wood in your design, think carefully about how your everyday use might impact its integrity and appearance. 
Stainless Steel
Stainless steel adds smooth, clean tones to your design – perfect for an industrial style, or warehouse-inspired kitchen.
Stainless steel benchtops are durable and designed to look worn over time. This can help bring very very subtle textures into your benchtop finish. When designing a kitchen with stainless steel benchtops, we like to combine them with concrete or edgy stone selections to add interest and character to your design.