HOW TO INCORPORATE COLOUR INTO YOUR NEW KITCHEN PERTH
Adding colour to a kitchen can be far from a black and white task, with the choices seemingly endless and often overwhelming for clients – that shade of red you might love today might make you see red in a few years' time! So, how do you incorporate colour into your new kitchen in Perth? With the right advice from a kitchen designer and sticking to a few ground rules, you'll have a kitchen that you're still in love with for many years to come.
If you've gone with a neutral colour palette or an all-white kitchen, adding a burst of colour can help to bring warmth, personality and flair into the room, because the last thing you want is a stark or clinical feel for your kitchen. There are many ways of injecting colour into the kitchen, if not through the cabinetry or benchtop. Some of the best ways of achieving this include:
Splashbacks
The sky is the limit when it comes to a splashback colour – any colour on a paint chart can be achieved in a glass splashback. It can be a bright colour, such as a blue or red, but if you're after something more understated that will still bring warmth to the room, metallic options such as gold or silver could be a good choice. The best part? Glass splashbacks are relatively inexpensive when compared to other splashback options (ie. tiles), and they are easy to clean and keep in good condition.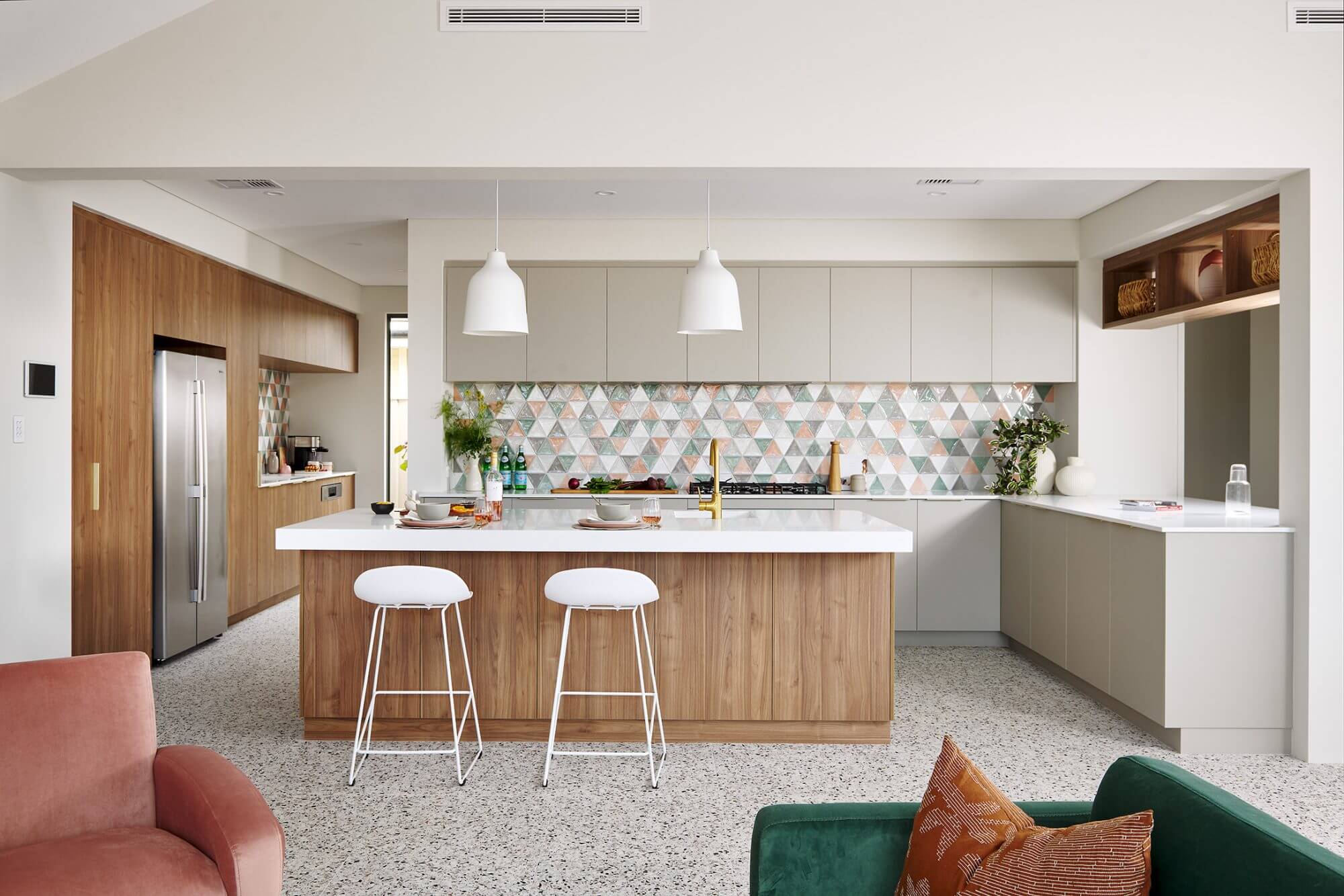 Statement appliances
A unique patterned or coloured oven is another effective way of incorporating colour into your new kitchen in Perth. Smeg's retro range of ovens and fridges features vibrant colours and retro designs, while Delonghi also has a range of coloured appliances that might fit the bill for your kitchen colour theme. If you're not after too much of a statement, smaller appliances such as coffee machines, Kitchen Aids, kettles or toasters all come in a variety of colours to suit your individual style.
Indoor plants
Sometimes, a bit of natural colour might be all your need for your kitchen. Indoor plants, whether it be hanging plants, a herb wall, or small potted plants to sit on an open shelf or benchtop, are a great way to bring in some greenery and add some vibrancy to the space. Indoor plants will thrive in the humidity and warmth of a Perth kitchen.
Chairs and stools
Coloured bar stools are a fantastic way to achieve a pop of colour in your new kitchen, without it being too loud or over the top. If brightly coloured stools aren't your thing, wrought-iron options or unique antique pieces can still bring a point of difference into the room and fit in with your design style. While the different colours can help aesthetically, bar stools around the island will also encourage and foster a social environment in the kitchen, so it's not just a work space.
Of course, rather than injecting colour into the kitchen through appliances or items, you could always build it into the kitchen, with an abundance of cabinetry colour and material choices available. If you're considering working with a bolder or brighter colour palette for your cabinetry or benchtop, it's always useful to engage a kitchen designer to help you plan the space and achieve the right balance of colour.
The Maker's team of professional kitchen designers can offer plentiful advice, not only on colour and material selections, but layout and design style for your Perth kitchen, along with styling tips for lighting and accessories. To make a booking for a design consultation or to find out information about our kitchen design showroom, call our friendly team today on 1300 270 000.