HOW MUCH DOES A KITCHEN RENOVATION COST?
Before we begin; it's important to understand that a kitchen renovation will be one of the most expensive areas in your home to remodel. The total cost of your new kitchen will depend on things like your chosen style, level of inclusions and any custom elements that you have selected for your kitchen design.
The Housing Industry Association (HIA) places the average cost of a kitchen renovation in Western Australia at approximately $34,000 in their latest 2021/22 Kitchens & Bathrooms Report. This figure represents only kitchen specific costs and not other additional major works that may be required, including external trades such as:
– Demolition and removal of your existing kitchen
– Construction works such as new walls, window replacement or ceiling bulkheads
– Plumbing
– Electrical
– Tiling
– Flooring
When renovating your kitchen with us this includes the complete design, local manufacture, and installation of your custom cabinetry and stone benchtops. Kitchen appliances such as the oven, cooktop, rangehood, fridges, and additional custom extras come at an additional cost, but add value to your kitchen. 
Transform the elements of your kitchen
A bespoke kitchen is custom made to fit your space perfectly, and allows for you to give it your own personalised touch. The more custom your kitchen and the more inclusions you choose to have; the higher the cost will be. 
Here are some of the bespoke elements which will affect the overall cost of your new kitchen renovation:
– Profiled or painted cabinetry

– The thickness of your stone benchtops

– Stone splashbacks

– Upgraded stone benchtop selections or natural stone benchtops

– Inclusion of internal hardware accessories like integrated corner units and pantries

– LED lighting designs

– Smart technology like Point Pods or docking stations

– White goods and appliance selections

– Custom cabinetry elements like feature shelving or wine racks
The size of a kitchen doesn't always necessarily determine the scope of a budget. A small kitchen with luxury inclusions like natural stone can still cost more than a large kitchen that has been completed with modern flat-panel cabinetry, 20mm engineered stone benchtops, and integrated appliances. 
Our bespoke design process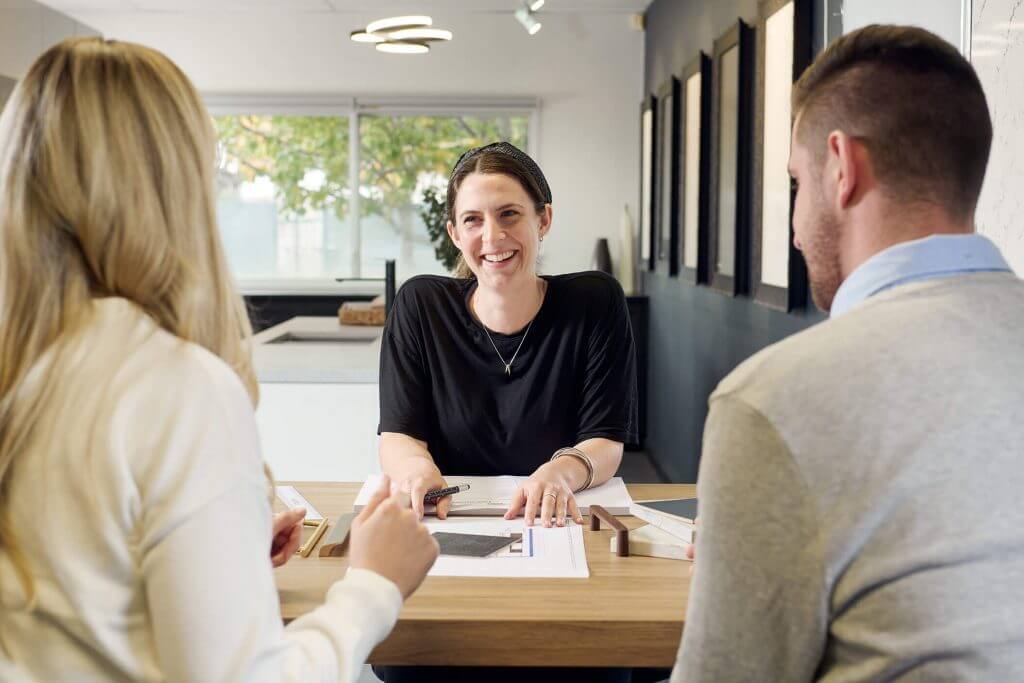 A bespoke kitchen design means that it is designed and made specifically for your space, without the limits of standard cabinet sizes. The Maker Designer Kitchens will create a truly unique, one-off kitchen that will include a personalised design with custom finishes and design elements. 
Benefits of working with a bespoke kitchen maker
Working with one of our experienced interior designers at The Maker Designer Kitchens means they will translate your individual needs and style into your own personalised design. We add value to our process by providing expert insight into your layout and home whilst taking into account your unique functionality requirements. We love innovation, and are leading the charge in the latest designs and style – and we love creating dream, designer kitchens for our clients.
Customised luxury
All of our luxury kitchens are custom designed for every client using our design process, no matter what your budget. Our experienced interior designers will help you assess your kitchen layout and provide practical suggestions on how to plan your kitchen, whilst maximising space and creating the best design.
We consider all key items including sinks, bins, dishwasher, cooktops and fridges and their placement in your new kitchen, better known as a work triangle. This ensures the layout compliments how you use them in your everyday kitchen life.  
We know kitchens
Our team at The Maker Designer Kitchens are backed by 21 years of experience. As Australia's largest kitchen and bathroom manufacturer we have a wealth of knowledge to bring to your design to ensure it is practical and functional for everyday use.
Bringing your dream kitchen to life
Why choose The Maker Designer Kitchens
Tailor-made designs
Our customised designs are completed by a qualified interior designer, catering to your unique and individual kitchen requirements. We manufacture all cabinetry and stone at our state-of-the-art factory in Bassendean, Western Australia.
Comprehensive quality control
We utilise thorough quality control processes by assembling all our kitchens in our factory prior to installation. This enables us to check that all your components are in order and fit together as they should before we construct in your home.
Professional, hands-on installation
During the installation process, there will be a dedicated site manager to oversee the installation of your new luxury kitchen. Alongside the site manager, there will be a team of cabinet makers, carpenters and stonemasons who are highly experienced, certified and passionate about good design.
Quality assurance
Once your renovation is complete, we dont leave it there. The Maker Designer Kitchens have a dedicated after-care service team to make sure your new luxury kitchen is everything you dreamed of and is functioning exactly how it should be.
Yes, we are the best kitchen makers in Perth!
As WA's largest kitchen manufacturer we only use the very best products in kitchen design. Soft close drawers and cupboards come as a standard with Hafele runners and Blum hinges.
On display in our showroom, we have the latest in innovative smart storage options from Hafele for your kitchen.  We will help you create your kitchen design to include the latest door and cabinet colours and profiles.
Recently, our showroom won the 2021 Housing Industry Association Excellence in Display award. 
So, how do I get started?
Visit our showroom and be inspired. See, touch and literally experience what it's like to be at the helm of a superbly crafted space.  
Have questions? Check out our FAQ page.
Your dream kitchen is just one call away. Call us today on 08 9270 0000 and speak with one of our friendly staff who will help you get started on your new kitchen journey!