ACCESSORISING YOUR HAMPTONS STYLE KITCHEN
With its sophisticated aesthetic and relaxed coastal vibe, it's no surprise that the Hampton's style kitchen is a popular design style. As with any design, it's easy to focus on the larger features of the space, such as benchtops and cabinetry, but it's often the smaller details which can make a big difference to the final look. Today, we're looking at how you can style your Hamptons kitchen for the perfect finish.
Hardware
When it comes to choosing hardware for your Hamptons style kitchen, it's all about adding texture and interest. Rather than opting for a minimal look, consider options like stylish vintage handles or French inspired knobs. Contrasting colours look great, so black hardware is perfect against the backdrop of the standard white cabinetry of the Hamptons kitchen.
Lighting
Lighting can make a big different to the overall look of a Hamptons kitchen. While it's important to include plenty of functional lighting to brighten up the space, feature lights can add a touch of sophistication. Don't settle for discreet downlights over the benchtops – large pendant lights work well with this style, and you can use contrasting materials such as metal, or add some texture with natural materials.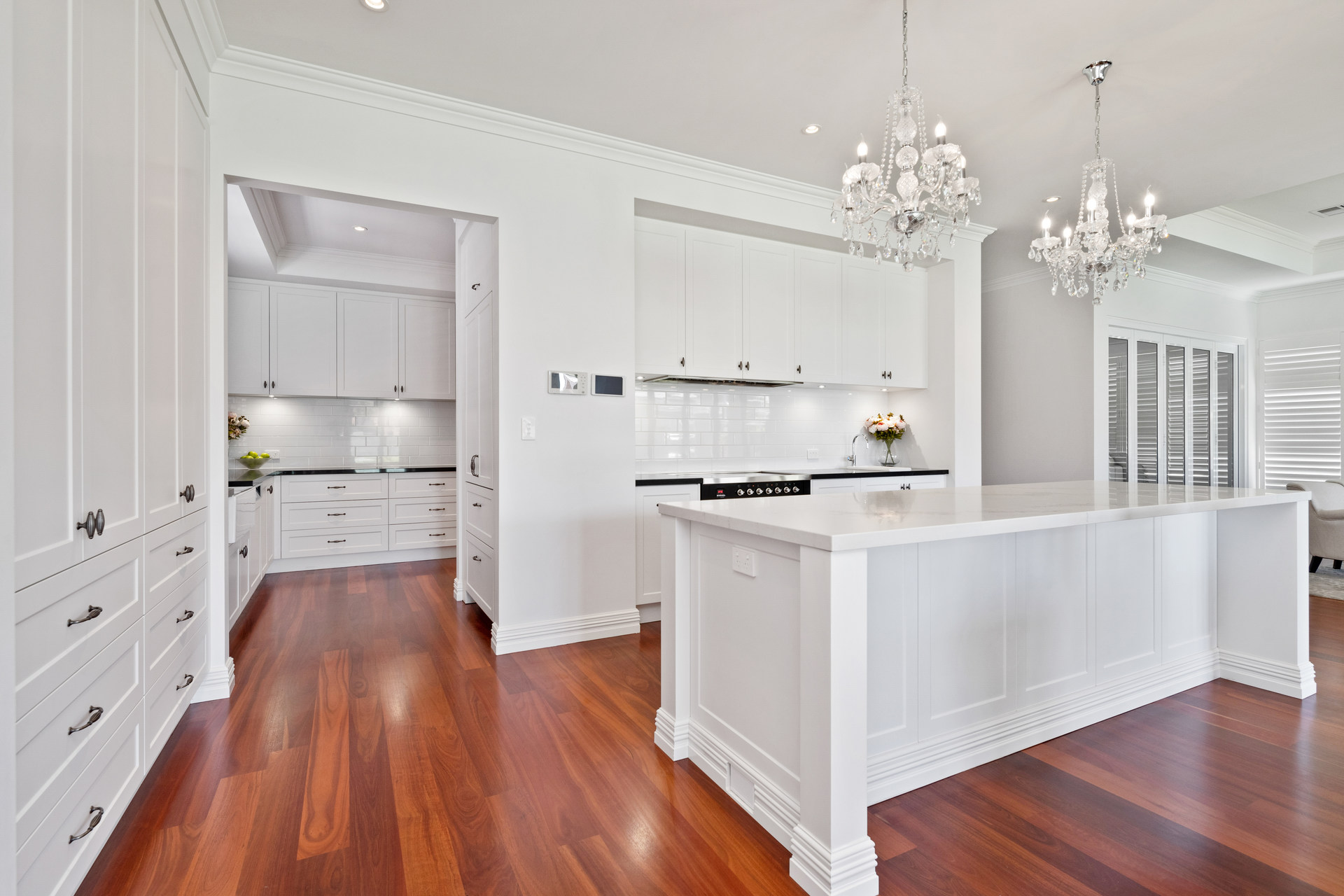 Bar Stools
The Hamptons kitchen invites casual entertaining, so the inclusion of bar stools at the bench is a must. Look for contrasting options which will offset the light, bright feel of the space. There is a wide range of bar stool designs available these days –you can opt for stools made of woven material to soften the look, or choose a contrasting colour to help tie together your other accessories.
Feature Items
While white reigns supreme in the Hamptons kitchen, you can add in the coastal vibe with some carefully placed accessories. Play around with display items which will help you achieve the coastal chic look – a feature clock can add interest to a bare wall, and platters or vases in hues of green or blue are great options. Decorative items made from natural materials such as timber or cork can add to the beachside vibe.
Natural Materials
The Hamptons style kitchen lends itself to a warm, inviting feel, and natural textures can be used to great effect. Materials such as raw wood, rattan, linen and sisal give a rustic feel to the space and can be integrated into accessories, floor coverings and furniture. These natural fibres will add depth and texture to your kitchen.
At The Maker, we have extensive experience delivering a range of customised kitchens to our Perth customers, and we lead the industry thanks to our vision and innovation. Whether you have a clear idea of what you want your kitchen to look like, or have no idea where to start, our award-winning designers will guide you through the process for a customised finish.
If you want to incorporate a Hampton style kitchen into your space, contact The Maker today on 1300 270 000 and make an appointment with one of our designers.